An emergency slide fell from a plane in Illinois on July 17 while it was still in the air before it landed at O'Hare International Airport, landing on the ground below in a nearby neighborhood. No one was injured.
The flight, coming from Zurich, Switzerland, was approaching the airport when the slide mysteriously fell off the plane. No one on the flight knew it had happened at the time.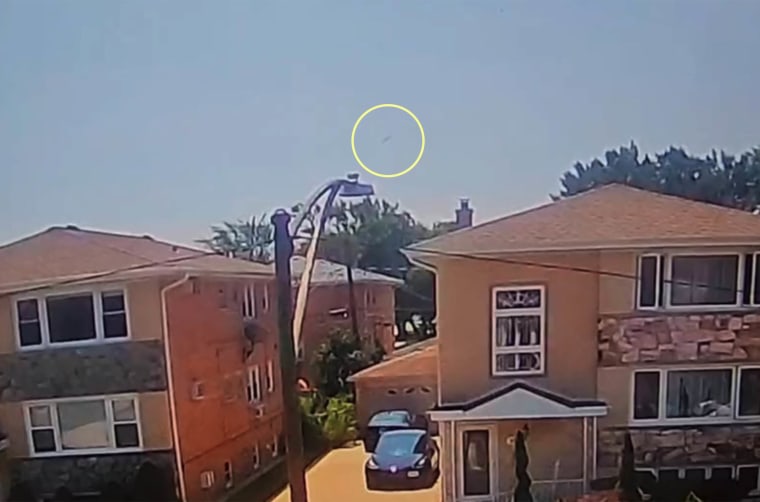 Maintenance crews at the airport working on a United Airlines Boeing 767 that had landed from Switzerland noticed the slide was missing, the Federal Aviation Administration said in a statement to NBC News.
The Federal Aviation Administration is investigating the matter.
"We immediately contacted the FAA and are working with our team to better understand the circumstances around this matter," United Airlines said in a statement to NBC News.
There were 155 passengers and 10 crew members on board.
Planes come equipped with multiple emergency slides and NBC News correspondent Tom Costello said on TODAY July 18 that this particular emergency slide was believed to be located near the wing and emergency exit. There is a compartment near that spot which may have opened, Costello said, causing the slide to get caught in the wind and fall out of the aircraft.
Incidents like these have happened before. In 2019, an evacuation slide on a plane heading from Paris to Boston fell out of the aircraft and landed in the yard of a home in Milton, Massachusetts, as the flight approached Boston Logan International Airport. In 2016, an evacuation slide also fell off a plane and landed in a home's yard in Mesa, Arizona. No one was hurt in either episode.