A survivor of the Paris terrorist attacks has drawn a strong response for a visceral, heart-wrenching recounting of the massacre inside the Bataclan concert hall, where she played dead among pools of blood to escape the terrorists' gunfire.
South African college student Isobel Bowdery, 22, was at the Eagles of Death Metal concert Friday when it came under siege by three Islamic State gunmen.
"You never think it will happen to you,'' Bowdery wrote in a lengthy Facebook post Saturday accompanied by a photo of the blood-stained tank top she wore to the show.
"It wasn't just a terrorist attack, it was a massacre. Dozens of people were shot right in front of me. Pools of blood filled the floor. Cries of grown men who held their girlfriends' dead bodies pierced the small music venue. Futures demolished, families heartbroken in an instant."
RELATED: Paris attack survivor shares harrowing details of 'unfathomable' scene
Eighty-nine people were killed in the attack.
In her gut-wrenching post, which has been shared nearly 800,000 times, Bowdery recalled how she managed to survive by playing dead on the floor for more than an hour.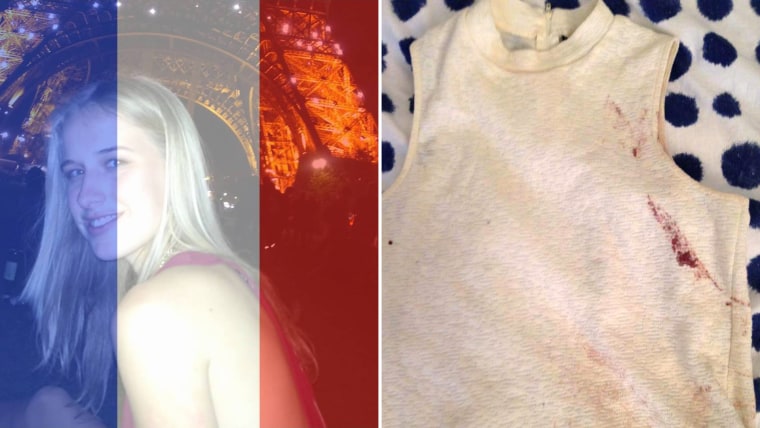 "Holding my breath, trying to not move, not cry — not giving those men the fear they longed to see,'' she wrote. "I was incredibly lucky to survive."
In the midst of the chaos, Bowdery also witnessed numerous acts of heroism.
"To the man who reassured me and put his life on (the) line to try and cover my brain whilst I whimpered, to the couple whose last words of love kept me believing the good in the world, to the police who succeeded in rescuing hundreds of people, to the complete strangers who picked me up from the road and consoled me during the 45 minutes I truly believed the boy I loved was dead, to the injured man who I had mistaken for him and then on my recognition that he was not Amaury, held me and told me everything was going to be fine despite being all alone and scared himself ... you make me believe this world has the potential to be better,'' she wrote.
Her boyfriend, French citizen Amaury Baudoin, 24, was also at the concert. He wrote his own lengthy Facebook post on Monday describing his experience. He was hit by shrapnel and suffered mild injuries while being separated from Bowdery during the shooting.
"Knowing that my girlfriend was in the middle of the crowd when the gunmen entered and not being able to reach her, I doubted whether she was still alive (or not),'' he wrote. "All of the words used by those sensationalist channels designed to transform this massacre into a TV show are nothing compared to the horror I witnessed. There were bodies everywhere, and in particular in front of the stage, there where I was when the massacre started. It wasn't a war scene, it was a slaughter house."
He had an emotional reunion with Bowdery outside the theater after the ordeal.
"When we finally exited the theatre we were searched one by one , and after some time spent searching the scene, in the end it was she who found me and swung her arms around my neck before I could even notice her,'' he wrote. "What a relief! It was unreal, she was completely unharmed, she found herself trapped in the worst possible place and she didn't have a scratch. We were safe, for us the terror was over."
RELATED: 'It was a bloodbath': Survivor inside Bataclan theater describes Paris attack
While on the ground during the shooting, Bowdery had closed her eyes and imagined the faces of her loved ones as she waited for a bullet to end her life.
"Wishing that those I love knew just how much, wishing that they knew that no matter what happened to me, to keep believing in the good in people,'' she wrote.
"To not let those men win. Last night, the lives of many were forever changed and it is up to us to be better people. To live lives that the innocent victims of this tragedy dreamt about but sadly will now never be able to fulfill."
Follow TODAY.com writer Scott Stump on Twitter.