When David Smith was growing up in California, the only time his parents sprung for a cable television subscription was to watch all the different Olympic events.
Smith, who is nearly deaf, may have been watching them with closed captioning on, but that never slowed him down when it came to his own Olympic dream.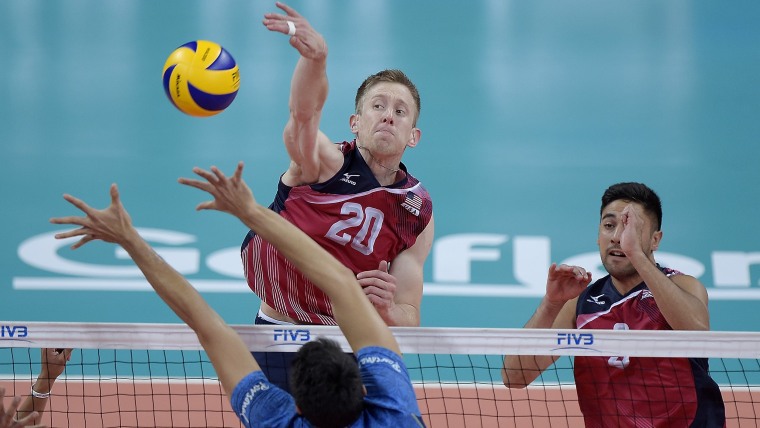 "It was such a special tournament and I loved seeing all the people of the world coming together to compete in the games,'' Smith told NBC Sports. "I don't think I ever imagined myself competing in the games until after I graduated from college."
RELATED: Laurie Hernandez's brother wrote her the sweetest note after she won gold
Featured on TODAY as an Olympian to watch in Thursday's action, Smith was born with 80 to 90 percent hearing loss. He is playing in his second Olympics after making the U.S. men's volleyball team that tied for fifth in London four years ago.
"I always knew I was different,'' he told NBC Los Angeles. "I knew was unique. But my parents made sure I was in class with the average kids and played sports with every other kid."
Smith, 31, who is married with a 4-year-old son, starred in college at the University of California, Irvine, for coach John Speraw, who is now the head coach of the U.S. team in Rio.
The 6-foot-7-inch middle blocker wears hearing aids during matches and also uses lip-reading and hand signals to communicate with his teammates on the court.
RELATED: 'Mama, why are you crying?' Cyclist gets hug from son after winning gold
"I don't think he would be the exact same person if he didn't have this challenge in his life,'' his wife, Kelli, told NBC Los Angeles. "So, it makes him more sensitive and aware of other things because he's missing that one sense."
The U.S. men's team will be in action Thursday night at 9:35 p.m. EDT in a preliminary-round match against host nation Brazil.
Follow TODAY.com writer Scott Stump on Twitter.