Very few things can stop Usain Bolt, the Jamaican runner who holds world records and numerous Olympic gold medals.
But Bolt's used to outrunning other humans; a rogue Segway ... well, that's another story. And on Thursday night, Bolt took a tumble from an opponent he never saw coming.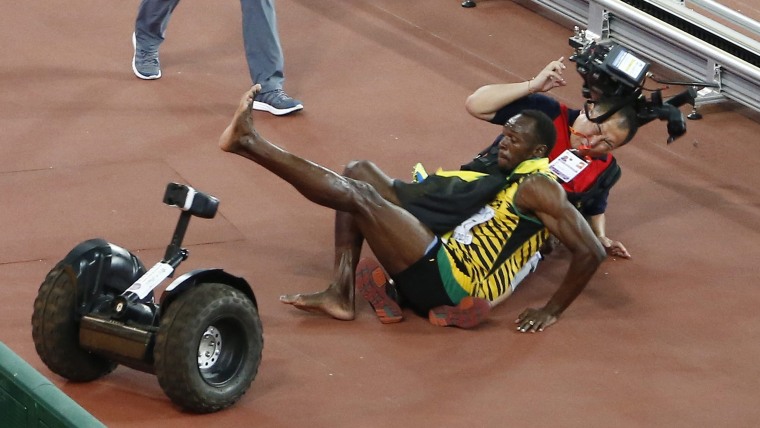 He was taking his third victory lap after winning his latest award at the world track and field championships in Beijing when a cameraman on a Segway scooter ran over a (oh, the irony) bolt holding together the track side camera rail. In a blink, the Segway took a right turn and bumped Bolt from behind.
(Don't miss this Vine of the incident. Our favorite part is the narrator's "Mamma mia!" at the end.)
Bolt ultimately ended up on his back before doing a roll to return to his bare feet. (As we might imagine "Spanning the World's" Len Berman saying: "And nobody got hurt!")
"He took me out," Bolt told The New York Times afterward. "The rumor I'm trying to start now is that [American sprinter] Justin Gatlin paid him off."
"I want my money back," Gatlin grinned later. "He didn't complete the job."
And a good thing he didn't! Keep running, Usain, and keep an eye on your rear view mirror from here on out.