College football player Travis Rudolph made a lot of fans last year when he quietly sat with a boy eating lunch alone at his middle-school cafeteria. Now he is on track to gain a lot more fans in the National Football League.
The Florida State wide receiver signed on as an undrafted free agent with the New York Giants. He made the deal over the weekend while spending time with his extended family, which includes the young boy he befriended last fall, Bo Paske, who has autism.
"We're all super excited for him," Bo's mom, Leah Paske, told TODAY. "We spent Saturday waiting and hanging out and being with everyone. And then when we got the news that evening, we were there for the celebration as well."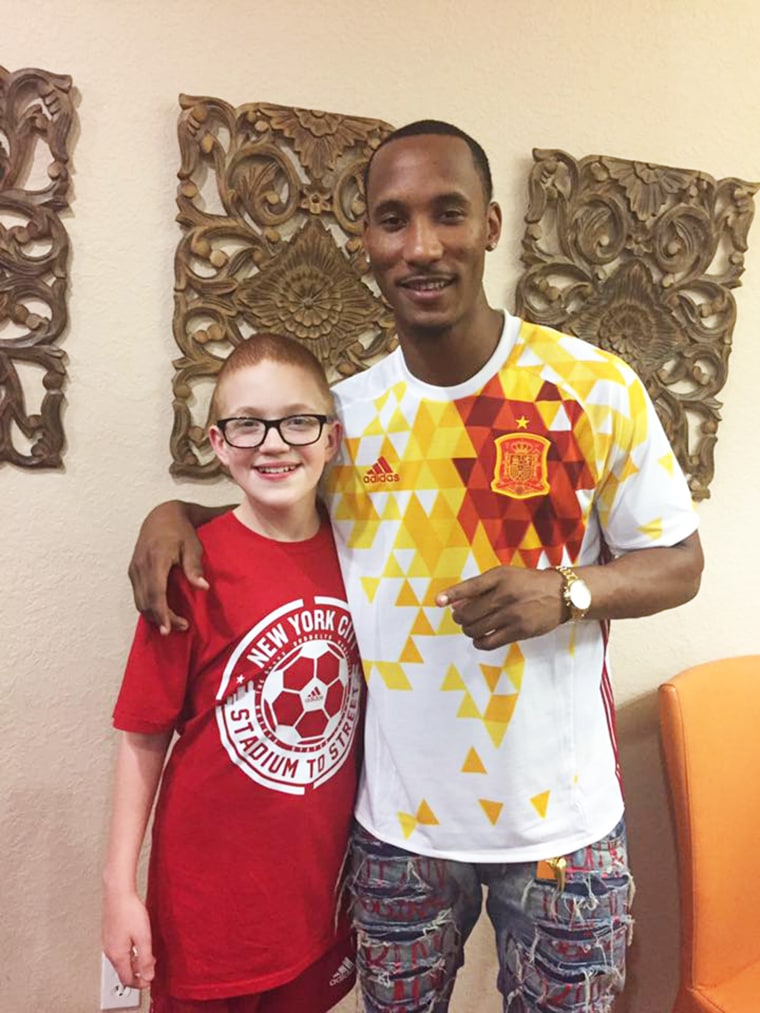 Paske first learned about Rudolph after the college junior paid a visit to her son's Tallahassee middle school with his teammates. Rudolph spotted Bo eating by himself so he joined him at the table. Someone captured a photo of the two and sent it to Paske, who posted the picture to her Facebook page.
MORE: Mom grateful football player chose to have lunch with son who has autism
"I'm not sure what exactly made this incredibly kind man share a lunch table with my son, but I'm happy to say that it will not soon be forgotten," she wrote in the caption of the now-viral photo. "This is one day I didn't have to worry if my sweet boy ate lunch alone, because he sat across from someone who is a hero in many eyes. Travis Rudolph thank you so much, you made this momma exceedingly happy, and have made us fans for life!"
Paske said she and her son, 12, drove from their Tallahassee home to visit Rudolph's family in West Palm Beach last Friday evening to wait out the remainder of the NFL draft with them.
"We've just formed such a great relationship with his family. I talk to his mom several times a week. I just love her so much," she said. "They're just fantastic. They really value family and relationships highly. I'm just grateful to be able to be a part of that."
Paske said she's not sure how much Bo understands about Rudolph's specific situation, but that he "absolutely" remains his No. 1 fan.
"He just kept asking, 'Which team is he going to play for?' So when we were able to tell him he was going to the Giants, he was completely excited," she said. "It was an exciting weekend."
Rudolph's news, however, follows a tragic period for the football player's family. His father, Darryl, was killed in an accidental shooting a week earlier. Paske called the loss "heartbreaking."
"His dad was the rock of the family. What he wanted more than anything was for his son to be successful in that endeavor. The loss was devastating," she said.
Paske said she first met Rudolph's parents shortly after their son ate lunch with Bo.
"I could see immediately where Travis got his character and his personality and values from," she said. "They're just genuine and authentic and loving people."
RELATED: A mom of a child with autism urges, 'Walk in my shoes'
She said one of the first thing Rudolph's mother did when they met was to thank her. The gesture initially confused Paske.
"I told her, 'I didn't do anything.' She said, 'No, you don't understand. We spend our whole lives pouring into our children. Travis is our baby,'" she recalled. "You cross your fingers and you send them out to the world and you hope you did a good job, and nine times out of 10 you don't hear anything back. You told the world, 'We did our job.'"
"What a cool perspective," Paske said. "I'm just so blessed to be a part of their family."