/ Source: TODAY contributor
Michelle Obama has garnered heaps of media coverage for her fashion sense, her smile, her charm, her buff arms. And now, just in time for the Christmas shopping rush, the magic that is Michelle is being captured in 6-inch-high likenesses made from phthalate-free PVC.
Three new Michelle Obama action figures — masterminded by the same folks at Jailbreak Toys who created Barack Obama action figures during the presidential campaign — show the first lady wearing some of her signature dresses:
The purple dress she wore during that memorable "fist bump" moment after her husband clinched the Democratic presidential nomination.

The red and black dress she wore on election night.

The black and white dress she wore on "The View" during the campaign.
All three dresses are sleeveless — wouldn't you know! — and all three dolls bear huge, beaming smiles.
A co-founder of Jailbreak Toys said the time has arrived for the first lady to have her own action figures.
"Michelle has taken on a huge importance in her own right," said Jason Feinberg, who runs the company with his fiancée. "People are crazy about her, not because she's married to Obama, but because she's Michelle."
Toys for 'thinking adults'Feinberg said the new dolls are a natural progression to the other action figures the Brooklyn, N.Y., couple have created together over the past four years or so. Before the Obamas came on the scene, Feinberg, 32, and his fiancéeAlyssa Zeller, 28, were big on creating historically significant action figures for grown-ups.
"You know, if a little child idolizes G.I. Joe, who does a thinking adult idolize?" Feinberg said.
To that end, Feinberg, who studied sculpture in college, and Zeller, who used to work in fashion, began creating action figures representing Einstein, Freud, Gandhi, Darwin, Malcolm X, Shakespeare, Beethoven and Picasso, to name just a few. Feinberg would do the sculpting, and Zeller would do the painting.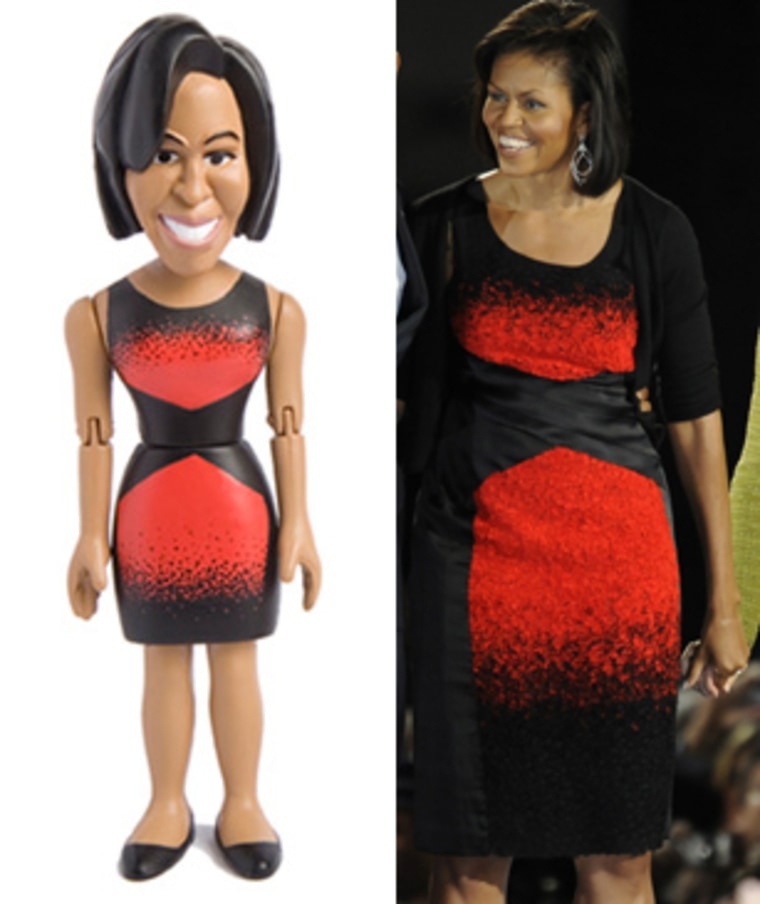 Then as the presidential campaign wore on in 2008 and Hillary Clinton and Barack Obama were neck and neck, the couple began feeling a great deal of enthusiasm about Obama, and they sensed that lots of other people were feeling the same way.
Before long, they had created a Barack Obama action figure — and their sales soared.
"It was ridiculous," Feinberg said.
The new Michelle dolls won't start shipping until Nov. 20, although Jailbreak Toys is accepting pre-orders now. They cost $12.99.
Short run for Sasha, Malia dolls
The White House and the Office of the First Lady have not commented on the action figures. Jailbreak's Web site says, "This product is not formally endorsed by or affiliated with Michelle Obama. (But we really hope she likes it.)"
Feinberg said he knows Barack Obama's campaign staff liked the presidential action figures.
"We gave them their own coupon codes at one point so they could get discounts," he said.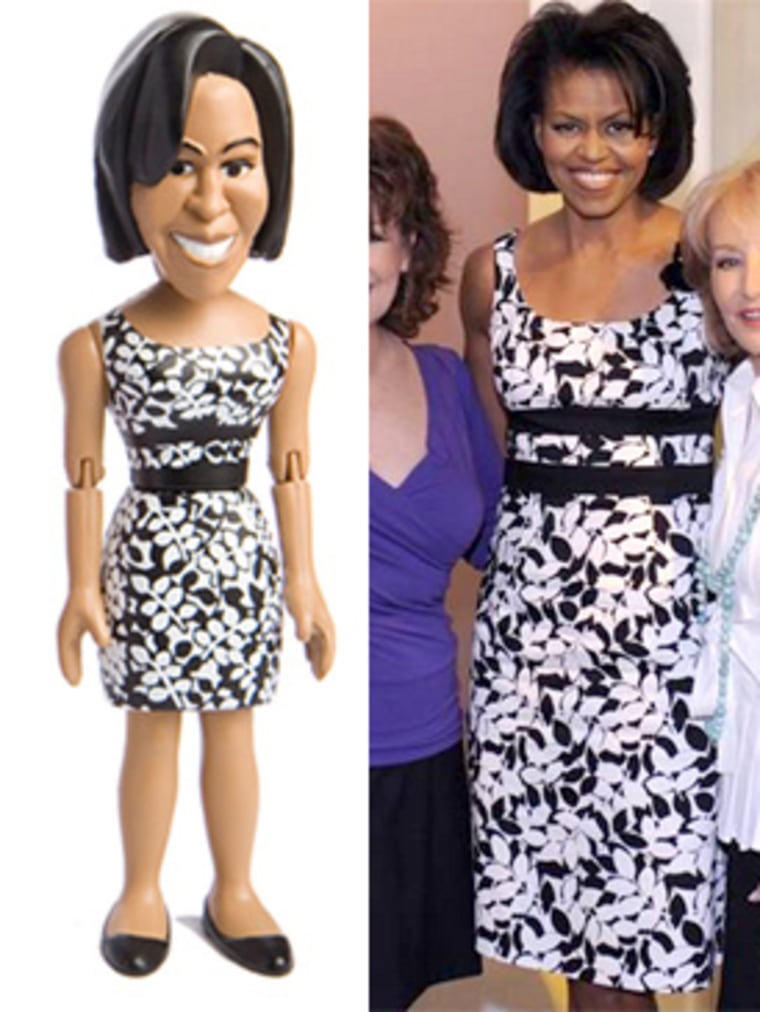 The first lady did issue a statement earlier this year about two dolls that depicted the Obamas' daughters, Sasha and Malia. Ty Inc., the company that makes Beanie Babies, caused quite the ruckus in January when it unveiled its "Marvelous Malia" and "Sweet Sasha" creations.
"We believe it is inappropriate to use young private citizens for marketing purposes," Michelle Obama's spokeswoman said at the time. Shortly afterward, Ty renamed the dolls "Marvelous Mariah" and "Sweet Sydney."
Feinberg said people have suggested that Jailbreak make Sasha and Malia dolls as well — but he thought that "wasn't cool" since the kids didn't choose to enter the public spotlight.
"I always thought that was in bad taste," he said.