Augie Nieto cannot speak or move, but that doesn't mean he can't inspire others.

TODAY's Natalie Morales met Nieto seven years ago when he was diagnosed with amyotrophic lateral sclerosis, a degenerative condition better known as Lou Gehrig's disease, at age 46.
While many only live for a few years with ALS, Nieto's passion for life is still going strong.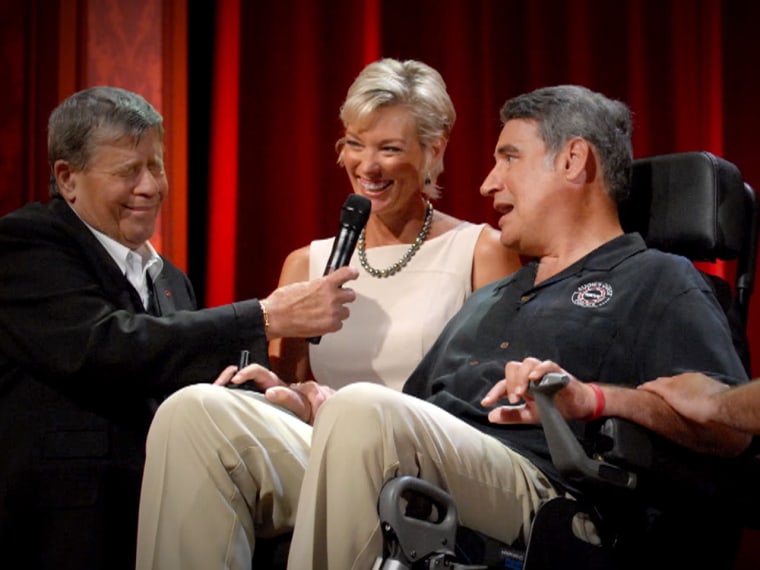 "The last time I saw Augie, in 2009, I honestly feared it might be the last I would see him,'' Morales said on TODAY Wednesday as part of TODAY's week-long #InspiredBy series, in which anchors and fans on social media share their inspirations. "But today, miraculously, he seems to be thriving by leaps and bounds."
"I feel very fortunate to be at the place I am in life,'' Nieto said via the computer he uses to speak. 
Nieto, the founder of Life Fitness, a company that produces some of the first cycles and treadmills used in gyms, was in peak health when he was first diagnosed with ALS. He felt powerless, and tried to take his own life.
He came back from that dark time with the help of his wife, Lynn, and teamed up with the Muscular Dystrophy Association to found Augie's Quest, organization on a mission to eradicate ALS. Augie's Quest has raised almost $40 million, and Nieto's spirit is stronger than ever. He is the chairman of both Augie's Quest and Octane Fitness and just joined the board of Curves, the national chain of weight loss and fitness centers.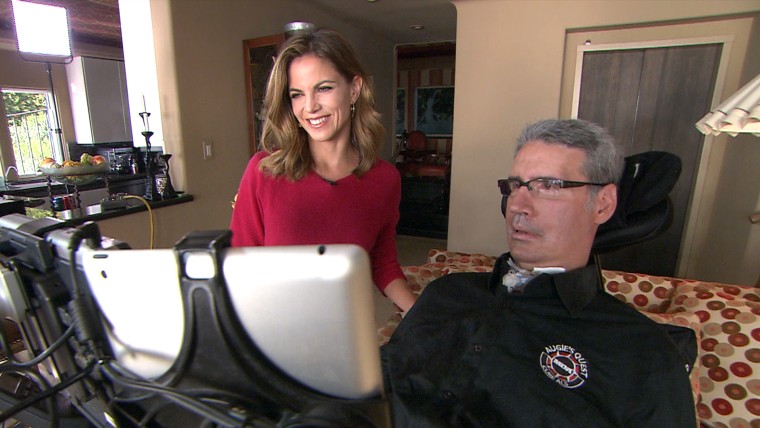 He uses a roller ball to type on the computer with his foot, and the computer speaks for him. For the first time in years, he is working out again at a recovery facility called Project Walk.
"I saw him move his hand for the first time in eight years,'' his wife told TODAY. "To me, it's a miracle."
Nieto is training with a single goal in mind — walking his daughter, Lindsay, down the aisle at her wedding next summer.
"I think he acts from a place of significance now,'' Lynn Nieto said. "It's not success-driven. It's significance: 'How can I make a difference?'''
Nieto has inspired not only inspired Morales, but others like Corey Reich, 27, too, who is battling ALS.
"Augie is an amazing inspiration,'' Reich told Morales. "Definitely a hero. Augie has never allowed the disease to keep him from doing what he wants to do." 
"I get so much strength from you and your family,'' Nieto told Reich.
Rather than dwell on his limitations, Reich lives every second of every day to the fullest.
"If he can do it, the rest of us certainly can,'' his wife said.
Nieto still exudes the same spirit he did when he first met Natalie in 2006, when he told her, "You can either celebrate what you can do, or mourn what you can't." 
Read about who TODAY anchors are #InspiredBy — including Savannah Guthrie's Uncle Pierce and Willie Geist's friend, a Marine who turned his injury into inspiration, here.