Talk about an unforgettable (second) night out with Justin Timberlake! After Kelsey De Santis famously asked Justin Timberlake to be her date to the Marine Corps Ball last year and he accepted, the "In Time" star turned the tables and asked her to attend the Spike TV Guys Choice Awards with him.
And let's just say De Santis was shocked.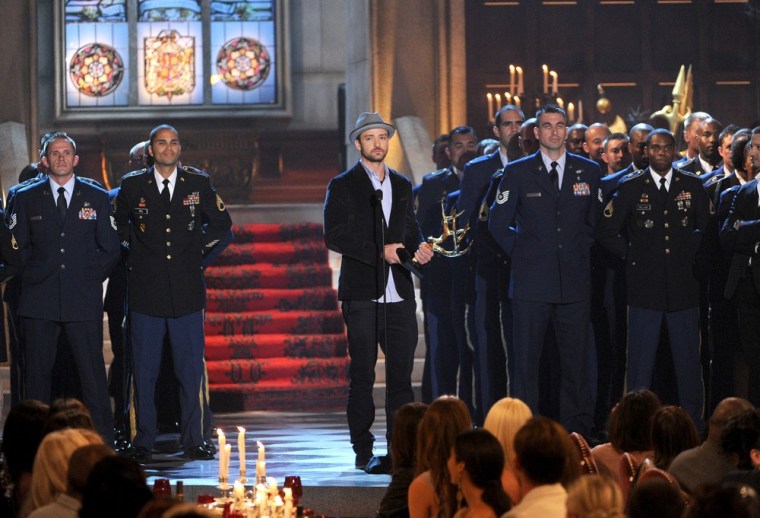 MORE: Justin Timberlake and Michael Fassbender's Junk Surprise at Guys Choice Awards
"The Thursday before the show I received an email from Justin's manager asking me if I was in L.A. and could I make it to the awards. I was so surprised," De Santis told E! News.
But, De Santis didn't attend the affair alone. She was allowed to bring a guest -- her boyfriend, Jake, also a former marine.
"We walked in and they told us that we were way up in the front, and here we are walking past all these celebrities," De Santis went on. "Aaron Rogers was on our left. We then see Brooke Hogan. We sat down at our table and it was full of models. It was so cool."
MORE: Jessica Biel's Little White Dress at MTV Movie Awards--Here Comes Your Leggy Bride, Justin Timberlake
When it was time for Timberlake's award (he nabbed the show's Entertainer of the Year Award, and was honored with the Troops' Choice prize), Kelsey told E! News, "They brought out a bunch of members of the military and showed clips of Justin. I had no idea that he was going to stand up there and talk so much about the Marine Corps Ball and how much it meant to him. All of a sudden he said 'Kelsey, where you at?' I was smiling from ear to ear. I did not see that coming. It was really nice and I was super excited."
As for Timberlake's admiration for the military, De Santis said, "It is a huge, huge deal. Sometimes we take things for granted. It means so much that Justin shows his appreciation for the service, not just to me, but for all the servicemen and -women out there."
But, a shout-out from Timberlake wasn't all that was in store.
MORE: Justin Timberlake Brings Sexy Back, Gets Lei'd at Wal-Mart Meeting
"We got backstage passe,s and sure enough everyone was back there -- Adam Sandler, Matthew McConaughey, Steven Spielberg," De Santis continued. "I was excited to be able to be a part of the whole thing. It was an overall awesome experience."
And although De Santis was Timberlake's guest for a second evening, she made sure to send a special message to his bride-to-be Jessica Biel.
PHOTOS: Justin Timberlake and Friends!
"I want to wish them both congratulations and all the best for a happy life together -- and a big thank you to Jessica for letting him go for the night and giving me the opportunity to have this amazing experience."
From N'Sync to wardrobe malfunctions, acting to singing, Justin Timberlake is used to the spotlight.