/ Source: TODAY contributor
The 8-year-old boy had never been to New York City before, and he looked as if he wasn't sure why he was sitting in a television studio with his mom talking to a nice lady who wanted to know about his Marine pen pal in Iraq.
So Jacob Poehls let his mom, Nora Hall, do the talking while he sat quietly wearing the camo hat and scarf Sgt. Balthazar Pineda had sent him from Iraq. Hall was telling TODAY's Meredith Vieira that her special needs son had slept with the scarf and hat for a week after he got them, and described how little use for reading and writing Jacob had had before his correspondence with Pineda began.
But once Jacob, who loves all things military, had Pineda in his life, he leaped into the world of the written word, because that was the only way he could communicate with the gunnery sergeant who was serving his country in Iraq.
Changing his life
Having a Marine pen pal changed Jacob's life "in more ways than I could ever have expected," Hall told Vieira. "It gave him confidence besides a reason to want to write and read."
In a few months, Pineda, who lives in California and has two girls of his own, will be returning to the states. In their correspondence he had promised to come to Colorado to meet Jacob.
Vieira asked Jacob when he expected to meet Pineda. "A couple months," Jacob said.
"How about today?" Vieira said.
Jacob said nothing, but nodded his head to indicate that would be fine with him. And then, as if by magic, there was Pineda on the studio TV monitor talking to Jacob via satellite from Al Asad Airfield in Iraq.
"I'd just like to tell Jacob, I've heard about all his hard work from his mom, and [to] tell him I'm really proud of everything he's been doing," Pineda said as Jacob watched in fascination.
Vieira asked Jacob if he'd like to say something to the sergeant. The boy hesitated and finally said, "I really, really, really love him."
"I love you too, buddy," Pineda replied with a big grin.
Getting mail from home is a major morale boost for troops serving overseas. Vieira said that some 25 percent of soldiers don't get any mail. A Web site, www.adoptaussoldier.org, has been established to connect Americans to soldiers as pen pals.
A new world opens
Last August, at her wit's end over how to get Jacob interested in his schoolwork, Hall had called a recruiting office in Fort Carson, near their home in Colorado. She told the officer about her son's deep love of the military, and the officer suggested she go the Web site and get Jacob a pen pal.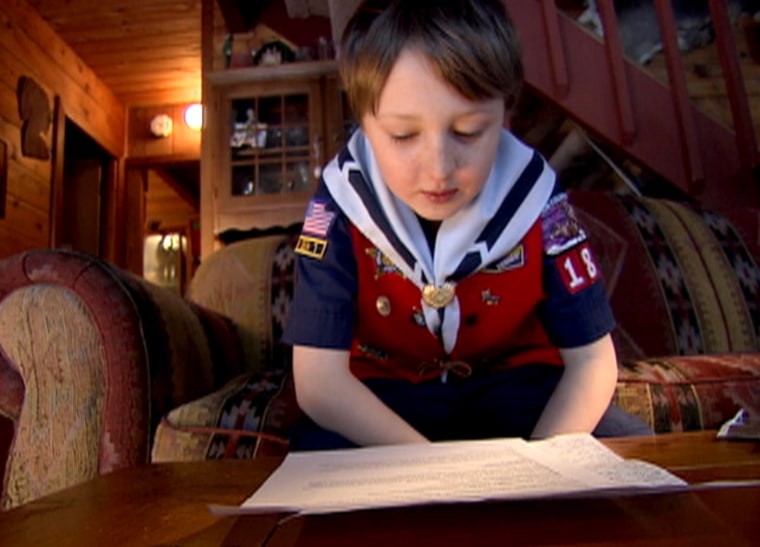 Excited at the thought of having a real Marine as a friend, Jacob worked hard to compose a letter talking about his interests in gym, lunch and recess. Pineda sent Jacob the camo hat and scarf and told the boy in a letter that gym and recess were fun, but reading and math were important, especially for a Marine.
Hall said that Jacob literally ripped the package open when it arrived. From that moment on, reading and writing were no longer chores to be avoided. They were a gateway to his friend.
Jacob took the scarf and hat to school, and soon his entire class — and then all of Summit Elementary School — began adopting soldiers as pen pals. The school collected stuffed animals and sent them to soldiers to give to Iraqi children, and when a TODAY show camera crew visited the school earlier this week, the school was busy making valentines to send to the troops.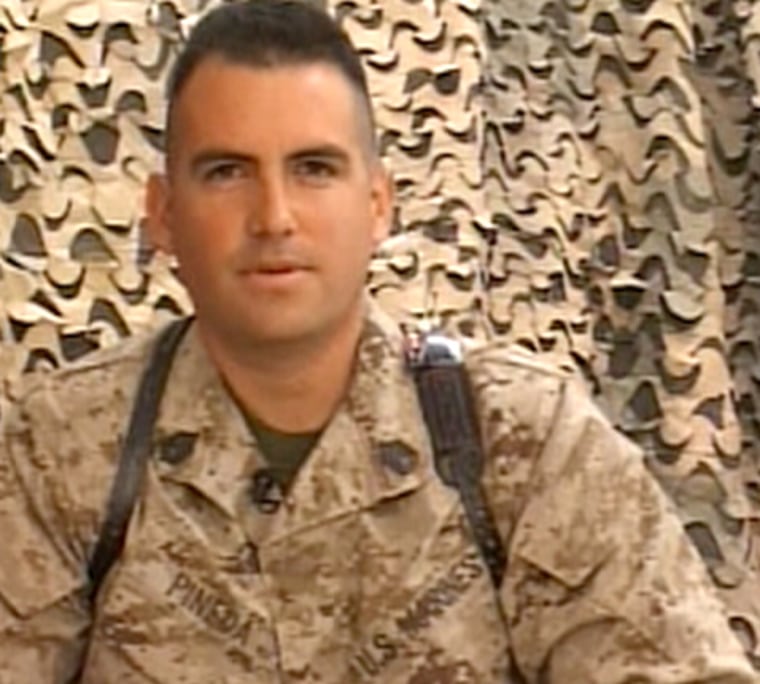 "For us Marines out here, it means a lot," Pineda said. "It means that there's people in the United States who still care about their Marines and are thinking about us during this whole Iraq and Afghanistan war."
Jacob was too shocked at actually seeing and hearing Pineda to say anything else. But his mother had one more thing to tell Pineda."I want to thank you, sir," she said, her eyes tearing up. "I'm honored to be able to tell you how much you mean to us and my son."