/ Source: TODAY contributor
Jason Miller is thankful to be alive after being sucked up by a rampaging tornado over the weekend.
But his gratitude is tinged with sadness. Jason is the neighbor in New Pekin, Ind. who invited the Babcock family to leave their small trailer and take shelter in his double-wide.
Only seconds before the Babcock family perished in the tornado, they were in Miller's home, holding hands with him and praying. Fourteen-month-old Angel Babcock was found alive in the aftermath of the storm, but she died Sunday from her injuries.
The Babcock family make up five of 39 fatalities across five states in the deadly storms.
"I can't really express how it makes me feel,'' Miller told TODAY's Ann Curry of the Babcocks, who have captured international attention in the wake of the tragedy. "Just knowing that all five of them didn't make it, and I'm the only one that did is really hard on me. I feel some sense of guilt for bringing them into my house and then they died from there, but at the same time, I think their trailer would've not been safer (because) it also disappeared."
Speaking Monday from his bed at the University of Louisville Hospital, Miller has suffered multiple breaks in his left arm, a broken back and five broken ribs from being carried off by the EF4 tornado that packed 175 mile-per-hour winds.
Miller had stepped out his front door to see the funnel cloud rapidly approaching and shouted "Tornado!'' He saw the Babcock family lying face-down and praying in the hallway of their home. Miller then ran over to usher them into his larger trailer, thinking it would provide safe haven.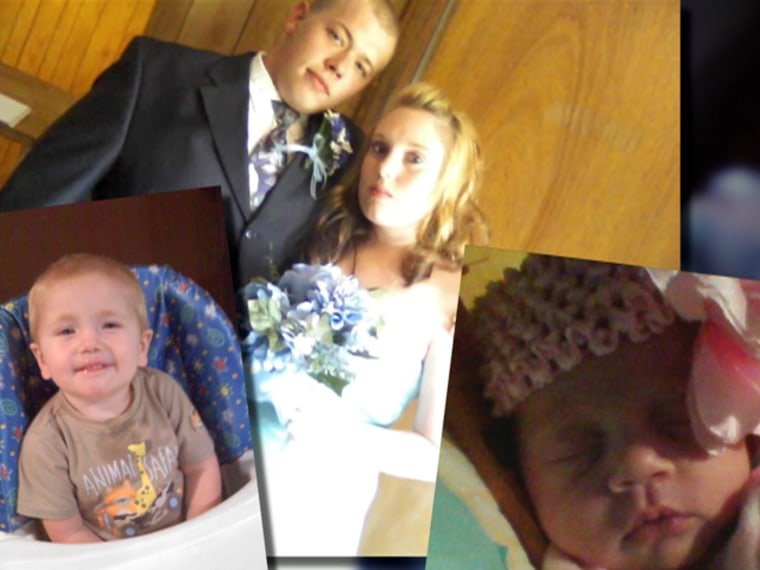 "I wish I could've done more, but I guess I just mainly feel thankful that I'm alive,'' Miller said. "I can't believe it was me and the rest of them didn't make it. It's very saddening to hear that the whole family passed away, and I was sitting right there holding their hands seconds before they died. It's very devastating, and I'm just very thankful to be here.''
They all grouped in the hallway of Miller's house and dropped to the ground while praying as a large tornado obliterated everything in its path, including the Babcocks' trailer, before directly hitting Miller's home.
"I went back outside and when I saw how close it actually was, that's when I went back inside and I told everybody to grab hands, and we started praying,'' Miller said. "We just laid down, and it was within a split second that it just crushed us.''
Miller remembers the fierce wind of the tornado, hearing a popping sound and then being sucked into midair as his house was shredded. Though he blacked out, some memory remains.
"At some point during me being up in the twister I did open my eyes and somehow I remember looking down and realizing I was 50 feet in the air and spinning in the middle of a twister,'' Miller said. "Other than that I don't remember anything until I was found a while later.''
Miller was found more than 400 feet from his home before being taken to the hospital.
"It's a miracle my legs are both fine,'' he said. "I just can't quit saying how thankful I am. I am in a lot of pain and everything for the most part, and overall I am very lucky.''
Miller found out Angel Babcock had died on Sunday on the local news. The prayers of others has helped him make it through a harrowing time.
"I felt the strength that came from everyone praying and I really appreciate that from all across the country,'' he said. "That's what we need, and that's what we continue to need.''


In the interests of defraying funeral expenses and other costs for the Babcock family, a non-profit trust has been set up. To contribute to the Babcock/Brough Memorial Fund, please contact PNC Bank, 46 St. Rd. 60 Pekin, Indiana, 47165