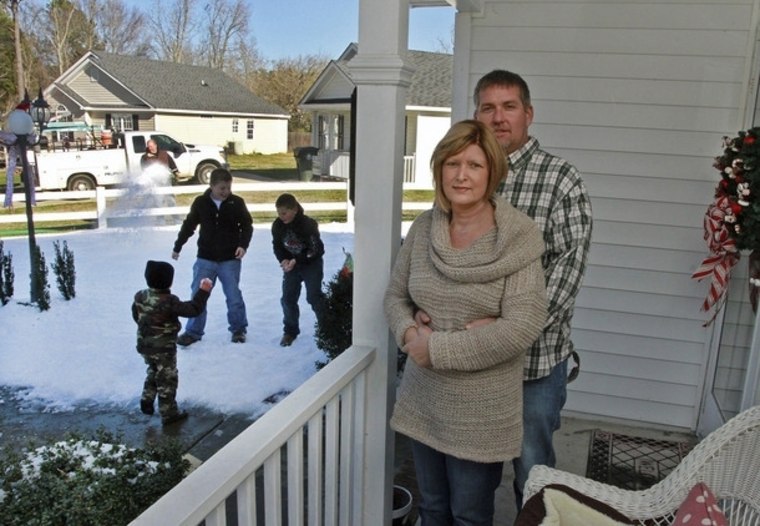 All a North Carolina woman battling Stage IV cancer wanted this year was a white Christmas, so her husband made it happen on a 50-degree day.
A few weeks before the holidays, Laurie Pearson told her husband Kevin that she wished it would snow for Christmas at their home in Wilson, N.C. It only snows in Wilson about once every two years, according to Kevin, but he was going to do whatever it took to fulfill her wish.
"In August we found out her cancer had metastasized to her bones and brain, so I didn't think we would have her with us this Christmas,'' Kevin Pearson told TODAY.com. "I started racking my brain and came up with an idea. I just wanted her to be happy because I was afraid this will be her last Christmas.''
Helped by an idea from his sister, Janice Jones, Pearson hired Snow My Yard, a business owned by Greater Raleigh Refrigeration in Raleigh, N.C., to create man-made snow that would cover the couple's property. On Dec. 22, Pearson took his wife out for a few hours, and when they returned, four tons of ice had been converted into a winter wonderland on their yard on a 50-degree day.
"We were having a small Christmas get-together at our house, and when she saw the ice truck parked out there she said, 'I know we don't need that much ice,''' Kevin Pearson said. "There was a glow on her face and then she smiled and said, 'What have you done now?' The look on her face, that was my Christmas. I just wanted to see that happiness on her face.''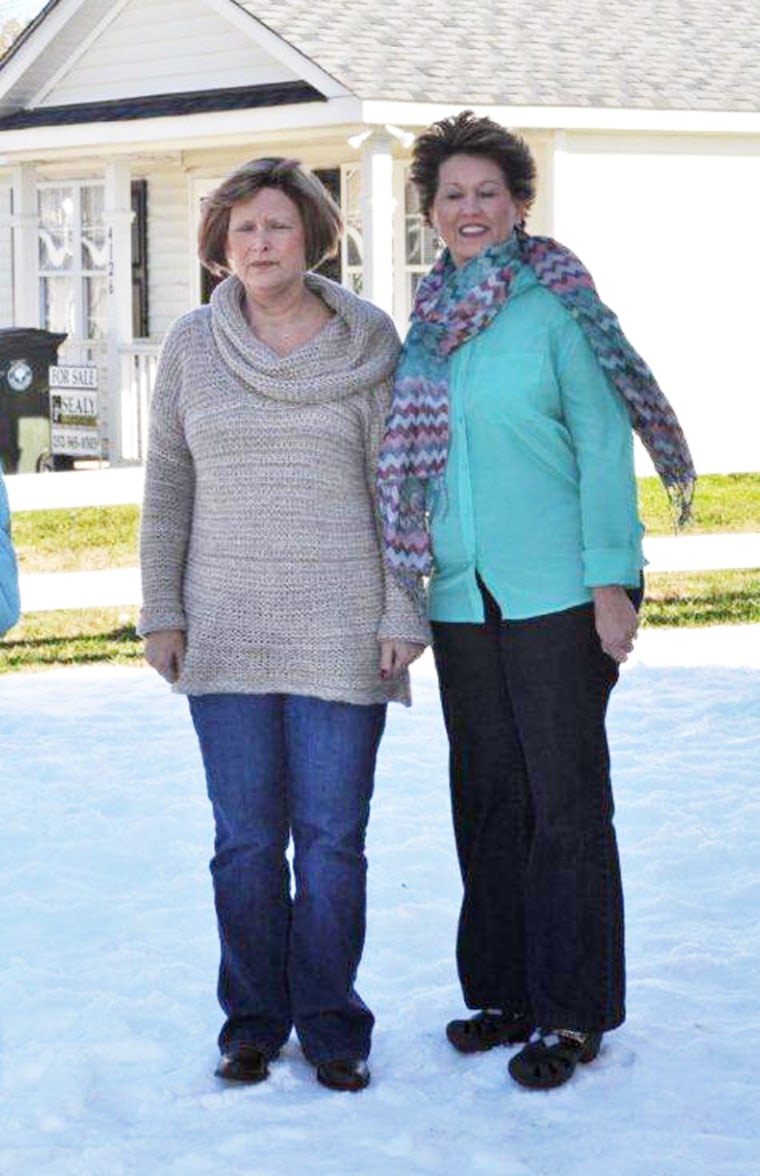 Neighborhood kids and her grandchild, nieces and nephews frolicked in the snow to Laurie Pearson's delight, whipping snowballs and riding sleds. It was a heartwarming moment in an ongoing battle for Laurie, who was taken to the hospital on Christmas Eve with a fever and has remained there since.
"To him there is no request too small or too grand when it comes to her,'' Jones told TODAY.com. "He was going to find a way to make her dreams come true and that he did. Even in her request for snow, it was more about giving. She wanted the kids to have a white Christmas, and she wanted to enjoy watching them sledding and snow ball fighting and laughing at the excitement of it all.''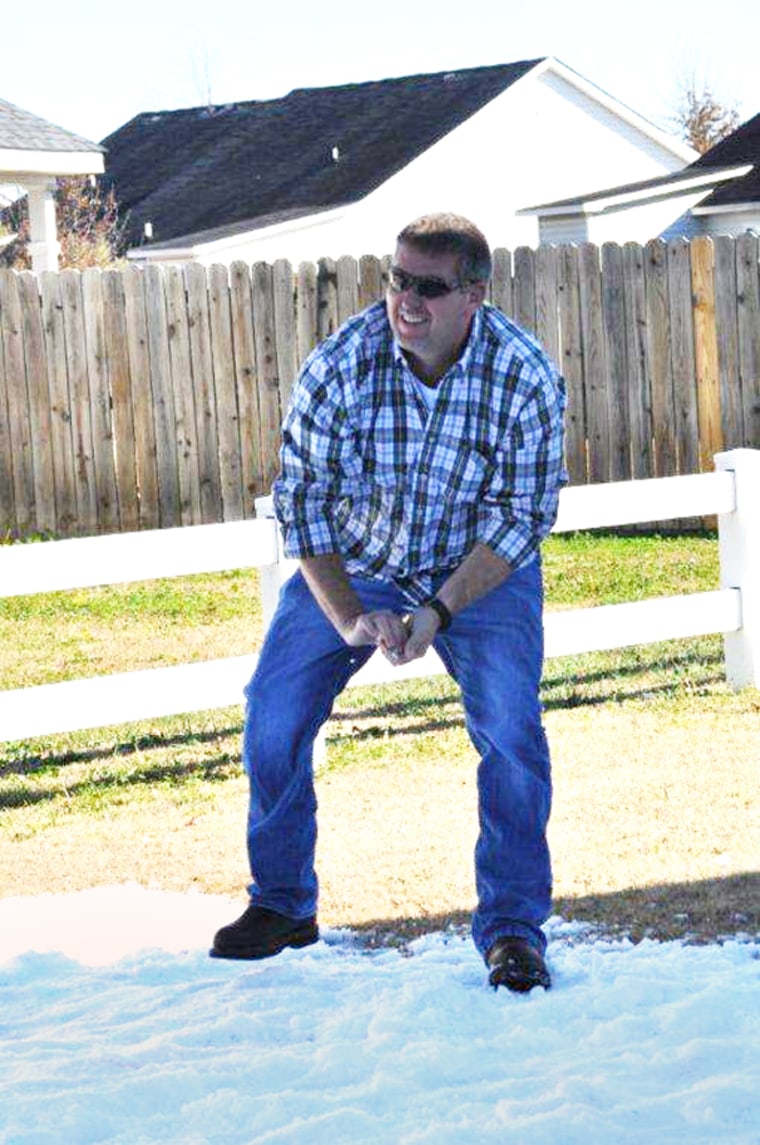 Snow My Yard normally charges about $250-300 per ton of ice in addition to travel costs, but did the whole thing for $350 after hearing the story behind it. The company has done similar things for kids in the Make-A-Wish foundation and was moved by the Pearsons' circumstances.
"It's tragic, and I was glad we could help,'' Greater Raleigh Refrigeration president Brian Turner told TODAY.com. "She seemed very surprised and happy. It was definitely for a good cause.''
Laurie was diagnosed with breast cancer in February of 2011 and then was found to also have colorectal cancer. She had colon surgery and breast surgery, and was in remission before doctors found another lump on her chest in August of this year. Doctors found that the cancer had spread to her bones, brain and pelvic area, and told her husband she had two to three months to live.
"Four months later, she's still with us,'' he said. "She's a wonderful lady who fights every day.''
The couple, who have been together for eight years, got married in May of 2011 in a wedding that Laurie planned in only a month after things were sped up as a result of her diagnosis in February. They were married in a beach ceremony in Emerald Isle, N.C. They do not have any children together, but Laurie has a son from a previous relationship and is a grandmother of one.
"She always says it's the little things that make the biggest difference, and she lives each day to make a difference,'' Jones said.
Read more: 
Aurora shooting survivor: Don't lose hope in humanity
Man recovers lost photos of family's beloved 'nana'
One family's Christmas wish: A healthy heart for Teresa