Texas pastor Chris Singer knows the importance of having a safe haven in the aftermath of a devastating storm.
When he opened the doors of Trinity Klein Lutheran in the northern Houston area to those in need following Hurricane Harvey in August, he had already lost his own home to the catastrophic flooding from the storm.
"That was very painful,'' Singer told TODAY Tuesday. "You just see all your stuff and you're realizing how much you've lost. There's not much we could do about our own home, so the next logical thing for us was, 'Well, let's make sure that we help people.'''
By the end of the first day after the hurricane, there were 75 volunteers already in action, which soon grew to 400 people offering to help.
"Money can only go so far,'' volunteer Les Nolan told TODAY. "And I felt like I had the time, and I had the skills, and this was just the right time to come down here and help out."
Al Roker traveled to Spring, Texas, to join the recovery effort on Tuesday as part of TODAY's "Lend a Hand" series in which he is visiting communities working to rebuild in the wake of devastating hurricanes that hit Texas, Florida, Puerto Rico and the Caribbean.
Trinity Klein Lutheran became a beacon of hope in the aftermath of the storm, with 277 families coming through its doors the first week and 44 individuals using it as a temporary shelter. The church also became a relief point for first responders and a hub to distribute flood relief supplies.
The church's pantry has provided 1,200 people a week with food, cleaning supplies and hygiene products since the storm. Trinity Klein Lutheran has also pledged to help rebuild 50 homes in the Houston area.
"We're not at that point where we're able to say, 'We can't help anymore,' and so every opportunity we get to be able to be empowered to help other people, we've chosen at this moment to say, 'We're gonna continue doing that,''' Singer said.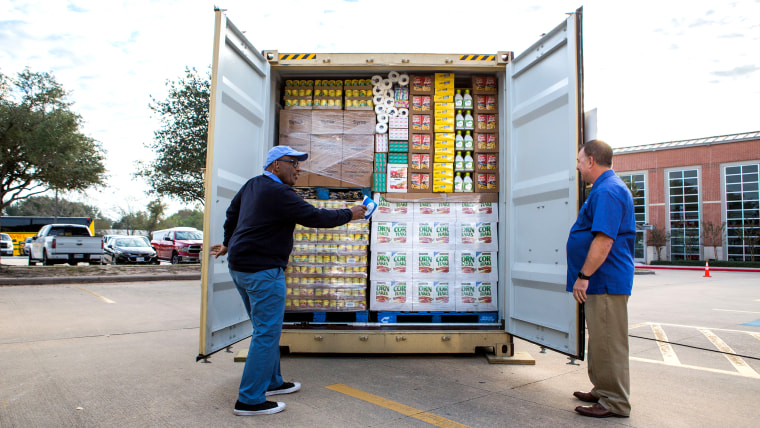 Singer appeared on TODAY alongside 85 families that have been affected by Hurricane Harvey, including home owner Sandy Simons.
"I'm not positive what all I've lost, but I've certainly gained a lot of friends,'' Simons said. "I've certainly gained a lot of fellowship with my church."
TODAY surprised Singer and the families on Tuesday with gifts to help with their recovery efforts.
The church was presented with a $100,000 donation from Sheldon Yellen, the CEO of Belfor, the world's largest disaster restoration company.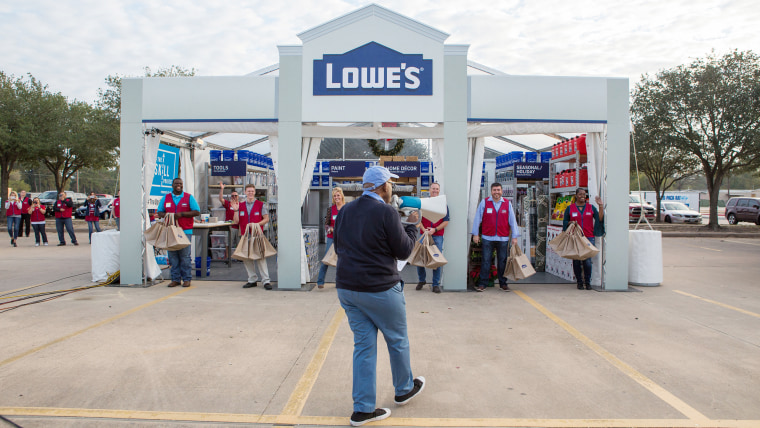 The organization Orphan Grain Train made sure the church's pantry will remain stocked by donating more than 35,000 pounds of food as well as $10,000 worth of sheet rock and $20,000 worth of wall insulation and construction equipment for a total donation of $60,000.
To top off the surprise, Lowe's gave $350,000, which included a special Lowe's pop-up store built in the parking lot of the church filled with supplies just for the families gathered on TODAY. Each family also walked away with a $2,000 Lowe's gift card.
"This is fantastic, thank you so much,'' Singer told Al. "So many people need these things to get back on their feet, and you have provided that for them."
Follow TODAY.com writer Scott Stump on Twitter.