Kerry Kennedy told Matt Lauer on TODAY Tuesday that her innocence and access to "competent counsel" helped her win her recent case in court.
On Friday, a jury found Kennedy not guilty of a drugged driving. A New York panel deliberated for only an hour before returning the verdict, but spent four days beforehand listening to court arguments, experts and evidence.

"I think that I won this case for three basic reasons. Number one, I was innocent. Number two, I had competent counsel. And number three, I was willing to bring it to trial," she said. 
Kennedy acknowledged she has the financial resources to hire good representation, but many people in the country don't. The problem stems from laws surrounding plea deals that get struck.
"For so many people who have misdemeanors, (they) are not able to afford counsel. They can't go out and hire lawyers and therefore, they plead to something that they didn't do," she said. 

Kennedy was charged with a single misdemeanor count of driving while impaired by drugs. She admitted to taking a sleeping pill before leaving her home and taking to the road on July 13, 2012, but she said she accidentally mistook the drug for another medication she uses to treat her thyroid.
Witnesses saw Kennedy, 54, swerving on the highway for several miles before she sideswiped a tractor-trailer. She was found later that day, asleep and slumped over her steering wheel.
Kennedy's attorneys had argued that prosecutors would never have taken the 54-year-old daughter of Robert F. Kennedy to trial if she didn't come from a family that often gets treated as American royalty.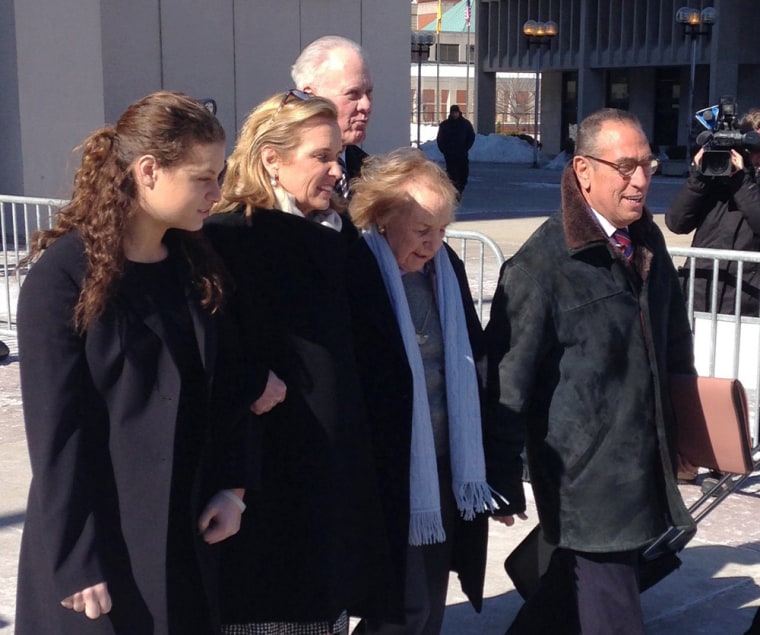 But prosecutors argued they bring 2,500 cases to trial every year in Westchester County and Kennedy needed to be held accountable just like others in her predicament.
Lauer asked Kennedy if she thinks her last name affected the trial. "One opinion ... was this case would never have ended up in court had it not been for the fact your last name is Kennedy," Lauer said. "And another group ... says you would not have been acquitted so quickly had it not been for the fact that your last name is Kennedy."
"I think they're both wrong," Kennedy said. 
Kennedy would have faced up to a year in jail if convicted. 
She said one reason why she refused to accept a plea deal to settle the case was because it would hurt her career as a human rights activist. If found guilty, it would have had a severe impact on her ability to travel internationally for at least a decade and perform other parts of her job as president of the RFK Center for Justice and Human Rights.
She also pointed out that "if you plea for something like this overseas, you're not allowed back in the United States for 10 years, which is another way that plea system harms our country."
Kennedy said she was acquitted because of her innocence, but many others aren't as lucky. In addition to lacking competent counsel, many defendants just can't afford the time necessary to prove their case and take it to trial. 
"This was 20 months. It was a week off from work — I wasn't going to be fired from my job," she said about her own case. "And they take these pleas, which can really have a devastating impact on their lives. It can harm them in trying to seek a job, in trying to get a loan from a bank, in trying to just rent an apartment."
Kennedy noted the irony of her case being tried during the 50th anniversary of the Criminal Justice Act, the "seminal piece of legislation my father passed as attorney general" that helped assure funding for the right to counsel in federal court.

"We need that in states across our country. We don't have that in New York state today," she said. "We've got to pass legislation which will allow people to have access to competent counsel no matter who they are."
Much of Kennedy's current work is focused on improving the rights of migrant farm workers. She recounted how she met with one such worker from New York who hasn't had a single day off in 10 years.
"Farm workers in New York, because of leftover Jim Crow laws, have no right to a day off per week, have no right to overtime pay. Child labor is still legal here and they can be fired just for forming a union," she said. "That's something we have to put an end to as well."
TODAY.com contributing writer Eun Kyung Kim is based in Washington, D.C. You can follow her on Google+ and on Twitter.