/ Source: The Associated Press
Britain has plenty of venerable institutions, but none so tasty as fish and chips.
It's a simple dish, usually a hunk of golden brown cod or haddock served with thickly cut strips of potatoes sprinkled with salt and vinegar. Despite that simplicity, the dish has become an icon of British culture.
This year, fish and chips is celebrating its 150th birthday. Or is it? That date is according to the National Federation of Fish Friers, which represents about 8,500 fish and chip shop owners in Britain.
Yet there are competing stories about when the dish was first created, and the exact origins are lost to time.
One story is that an entrepreneur named John Lees started selling fish and chips in 1863 out of a wooden hut in Mossley, near Manchester, before moving to a permanent location nearby. In his new digs, so the story goes, he hung a sign in the window proclaiming, "This is the First Fish and Chip Shop in the world."
But Douglas Roxburgh, president of the national federation, said his group can date the dish to 1860.
That's when, according to lore, the Malin family in London, who worked as rug weavers, started frying chips in their home. Thirteen-year-old Joseph Malin came up with the idea of combining them with battered fried fish to sell on the streets of London's impoverished East End.
Does the exact history matter?
If you look at the components of the dish — fish minus chips, for example — the origins go back further.
Charles Dickens wrote in Oliver Twist, published serially from 1837 to 1839, about "fried fish warehouses," where the fish generally were sold with big hunks of bread or baked potatoes.
Fried fish itself was brought to Britain and northern Europe by Sephardic Jewish refugees from Spain and Portugal in the 17th century. Thomas Jefferson wrote in a letter that he ate "fish fried in the Jewish fashion" while visiting London in the late 1700s.
As for chips, legend has it that a housewife who was either in Belgium or France, depending on whom you believe, cut up some potatoes in the shape of fish to fry when she couldn't get her hands on any real fish.
So long as the fish and chips are tasty and fried, perhaps it doesn't matter.
Roxburgh cites a recent survey that asked people to name things they thought were typically British. At the top of the list, edging out the queen, was fish and chips. In fact, the dish is such a vital part of the culture that to keep up morale during World War II, it was one of the few foods the government didn't ration, Roxburgh says.
It's still one of the most popular takeout foods in the UK, with about 10,500 "chippies" employing 60,000 people and selling nearly 276 million fish and chip meals a year.
'There's an art to it'That's the history. But what about the reality? How hard could it be to fry up some fish and potatoes?
Harder than you might think. Just ask staff and students at the federation's headquarters in Leeds in northern England, where aspiring owners of fish and chips shops can learn the tricks of the trade during a three-day course at a cost of $1,000.
Students are taught how to debone cod fillets before slicing them into 5-ounce pieces. They learn how to peel 15 pounds of potatoes in 2 minutes using a "rumbler" — think of a small top-loading washing machine lined with sandpaper-like abrasive. And they learn to use another machine that slices them up in 30 seconds.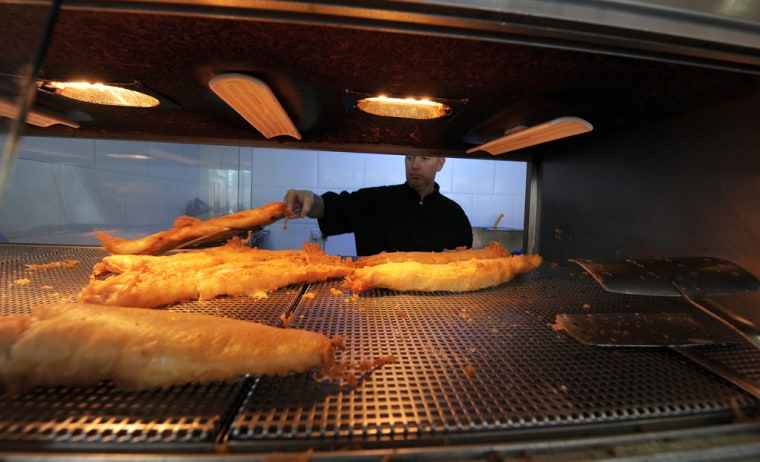 "There's so much more than just chucking a piece of fish into a bit of fat and hoping for the best. There's an art to it," said student Barrie Richards, who's in the process of buying a "chippy."
Instructor Mark Drummond demonstrates how to batter and fry a piece of cod on a traditional frying range. He submerges it into the mixture and lifts it out, pausing to touch the bottom tip to the side of the metal container to let the excess dribble off, before lowering it into the vat of boiling, sizzling oil. He lets it go with a gentle, outward motion so it floats away from the middle, freeing up space for more fish.
"It should be like laying a baby down to sleep," said Arthur Parrington, treasurer and former president of the federation.