A South Carolina judge denied bail for the 25-year-old woman accused of killing a bride after allegedly crashing into a newlywed couple's golf cart while driving under the influence earlier this year.
Circuit Court Judge Michael G. Nettles rejected Jamie Komoroski's request for bail on Tuesday, and ordered she must remain in custody as she awaits trial.
Samantha Miller, 34, died in the April 28 crash in Folly Beach, South Carolina, just minutes after leaving her wedding reception. Her husband, Aric Hutchinson, suffered a brain injury and several broken bones, according to a GoFundMe page created by his mother.
Two other family members on the golf cart were also seriously injured in the crash, according to an arrest affidavit obtained by NBC affiliate WYFF.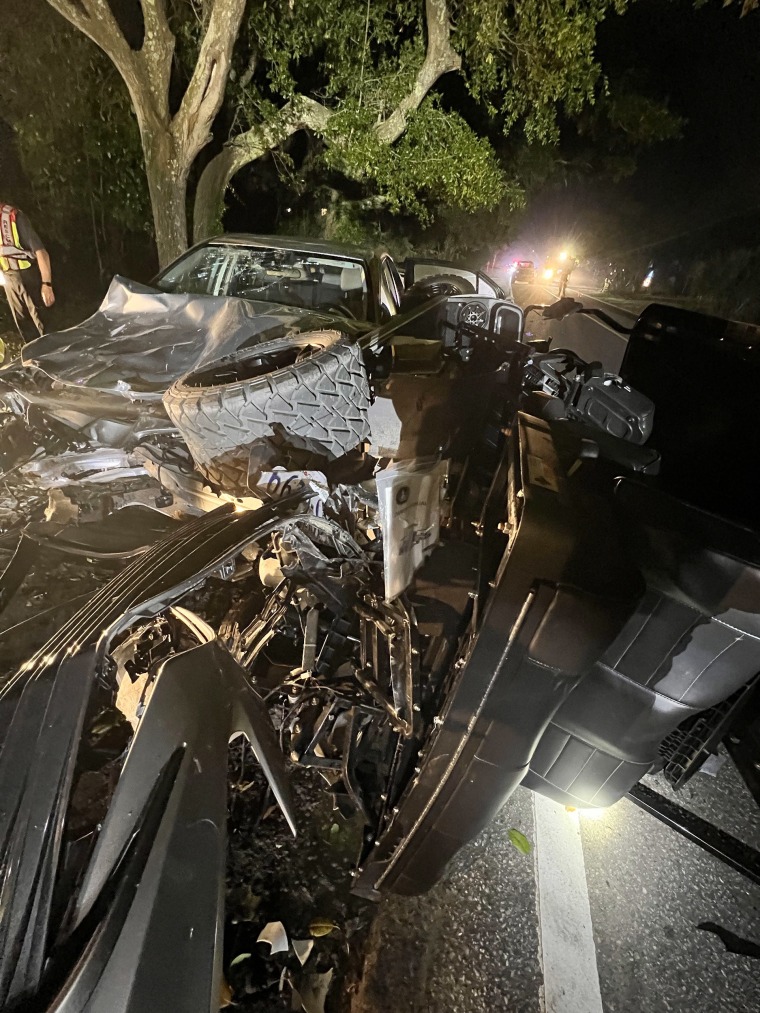 Komoroski was charged with one count of reckless vehicular homicide and three counts of felony DUI resulting in great bodily harm, according to police.
The Associated Press reported that investigators said Komoroski was allegedly traveling 65 mph in a 25 mph zone and briefly hit the brakes before crashing into the golf cart, which police said had lights and was legal to drive at night, from behind, according to data from her vehicle.
According to a toxicology report obtained by NBC News, Komoroski had a blood alcohol level of 0.261, which is more than three times the legal limit.
Jerry Meehan, an attorney for the Miller family, said Tuesday in a statement to NBC News the family is "pleased with the justice delivered today."
"We trusted the legal system and agreed with Judge Nettles' decision that the Defendant was a danger to the community and denied bond," Meehan said.
Miller's mother, Lisa Miller, said in a statement read in court she "wouldn't want anybody else to go through this."
Outside of the courtroom, she asked, "Why should (Komoroski) just get out and go about her merry way?" according to NBC affiliate WCBD.
Komoroski was being held at the Sheriff Al Cannon Detention Center in Charleston, and Nettles said that if the trial hasn't occurred by spring 2024, he would set her bond at $150,000 with house arrest.
Christopher Gramiccioni, an attorney for Komoroski, responded to the judge's decision in a statement to NBC News.
"We appreciate the court's decision to release Jamie on bond in March 2024 if the State is not ready for trial, but we nonetheless believe that she has met the legal criteria for release today," Gramiccioni said.