He's a tough guy in the ring, but outside of his WWE exploits, John Cena is a sweetheart with soft spot for kids in need.
The wrestling champ and actor has a long and devoted history with the Make-A-Wish foundation. As the group's most requested "wish," he's fulfilled hundreds of requests to see sick children who've asked for him.
Now the number of wishes he's granted is about to hit 500, and he revealed the wish on TODAY, which he'll grant on WWE Raw on Monday.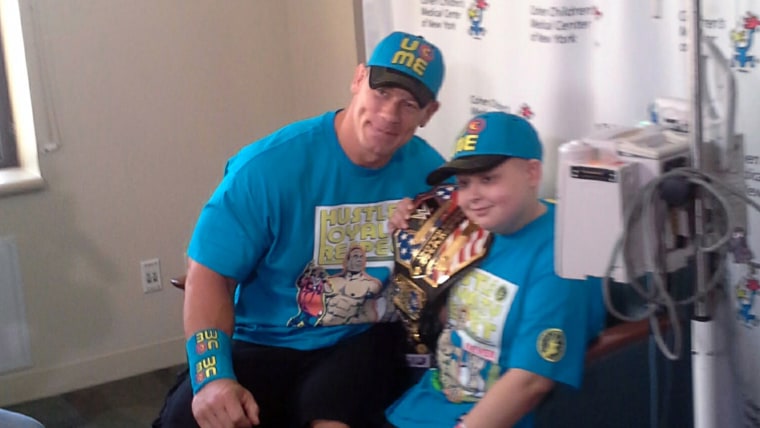 Rocco Lanzer was diagnosed with leukemia in January, and the 8-year-old's hero, Cena, already visited him once in the hospital during his treatment earlier this year.
"But I wasn't feeling my best," Rocco told TODAY. "I didn't get a chance to talk to him like I wanted to, and I wish I could meet him again."
On Wednesday, that wish came true.
Cena, who was already at Studio 1A to co-host the 9 o'clock hour, paid Rocco another visit and showered him with special treats — including tickets to see Cena up close at "Monday Night Raw."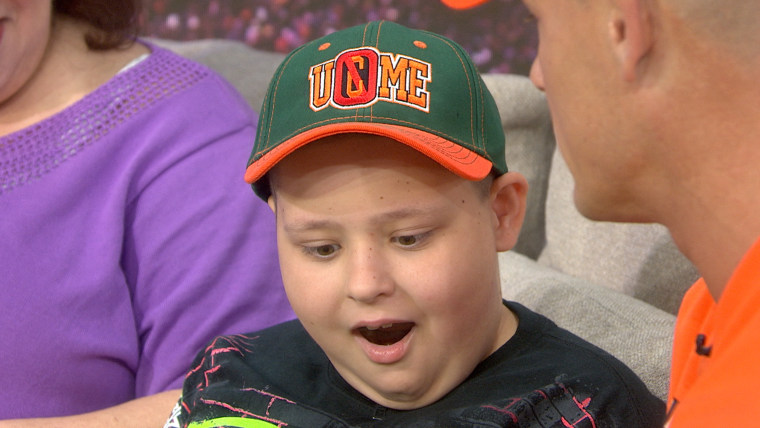 Before his reunion with Rocco, Cena spoke about the charity that means to much to him.
"A lot of times when people donate time or resources, there's a little speculation about where it goes," he said. "I'm at the finish line. I get to see the families; I get to see the joy and the hope that we bring."
MORE: 'Never give up!' John Cena encourages young fan to 'keep fighting' through health issues
And he vowed, "I'll continue to be involved with Make-A-Wish as long as they'll have me."