Years before people were lining up for Katie Ledecky's autograph, she was a young fan herself just trying to get a souvenir from swimming royalty.
A photo shared by the Ledecky family with ESPN reporter Darren Rovell shows a 9-year-old Katie beaming after she got an autograph from swimming legend and now-Olympic teammate Michael Phelps back in 2006.
It's no surprise the two swimming greats had an early face-to-face meeting given that Phelps is from the Baltimore area and Ledecky grew up in Bethesda, Maryland.
RELATED: Michael Phelps gives rival terrifying death stare, inspiring #PhelpsFace
By the time of their autograph session, Phelps had already swam in the 2000 Olympics in Sydney and the 2004 Games in Athens, winning six gold medals in the latter.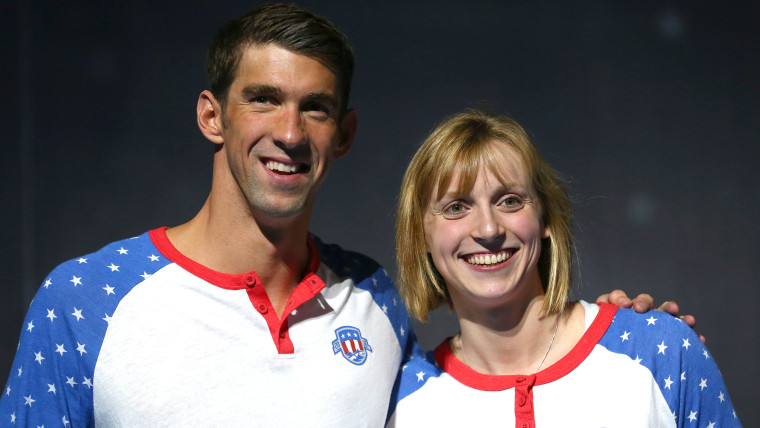 Ledecky, 19, is now well on her way to joining Phelps on the Mount Rushmore of U.S. swimming having racked up three gold medals in her young career, including two and counting in Rio de Janeiro.
She also has the Phelps-ian stat of having won gold in 17 of 18 races between the world championships and Olympics in her career, which began at 15 years old just like Phelps.
Phelps, 31, is the most decorated Olympian of all time with 21 gold medals and counting after winning two on Tuesday in a sensational performance.
Ledecky hung around more legends than just Phelps while growing up. As a 2-year-old, she had a brush with Michael Jordan during a Washington Wizards game back when he was a part owner of the team.
She also encountered meteorological greatness when she was just 16 months old in 1998.
Her mother brought her and older brother Michael to Rockefeller Plaza, where they were interviewed by none other than Al Roker.
"That's how old I am,'' Al joked on TODAY Tuesday. "People who are adults, full-blown adults, were children, babies, infants — they were in the womb — when they showed up on the TODAY show."
In another TODAY connection, Ledecky's uncle, Jon Ledecky, the majority owner of the NHL's New York Islanders, went to Greenwich High School in Connecticut with Matt Lauer and the two have remained close friends.
Follow TODAY.com writer Scott Stump on Twitter.