/ Source: TODAY contributor
She gives new meaning to the term "silver fox."
Model Kristen McMenamy is experiencing a revitalization in her career despite two very large checks against her — she's 45 years old and she has long, fully gray hair.
This stunning woman is currently the alterna-flavor du jour, with a long tally of enviable jobs to her credit: She's featured in American Vogue's August Age Issue; designer Alber Elbaz chose her for his recent Lanvin campaign; she's in the current issue of Dazed and Confused magazine; she walked in the fall 2010 runway shows for Calvin Klein and Viktor & Rolf this past spring, and who knows where we'll see her in the upcoming spring fashion shows starting in September.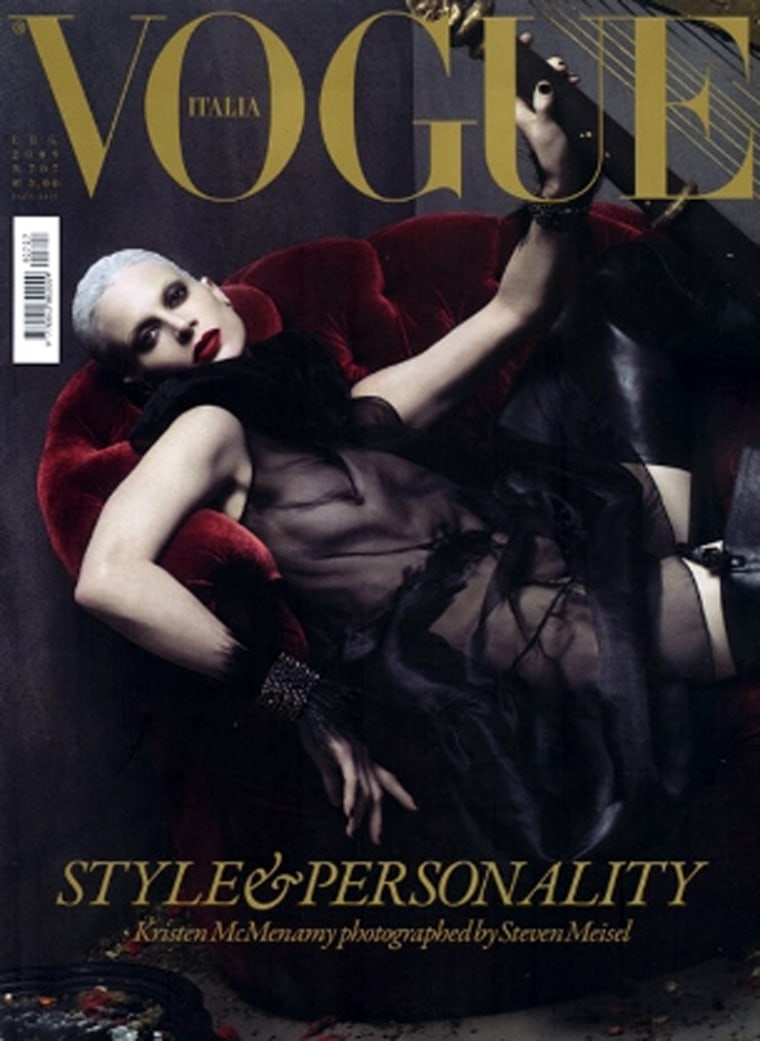 Elegance with an edge
And all this for a model who rode the tail end of the original supermodel era in the 1990s — one mentioned in the next breath after Cindy Crawford, Naomi Campbell, Christy Turlington and Linda Evangelista.
Even then, though, McMenamy, who lives in London with husband, photographer Miles Aldridge and their four children (including two they had together, as well as one each from previous relationships), was never particularly mainstream. Her lanky frame showed off clothing fabulously, but her facial features were not particularly feminine. The story goes that when she was a young model trying to make it, Eileen Ford told her it would never happen unless she had extensive plastic surgery.
But McMenamy persevered — and, as luck had it, her androgynous looks appealed to the edgier members of the fashion flock.
Like Linda Evangelista, who became a superstar when she cut off her hair, McMenamy shot to fame when she shaved off her eyebrows, in 1993. The look was a little disturbing, but designers and creative directors clamored to work with her.
And also like Evangelista, who is currently appearing as the fall face of retailer Talbots, McMenamy's revival is more about who she is and what she projects from inside than how she fits the standard norms of beauty.
"Kristen has always been recognized for her beauty, personality and natural confidence; she has aged gracefully," said Francisco Costa, women's creative director for Calvin Klein. "Kristen is just as relevant today as she was when she first started modeling."
"With Kristen, you've got the reality factor, the intelligence factor, and the talent factor," Vogue fashion director Tonne Goodman says in her magazine. "She understands who she is; she understands fashion in a way that's remarkable."
It's also McMenamy's sense of self that led her to stop covering up the gray in her hair six years ago. "I thought all that gray hair would make a beautiful picture," the model told Vogue.
However, her glorious gray is not without maintenance: McMenamy still has to visit a colorist every couple of weeks. "I have one big black streak in the center of my hair. It sounds really cool, but it's not," she told Vogue. Her London colorist lightens it to match the rest of her silver mane.
Not surprisingly, this model's great gray look is on the forefront of the fashion trend of youngish people putting gray into their hair. Iconic model Kate Moss and Kelly Osbourne have both been spotted with silvery-gray streaks throughout their hair.
And the oddest person to be sporting faux gray is teenage fashion blogger Tavi Gevinson, who oddly resembles a little old lady with her gray, not the fashion trailblazer she aspires to be.