Nearly eight weeks after giving birth to son Prince George, the Duchess of Cambridge, 31, wowed royal family fans with an appearance at a charity event in London on Thursday, with Prince William at her side.

The event, an awards dinner for wildlife conservancy organization Tusk Trust, was Duchess Kate's first official public engagement since the young prince's birth. (She had made a surprise public appearance at an event on the island of Anglesey in late August.) 
Kate, clad in a floor-length, silver sequin gown by British designer Jenny Packham and silver stilettos, was all smiles on the red carpet outside The Royal Society, posing for photographs, including one near a statue of a zebra. The stylish royal has previously worn designs by Jenny Packham, most recently while showing off her newborn son after giving birth at London's St. Mary's Hospital.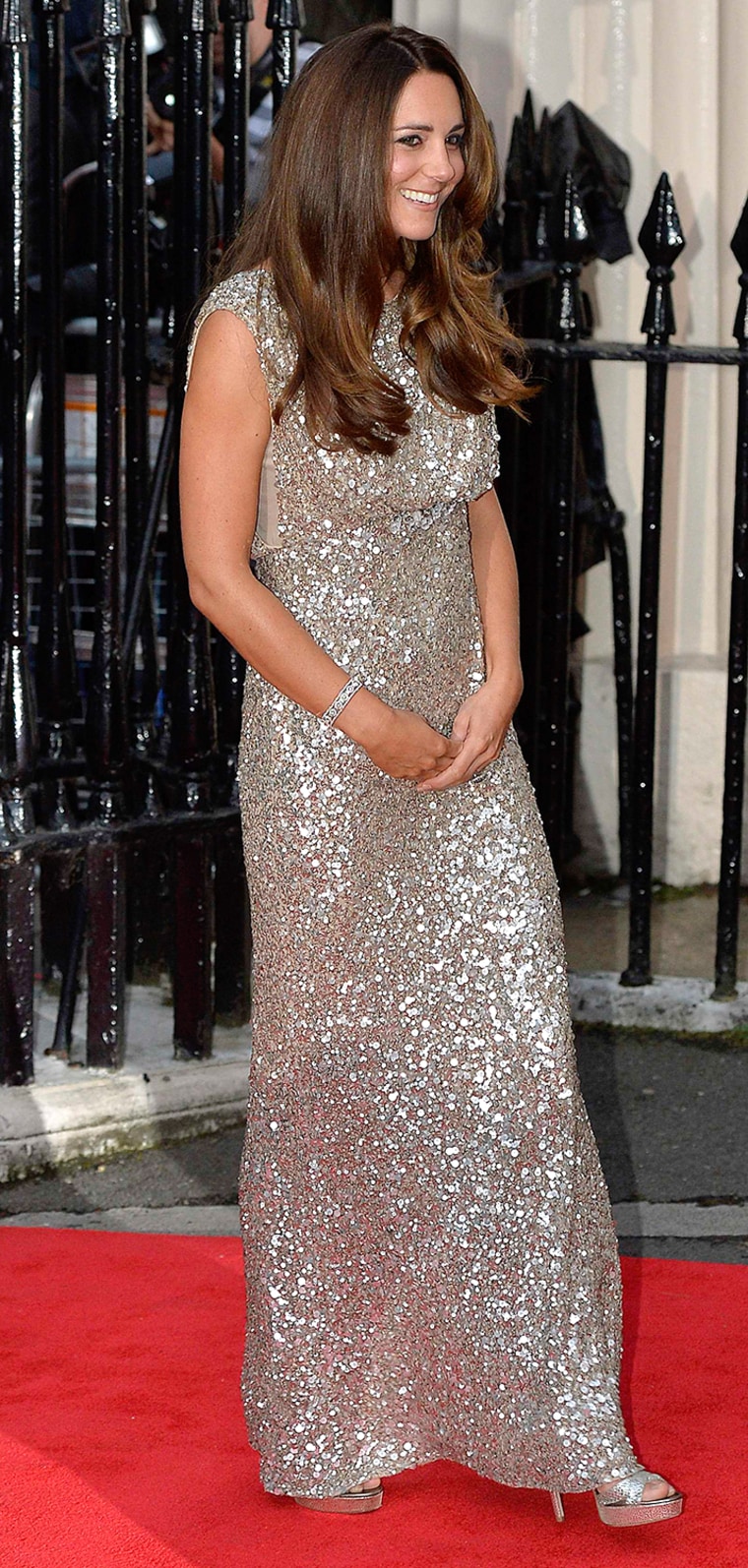 Prince William is the royal patron of the Tusk Trust, which aims to make a link between African wildlife and the communities living alongside it, and one of the awards given on Thursday evening bears his name. The event is particularly fitting, as it comes on the heels of the Duke of Cambridge's announcement of his retirement from the British military. 
After nearly eight years in the service, Prince William will make a return to royal life full time, moving with Duchess Kate and his son from the island of Anglesey to Kensington Palace. He has vowed to spend more time focusing on his charity work, making the Tusk Trust awards gala a noteworthy stop on his first day of retirement.
Prince William also announced on Thursday that he has teamed up with retired soccer player David Beckham and retired basketball player Yao Ming to speak out against the illegal trade of wildlife products — specifically, rhino horn and elephant ivory. The three celebrities will appear in public service announcements about the issue later this year.
In the documentary "Prince William's Passion: New Hope, New Father," which will air on CNN Sunday night, William becomes emotional about the plight of rhinos and elephants in the wild.
"The wildlife is incredibly vulnerable and I feel a real protective instinct, more so now that I am a father, which is why I get emotional about it," William says in the film.
"You want to stand up for what is very vulnerable and needs protecting. Elephants, rhinos and many other animals that are persecuted don't have a voice."
Catherine, Duchess of Cambridge, wears everything from fancy hats to casual tank tops. See how Prince William's wife can easily go from a high society affair to shopping on the streets of London.