An 18-year-old student who had just received his high school diploma and his father were shot and killed Tuesday when a gunman opened fire after a high school graduation ceremony in Richmond, Virginia, authorities and a family member said.
Shawn Jackson, 18, and his father, Renzo Smith, 36, died in the shooting on the campus of Virginia Commonwealth University, Tameeka Jackson-Smith, Jackson's mother and Smith's wife, told NBC News.
Five others between the ages of 14 and 58 were injured in the shooting, along with several others who sustained injuries as they fled the gunfire, Richmond Police said in a statement.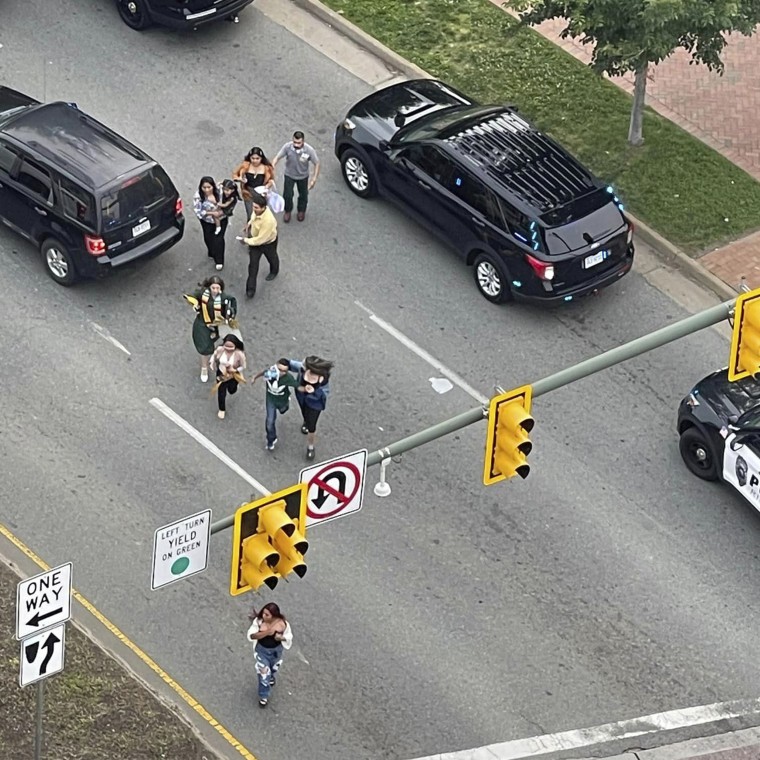 Two people were taken into custody after the shooting, and one of them, a 19-year-old man, is the suspected gunman, according to Richmond Police. The other person was not involved, police said.
Rick Edwards, Richmond's interim police chief, said during a press conference the suspect, who has not been identified, will be charged with two counts of second-degree murder. Police recovered four handguns on the scene.
Authorities believe the suspect knew at least one of the victims, Edwards said.
Of the five wounded victims, a 31-year-old man was being treated for life-threatening injuries, and the other four had injuries that were not life-threatening, Edwards said.
Nine other people were treated for anxiety and minor injuries on the scene, and two others were treated for falls, police said. A 9-year-old girl was taken to a local hospital after she was hit by a car.
Richmond Mayor Levar Stoney said he was outraged his community was the latest target of gun violence.
"This is tragic, but also traumatic. Because this is their graduation day," Stoney said. "Is nothing sacred any longer?"
The shooting, which police said took place at Monroe Park around 5:13 p.m., occurred after Huguenot High School's graduation, which was scheduled at 4 p.m. at Altria Theater, according to the school's website.
Richmond Public Schools said in a notice on its website all district schools would be closed Wednesday and that all high school graduations this week have been canceled.
Richmond Public Schools Superintendent Jason Kamras, wearing a black graduation robe, became emotional speaking about the shooting during a press conference.
"I'm tired of seeing people get shot, our kids get shot, and I beg of the entire community to stop," Kamras said. "To just stop. Our kids can't take it. Our teachers can't take it. Our families can't take it anymore. I beg of you to stop."
Virginia Commonwealth University said there was no ongoing threat to the community. The university's president said in a tweet "graduations should be times of happiness and celebration," adding "today's shooting is heart-wrenching and shocking."