/ Source: TODAY contributor
Stranded in the wilderness and freezing cold on a remote Idaho mountain after their plane crashed on Memorial Day weekend, the Brown family heard a voice echoing into the night.
"You are the dancing queen, young and sweet, only seventeen…"
It was the ring tone on Jayann Brown's cell phone. She, her husband Brian and daughter Heather had survived the crash of the family's Cessna 172. The phone rang out when the Browns' other daughter, Tabitha Howell, called to check in on her family, who were on their way to visit her.
"To think that that set off their chain of hope, that's not really what I was trying to do,'' Howell told TODAY on Monday in an interview alongside her family. "I was just worried where my family was. I'm just so thankful that I didn't hesitate any longer to find out what's going on.''
"We were in the mountain areas pretty deep, and I've never had luck with a cell phone working in the mountain areas really at all,'' Brian Brown, a firefighter, told Ann Curry.
The ABBA song meant that somehow the remote location had cell phone service. Heather quickly called 911 to tell the dispatcher that they were either 29 miles east or west of Mountain Home, Idaho, and they needed a search party. The cell phone came in handy again when they used an app that produces a strobe light to help rescue workers locate them.
Story: Trio rescued more than 15 hours after Idaho plane crash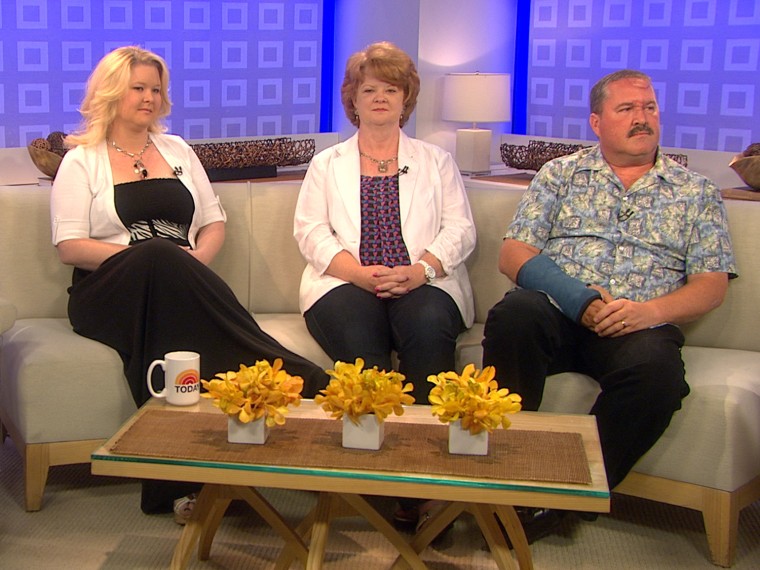 National Guard rescuers battled six-foot snowdrifts, white-out conditions and 60-degree slopes for nearly 15 hours before they were able to save the Brown family on the afternoon of May 27. The rescue team wrapped them in blankets and built a fire until a military helicopter hoisted them to safety. The family was treated for minor injuries at the Saint Alphonsus Regional Medical Center in Boise.
"We did have an opportunity to stay on this world longer, and we have to make good with it,'' Brian told NBC News.
The ordeal began during the family's journey from their home in Wilton, Calif. to Mountain Home, Idaho when they hit nasty weather, reducing the visibility for Brian, who was piloting the plane. The engine began to stall, and Brian sensed what was coming.
"I just knew with the amount of altitude we had that I wasn't going to be able to clear the next ridge line,'' he told Curry.
That left him only a few moments to say his goodbyes.
"I had really just about enough time to tell the girls in the plane that 'I'm sorry. I don't think we're going to make it, and I love you,''' he told NBC News.
Brian brought the nose of the plane up so that it would crash belly-first into the mountain. Jayann Brown was the first one to regain consciousness and take stock of the situation.
"It was dark and I was surprised that here we were,'' she said. "I didn't really react to anything. It was just very unreal to me, but I was glad to see that my husband and my daughter were OK. It was like, 'OK God, we're still here.'''
The family had a lone blanket that Heather had brought along because she was cold that morning. She gave it to her parents for warmth.
"Because both of my parents had suffered head injuries I had kind of known just from natural instinct (that) they need to stay warm more,'' Heather told Curry. "It's more important for them to stay warm than me to stay warm.''
Soon the phone began to ring. "It's just one of those silly songs from her college days,'' Heather said of her mom's ringtone.
It's surely not silly anymore for the Brown family, who considers hearing that song in the wilderness part of their second chance at life.
"Just the opportunity to get the story off our chests and out of our minds has been a big part of the healing process for us,'' Brian told Curry.