The family members of Floyd Nordhagen, 92, and Margaret Nordhagen, 88, who were killed Sunday in a car accident in rural Washington state, say they weren't surprised when state troopers told them that the couple was found holding hands in the wreckage.
"They were always together," their son, Marv Nordhagen, told TODAY.com. "They still cuddled a lot."
"He would give her a hug and a kiss every day," said their daughter-in-law Lynn Nordhagen. "Whenever they were near each other, he would reach for her and she would reach out for him."
Floyd was a deeply religious man who dedicated his life to his two loves — Jesus Christ, and his wife.
"Floyd bragged that he felt like he was 18 years old and attributed that to 80-something years of 'no booze, one woman, and the love of God'," family friend Serena Thompson wrote on her blog.

The couple, who had been married for 68 years, first met at Margaret's high school graduation, where she was the class valedictorian.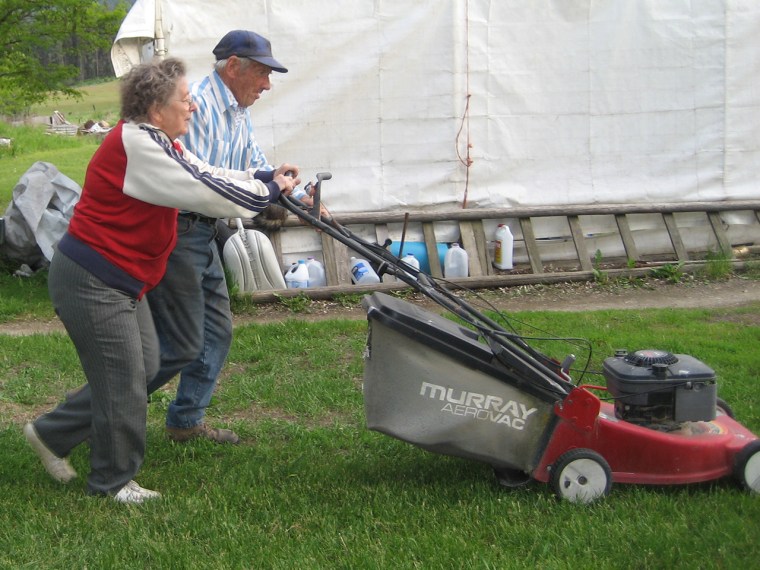 "He married up," joked Marv. The couple didn't see each other for some time after their first introduction and Margaret had actually accepted a marriage proposal from another suitor. But when she met Floyd again, "he swept her off her feet," according to Marv.
Despite earning a meager living on a cattle farm in Chattaroy, Wash., the family said the couple gave away up to 20% of their annual income to charity, most of it going to their local church.
"Floyd always said, 'I am so rich,'" said daughter-in-law Lynn. "He felt so blessed."
Margaret was the church secretary for many years and would often cook for church events. She was famous for her homemade oatmeal cookies, cinnamon rolls, and chicken noodle soup.
Their son Marv, who now looks over the cattle, said the couple lived a simple, honest life without pretenses or facades. "They were who they were," he said.
In recent years, Margaret had been diagnosed with Alzheimer's disease and Floyd required a cane to get around. When his knee began bothering him, he'd have trouble pushing the heavy lawnmower around their farm. Margaret would often work by his side, helping to push the hefty machine.
The family was very concerned about how one of them would cope when the other passed away.
"None of us could imagine one of them without the other," said Lynn.
The family is grateful that the two were taken from them at the same time.
"We do think that's God's blessing," said Marv.
Floyd and Margaret leave behind their four children, 11 grandchildren, 23 great-grandchildren (a 24th is on the way), and one great-great-grandchild.
While the family is still mourning their loss, the story of their parents' accident and their final show of affection has gone viral.
"It's insane. I'm dumbfounded," said Marv. "I think the world wants the kind of love they had and has no idea how to have it."