It's not too hard to understand why many parents quickly go overbudget during the holidays.
"When you ask children what they want for Christmas, most kids want expensive gifts." Sheri Moskowitz Noga, author of "Have the Guts to Do it Right: Raising Grateful and Responsible Children in an Era of Indulgence," is well aware of how easy it is for parents to overspend. "Parents want gratification by making their children happy."
The National Retail Federation has predicted that families will spend $596.53 on holiday gifts this year, said spokeswoman Kathy Grannis.
How do the experts suggest families avoid overspending in 2014? Here are a few do's and don'ts to help you keep your spending on track.
DO: Start your holiday season with a family meeting
Dr. Laura Markham, author of "Peaceful Parent, Happy Kids: How to Stop Yelling and Start Connecting," suggests that parents call a family meeting at the beginning of December and ask everyone what they want to do to make their holiday season meaningful.
Writing everything down, even when a child asks for something outside the budget, helps children feel heard and that their holiday expectations matter—even if you can't meet every expectation. Likewise, including the entire family in the planning and budgeting discussion teaches children important lessons in managing both money and time.
DO: Make a budget that includes everything from gifts to carpet cleaning
Kimberlee Stokes, parent and blogger at The Peaceful Mom, created a Holiday Spending Planner that includes budget planning categories for everything from plane tickets to wrapping paper to carpet cleaning.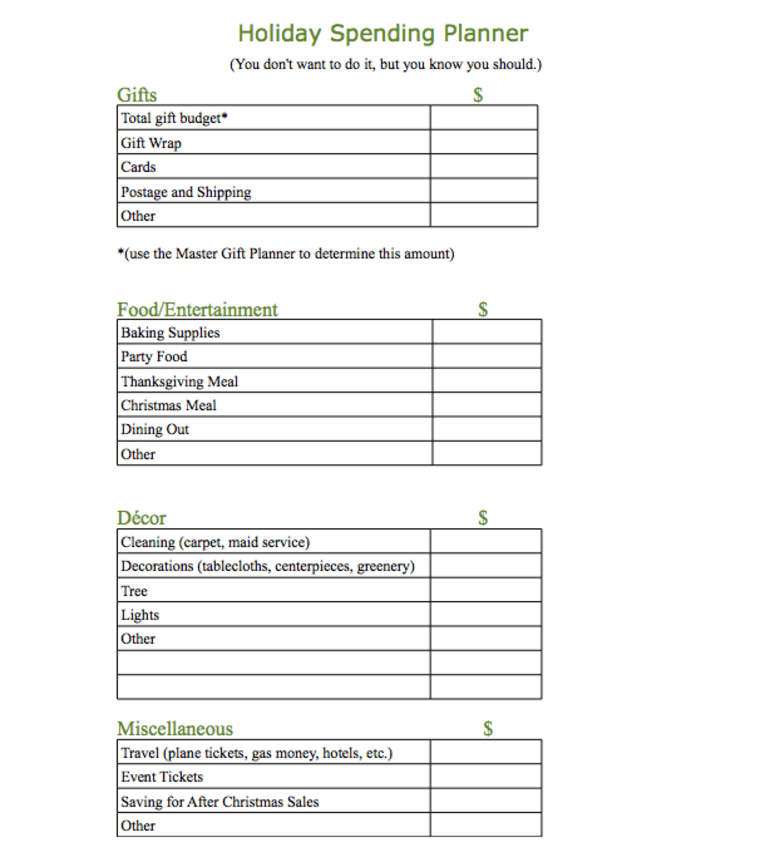 "I had a couple of rough Januaries because I overspent the previous November and December," Stokes said. She made her budget tool to prevent this type of overspending in the future.
Stokes developed the Holiday Spending Planner by looking at her previous spending patterns. "I took my receipts that first year, and everything that I had spent I tried to place in a category." She also talked to her friends to learn how they spent their money over the holidays. "The cleaning the carpets category: I don't do that, but several of my friends did," she said.
The more you plan for every possible expense, the better you can prepare for your holiday spending.
DO: Adjust your spending to accommodate unexpected expenses

When unexpected expenses come up—and they will—Stokes suggests that parents adjust spending within categories instead of raising the overall budget.

"If you forget that you have to get a gift for your boss, and you want to just go out and spend the money, take the time to go back, look at the budget, rework the numbers, and decide where that money will come from," said Stokes.
This way, Stokes said, parents don't find themselves in debt come January, or without enough money to pay the bills.

DO: Make gift-giving creative, not expensive
Todd Hebert, a Portland, Maine parent who blogs about parenting at The Hipster Monk, also plans his holiday budget in advance. Hebert is able to manage his holiday spending in part because he doesn't do traditional gift-giving. 
"Instead of gifts, I give [my children] a set amount of cash with the caveat that they have to donate a portion of it to a good cause of their choice," he said.

DON'T: Beat yourself up if you spend a little more than you planned
Hebert sometimes goes over his planned holiday budget when he wants to share a special holiday activity with his children. "Holiday activities that [my children] enjoy are usually inexpensive and not an economic issue," he said. "The fact that they aren't greedy in this regard makes it easy for me to go beyond the budget from time to time."

Dr. Markham also suggests that parents relax their budget if it's for an item a child is likely to need in the future.
"Let's say your child has outgrown an old bike," said Markham. "If you're going to get a new bike anyway, which probably you are, then it's okay to go over your budget in Christmas to do it, since you might otherwise be buying it in March."
DON'T: Let the "fear of disappointment" add stress to your season
Many parents worry that they will disappoint their children if they do not buy all of the items on the holiday wish list, or can't afford every single trip to the ice skating rink or the Nutcracker ballet, but Noga has a different perspective.
"When you give kids everything that they want, they don't need to manage their emotions and they don't have to develop emotional capacity," said Noga. 
In this case, disappointing a child isn't a bad thing—it's is an important part of parenting.

This fear of disappointment often leads to parents overextending themselves—in terms of both money and time—is likely to turn the holiday season from magical to miserable. 
"Somehow, staying up all around the clock decorating the house and making the cookies and spending over our budget—in the end, it's bad for our child," Dr. Markham said. "We get crabby, and we snap at our child, and that's the opposite of what they need. And if we're worried sick about money after that, it's the opposite of what we need also."