When 12-year-old Taylor Smith wrote a special letter to herself last spring, to be read in 10 years' time, she didn't know it would be opened before even a year had passed -- and that it wouldn't be her eyes reading the words.
Instead, it was opened by Taylor's parents after she died in early January. They posted the letter to Facebook, hoping Taylor's words would inspire others.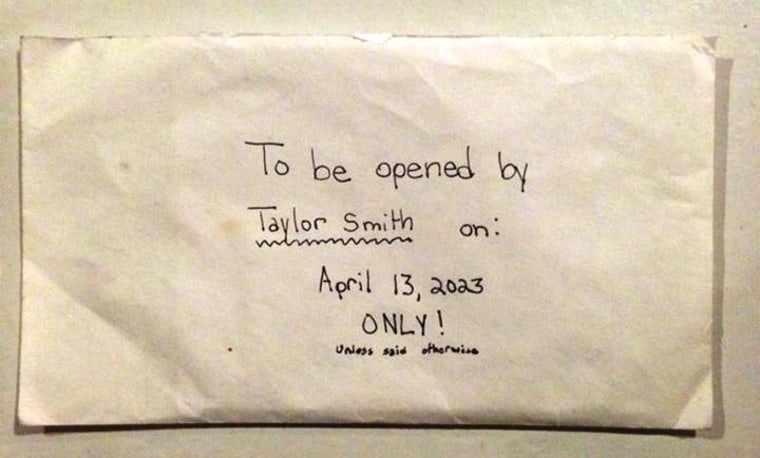 It has. "[We've gotten] letters from lots of parents who've said it's encouraged them to love their kids and love each other," said Taylor's mother, Mary Ellen Smith.

In the letter, Taylor congratulates herself on graduating high school and asks, "Are you [we] in college?"
She also wanted to know if she'd been on a plane yet and if the show "Doctor Who" was still on the air. And she reminds herself to stay close to God.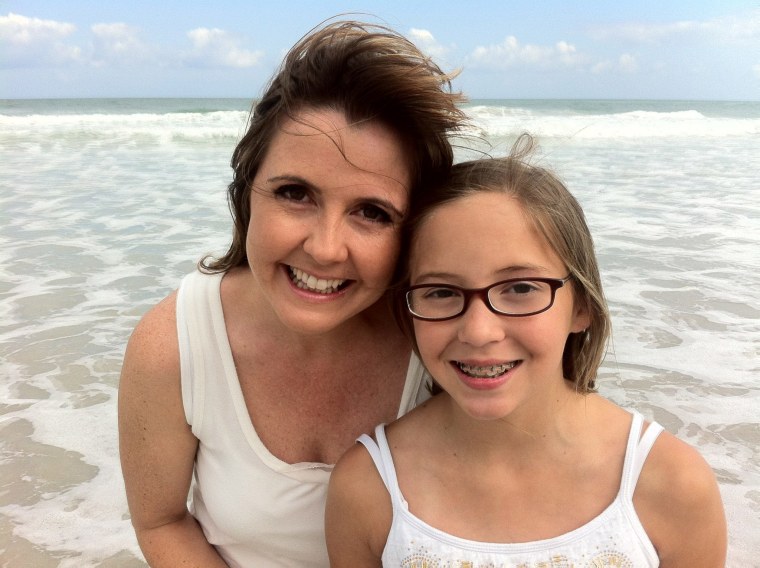 Taylor also had some words for her future kids. After contemplating the idea of selling her iPad and getting an iPad mini instead, she tells her future self to make sure she mentions to her kids that "We're older than the tablet!" She included a drawing of an iPad for them to see.

Taylor died suddenly of pneumonia, leaving behind both her parents and an older brother.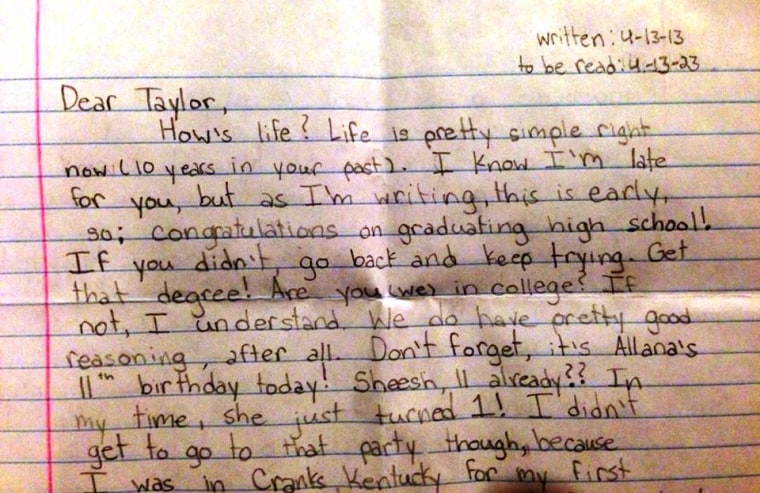 "I just want people to know just what an awesome, awesome person she was," her father, Tim Smith, told NBC's Mike Taibbi. 
Her mother said, "I can't physically resurrect her, I can't bring her back, but I'm so grateful people have been inspired by her story."

Taylor's father read the closing words of her letter to Taibbi, which said, "It's been 10 years since I wrote this. Stuff has happened, good and bad. That's just how life works, and you have to go with it."