The father of Kaylee Goncalves, one of the four University of Idaho students found slain in an off-campus home last year, said it was "a relief" to hear prosecutors are seeking the death penalty against murder suspect Bryan Kohberger if he is convicted of the charges.
"I'm glad that we're in a situation of strength and the evidence is there and we feel that we can, they can go forward with this," Steve Goncalves said in an exclusive interview with NBC News.
Shanon Gray, an attorney for the Goncalves family, also lauded the decision from the prosecution and said he thinks the case is clearly cut out for the death penalty.
"If you're not going to pursue the guy for a death penalty on a case like this, who are you going to pursue for death penalty?" Gray said.
Kohberger, 28, is accused of killing Kaylee Goncalves, 21, Maddie Mogen, 21, Xana Kernodle, 20, and Ethan Chapin, 20, who were found dead with multiple stab wounds at a home in Moscow, Idaho, in November.

Kohberger stood silent at his arraignment last month, and a judge entered not guilty pleas on all of the murder charges on his behalf.
Kohberger is set to return to the courtroom on June 27 for a pre-trial hearing, where his legal team is asking the judge to pause legal proceedings until prosecutors hand over records from last month's grand jury indictment.
In a court filing earlier this month, prosecutors said Kohberger's DNA was a "statistical match" to DNA found on a knife sheath found at the crime scene.
Kohberger's attorneys said in a June 22 court filing authorities did not find DNA matching any of the four victims' DNA in his apartment, office, home or vehicle.
Steven Kramer, a former FBI attorney, told NBC News the period between the killings and Kohberger's arrest could be a reason why no victim DNA was found at those locations.
"He's had over a month before those search warrants are executed after the crime to throw away his clothes, wash his clothes, wash his car, clean out his apartment," Kramer said.
He added: "There's multiple ways to explain the lack of DNA in his vehicle in his apartment. There's not a lot of ways to explain his DNA on the sheath of the murder weapon."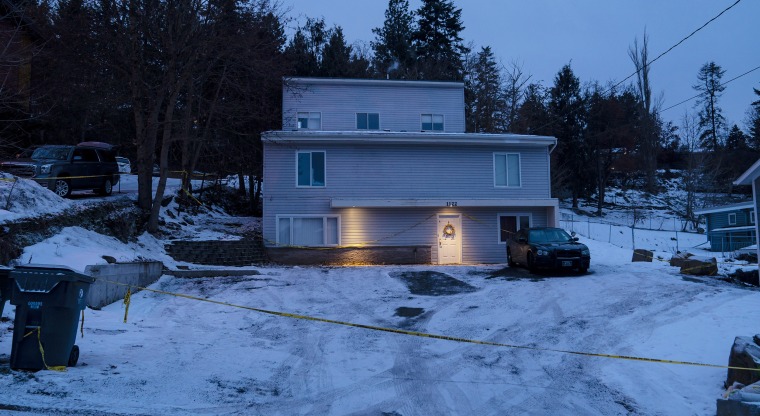 Another legal battle is unfolding over the preservation of the three-story house near the University of Idaho campus.
The university said in a statement to NBC News it is working toward demolishing the house, though it does not have a date set for the demolition.
"We have limited staff working on several large projects," the school said. "We hope to have the house down by the start of school."
Steve Goncalves said his family has hesitations about demolishing the crime scene before the trial.
"I don't want to sit six months from now and hear somebody in the court case say, 'Well, I really wish we could be in the house right now,'" he said.
Gray added that once the case is over, he feels the university can do "whatever they want with that property."
"Once the case is over, there's really no need for the house," he said. "Then they can move on. They can do whatever they want with that property. But right now, it's just, it's the crime scene."
When asked whether the house would be preserved for the jury to do a walk-through, the University of Idaho said: "The house has been released by the court and both prosecutor and defense have verified they have no objection to its demolition."