DENVER — The shooter who pleaded guilty to killing five people and injuring 17 others at a gay nightclub in Colorado Springs was sentenced Monday, June 26, to life in prison.
Anderson Lee Aldrich, 23, who identifies as nonbinary and uses Mx. Aldrich, walked into the popular Club Q on Nov. 19, 2022, and opened fire. The shooter was charged with 323 criminal counts including first-degree murder, attempted first-degree murder, first- and second-degree assault and bias-motivated crimes.
The sentencing by Fourth Judicial District Judge Michael McHenry was expected to close the chapter on one of the worst mass killings in Colorado history, but the grief experienced by family and friends of the victims, as well as survivors, will continue indefinitely.
On the night of the shooting, the shooter first entered the club around 10:15 before walking back to the parking lot. The shooter re-entered shortly before midnight, wearing a ballistic vest and carrying an AR-15-style assault rifle and allegedly carried out the attack.
The shooter was tackled and disarmed by patrons before being taken into custody by authorities.
The victims were between the ages of 22 and 40.
Survivors and family members of the victims addressed the court Monday during the sentencing portion of the hearing.
Jeff Aston, the father of Daniel Aston, 28, said his son was a gifted poet with a contagious smile.
"A positive force has been taken out of the world. He was in the prime of his life. He was happy, he had hopes, dreams and plans that will never be realized," Aston said. "Losing him has caused us incredible grief and sadness."
Some family members said the punishment should be similar to the pain and destruction that the shooter caused.
"This man doesn't deserve to go on. What matters now is that he never sees the sun rise or a sunset," said Adriana Vance, the mother of Raymond Green Vance, 22.
She described her son as a kind, loving and gentle man who touched many people.
"He was always there for his family and friends and people he didn't even know," the mother said.
Army veteran Richard Fierro, who was at Club Q celebrating a birthday with family and friends, is one of two people who subdued the shooter. On Monday, he called the shooting an act of terrorism.
"This terrorist has shown no remorse for human life. His decision to murder and maim that night is one that is unforgivable," said Fierro, staring directly at the shooter, who was seated with hands cuffed and folded next to defense lawyers.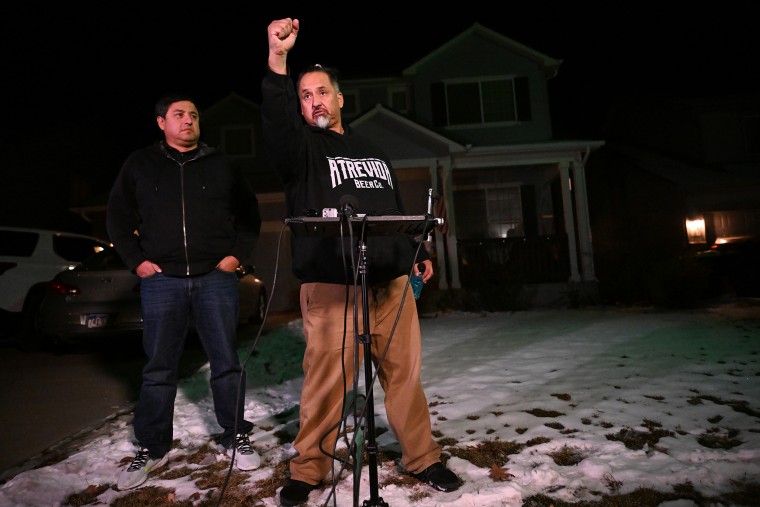 "This terrorist is a coward and chose to target the innocent. That night I was forced to act in a way that was inhumane," Fierro said.
A drag performer of Club Q who survived the shooting said he lost his partner and sense of safety.
"We as queer people were attacked. I forgive this individual as they are a symbol of a broken system of hate and vitriol pushed against us as a community," the performer said.
The massacre came 17 months after the shooter was arrested following a standoff that the suspect livestreamed with El Paso County sheriff's deputies.
After the suspect was arrested and jailed on suspicion of multiple counts of felony menacing and kidnapping, prosecutors decided not to pursue the case and the records were sealed, according to KUSA.
The suspect's mother, however, had reported that her child "was threatening to cause harm to her with a homemade bomb, multiple weapons, and ammunition," the sheriff's department said in a news release.
In interviews, others who survived the shooting described the terror they felt when the shooter started firing bullets indiscriminately.
Michael Anderson, a bartender at Club Q, recalled in November that he heard "a few popping sounds" and initially assumed someone inside the club might have been clapping.
"Then I looked up," he said, "and I realized people were running."
This story originally appeared on NBCNews.com.