On Thursday afternoon, Scott Foster was working at his desk as an accountant for Golub Capital in Chicago.
On Thursday night, the 36-year-old father of two was playing goalie for the Chicago Blackhawks.
Foster became an instant folk hero when he stopped all seven shots he faced in the final 14 minutes of the game to seal a 6-2 win over the Winnipeg Jets in front of 21,839 fans at the United Center in Chicago.
"A few hours ago you're working your day job, and then you're living your dream,'' Foster told NBC Sports after a surreal evening.
Foster normally plays in a recreational league in Chicago featuring former college players, but was pressed into his first meaningful hockey action since playing goalie for Western Michigan University 12 years ago.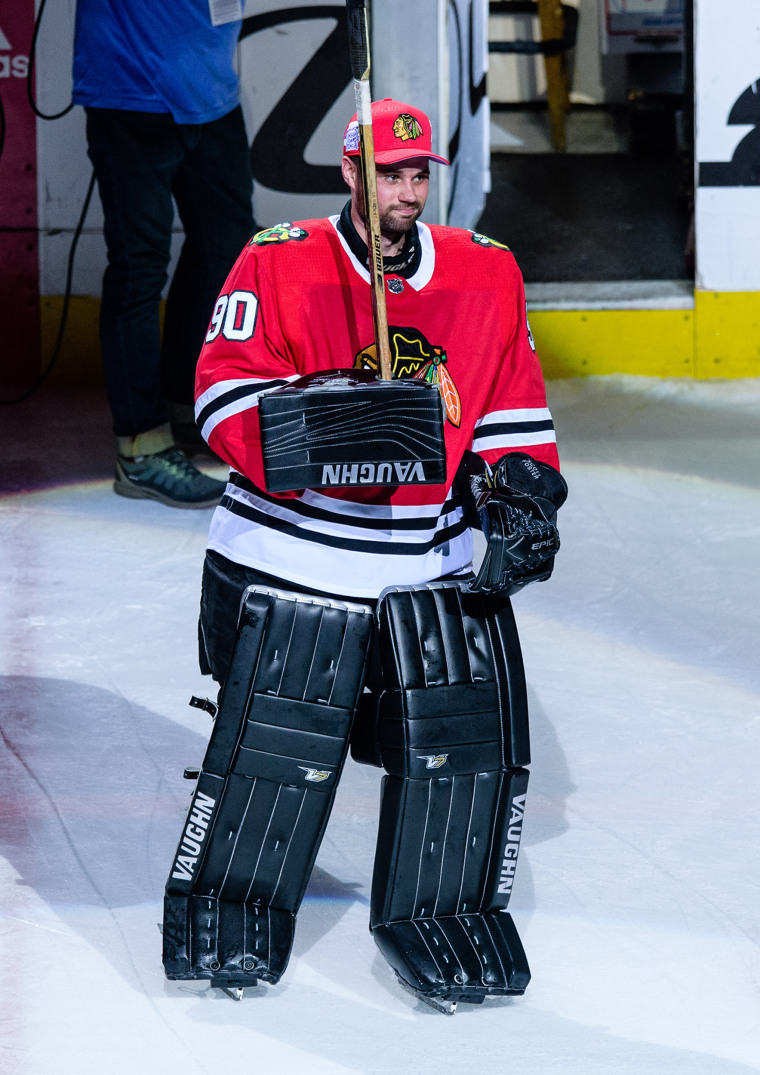 "A few hours ago I was sitting on the computer typing on a 10-key, and now I'm standing in front of you guys having just finished 14½ minutes of NHL hockey,'' he said.
The NHL has a rule mandating that teams have an emergency goalie on hand for home games. Foster usually just sits in the press box and takes advantage of the free food as the emergency goalie while watching the best hockey players in the world.
That all changed on Thursday when starting goalie Anton Forsberg got hurt hours before the game in warm-ups, resulting in Chicago immediately signing Foster for emergency purposes.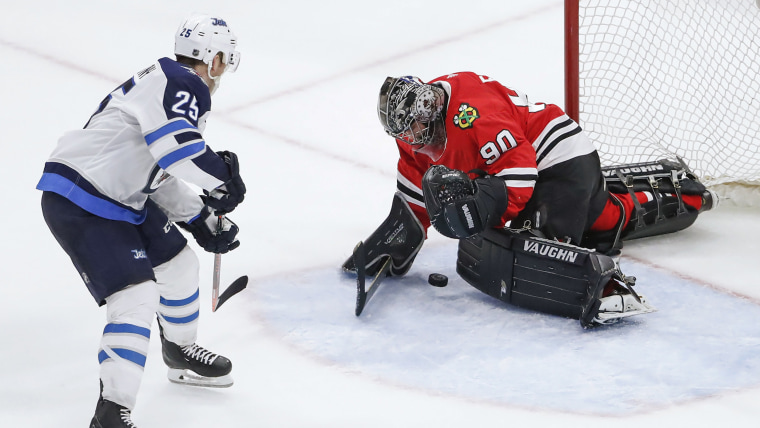 Then backup goalie Collin Delia had to leave the game early in the third period when he cramped up, giving Foster his moment to live the dream.
"The initial shock happened when I had to dress,'' Foster told reporters afterward. "And then I think you just kind of black out after that."
Fans scrolling through the roster were wondering who was wearing No. 90 and entering the game as Delia's replacement. A minute after Foster came onto the ice, he stopped a shot by Winnipeg's Tyler Myers.
By the end of the game the fans were chanting "Foster! Foster! Foster!" His teammates mobbed him after the final horn.
"What a moment,'' Blackhawks coach Joel Quenneville said at the postgame press conference.
Foster even earned the WWE wrestling-style belt the team gives out to its player of the game.
"This is something that no one can ever take away from me," Foster said. "It's something that I can go home and tell my kids and they can tell their friends. Just a ton of fun."
Foster is just the second emergency goalie to ever play in an NHL game in the modern era, according to The Associated Press. The other one, Carolina Hurricanes equipment manager Jorge Alves, only played for 7.6 seconds last year compared to the 14-minute stretch Foster was out there.
The Blackhawks have called up another goalie from their minor-league affiliate to help compensate for the injuries, but they might want to rethink designating Foster as merely the emergency goalie. After all, he does have a perfect 1.000 save percentage.
"I think I'm just hitting my prime," Foster said.
Follow TODAY.com writer Scott Stump on Twitter.