The internet cannot get enough of the four newest Budweiser Clydesdales.
The horses were born at the Anheuser-Busch breeding facility, Warm Springs Ranch, in a small town called Booneville, Missouri, which is located about 150 miles west of the company headquarters in St. Louis.
Warm Springs Ranch shared a photo of the newest additions on Facebook on Feb. 6.
"Introducing the Warm Springs Ranch starting lineup!" the post reads. "Meet just a few of our 2023 foals!"
A company spokesperson confirmed to TODAY.com that the four foals pictured are all males born in January. They named the four Barron, Sergeant, Stinger and Razor.
The four foals are now a part of the Budweiser Clydesdales family. The iconic Budweiser Clydesdales are often featured in the company's big ticket commercials (in this year's Super Bowl ad they make a quick appearance before actor Kevin Bacon) and also make public appearances around the United States and Canada.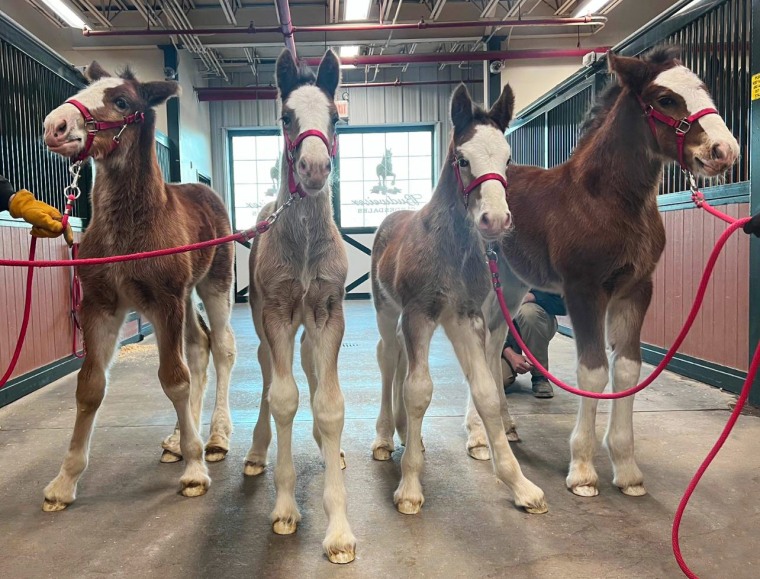 Each year, Warm Springs Ranch welcomes about 20 new foals, only a few of which will go on to travel with the company around North America. The "on-hitch" horses have to have a specific look — only the males grow big enough — 6 feet at the shoulder, between 1,800 and 2,300 pounds, and the classic bay color with a white blaze on the face and four white stocking feet. They also have to have a black mane and tail for the job.
The company maintains three "traveling hitches" — one at the breeding facility, Warm Springs Ranch, another in St. Louis, and a West Coast team in Fort Collins, Colorado.
The horses that don't make the cut for the performance gigs take on other jobs for the company at various facilities, like hanging out at the company's headquarters in downtown St. Louis or Grant's Farm, an attraction in the city's suburbs also run by Anheuser-Busch.
The new foals will spend the first four years of their lives at the Booneville ranch before they're assigned to their new full-time gigs.
The Clydesdales have been a part of the Anheuser-Busch tradition since 1933, according to a release. They were formally introduced to "celebrate the repeal of Prohibition" and on April 7, 1933, "thundered down Pestalozzi Street in St. Louis carrying the first case of post-Prohibition beer from the St. Louis brewery."
Thus, 2023 marks the 90th anniversary of the Clydesdales.