For more than 40 years, John Etgen had searched for his biological family, hoping that he might one day meet his mother and siblings.
Thousands of miles away from Etgen's Nebraska home, the Haffords and Kinneys spent years poring through birth records in Maine and even considered visiting a tombstone in Michigan in search of the brother they didn't know they had until an aunt's discovery in the 1980s.
A few clicks on a computer and an inquiring phone call last month led Etgen to finally connect with his long-lost siblings.
In a moment 60 years in the making, two of his brothers, Sam and Bob Hafford, tearfully embraced Etgen after meeting face-to-face for the first time at the Portland airport in Maine on April 25.
"It was incredible,'' Etgen told TODAY. "Usually I'm not a crier, but I'll tell you what, it was something. It was like we knew each other forever."
Though Etgen, 66, found out that his biological mother passed away in 1996, he was overjoyed to meet the siblings he had long been searching for. NBC affiliate WCSH was the first to report his story.
Etgen and his wife of 45 years, Jodene, stayed in Maine for a week to get to know his family.
Sam and Bob Hafford both live in Maine, while his eldest brother, Everett Kinney, traveled from his home in Florida for the meetup.
His sister, Charlene Kinney, made the trip from her home in upstate New York.
"We all thought this would never happen," Etgen said. "To think that one little click on the computer was able to do this is unbelievable. I'm just so happy that I'm still in a daze."
RELATED: 'Divine intervention': Pilot surprises son by captaining flight back from deployment
Etgen learned he was adopted after he graduated high school.
The only information he had about his mother was her name, Gertrude Cropley Kinney.
Last month, he had his daughter, Jessica Hartl, 34, type it into Facebook.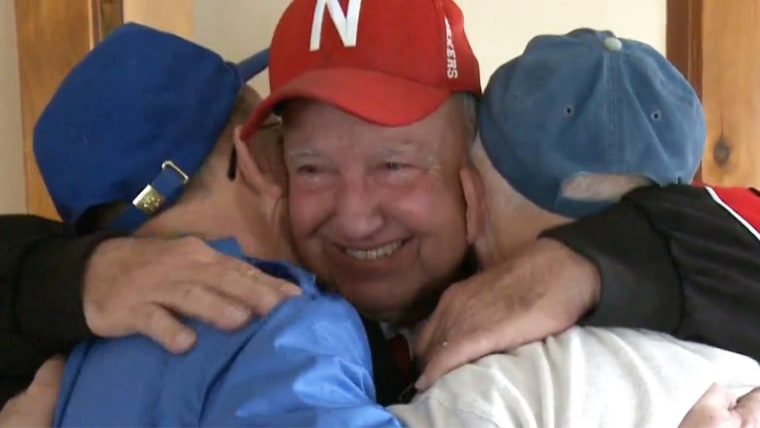 The search led Hartl a family reunion page and a Sam Hafford in Bremen, Maine.
"I was sleeping when we got the call at 9 o'clock (on April 20) from Jack's daughter, asking if I have a mother named Gertrude Copley Kinney,'' Sam Hafford told TODAY.
"When he got on the phone and I realized it was my brother, the emotions are such that you can't explain them. You just stop, break down and cry. It's an emotional ride like I've never been on."
Two weeks after that phone call, Etgen was on a flight to the Northeast.
"My friends were asking me, 'Weren't you kind of afraid to go that far and meet people you never met before?''' Jodene Etgen told TODAY.
"It never entered my mind. I had spoken to Everett on the phone and Jack had talked to Sam, and they sounded like such awesome people."
"It was an instant bond,'' Hafford said. "We even found out we share little quirky things, like we both like our burgers with no cheese on them. It's just been amazing."
RELATED: 'We've never been separated': 100-year-old twins share unbreakable bond
Etgen's mother was 25 when she gave birth to him at a hospital in Danforth, Maine, in 1949.
Her first husband had died and she was unemployed and struggling to raise two other children in a rural town.
A nurse convinced her to give her baby boy up for adoption to a friend of the nurse's in Detroit, according to Hafford.
"He really didn't talk a lot about it, but I think that's kind of a man thing,'' Jodene said. "I think deep inside his heart, there was a hole. I've never seen him cry so much since he found them."
After being sent to Detroit to live with his adoptive parents, who have both since passed away, Etgen grew up in Whittier, California.
Meanwhile, his mother remarried and had six more children, raising a family of five girls and three boys.
Etgen grew up as an only child but now is part of a large family, with four children and 14 grandchildren of his own.
"There's no regret in not growing up together,'' Hafford said. "Jack's had a great life with a great family. He had more opportunities than we had growing up in rural Maine, so we're a little jealous of Jack."
RELATED: Marines re-create beach pic taken before they left for Vietnam 50 years ago
The joyous meeting came after a difficult time for the family.
Four of the sisters have died, including three in the past year.
The four siblings on the East Coast now plan to visit Etgen at his home in Tilden, Nebraska, in June.
They also gave Etgen the special gift: Their mother's ring, featuring birth stones of the eight children.
They told him to add one for himself.
"It's one of those stories you read about in a book or see on TV, and we're living it,'' Hafford said. "We lost four sisters, but we gained a brother."
Follow TODAY.com writer Scott Stump on Twitter.