Despite the tough economy, American couples still managed to spend, on average, slightly more than $25,000 on their weddings last year. And when every dollar counts, many turn to warehouse membership clubs to stretch their wedding budget to help bring their dream day to life.
Slideshow: Box Store WeddingsYou may be surprised how many wedding-related items are offered at warehouse stores around the country. There are flowers, wedding rings, outdoor equipment, food and baked goods, alcohol and table linens, all to help make your big day special. Whether you're working with a wedding planner to create a grand event at a luxury venue or you're a do-it-yourself couple putting the event together, there may be something from a warehouse club that fits your wedding style and helps your bottom line.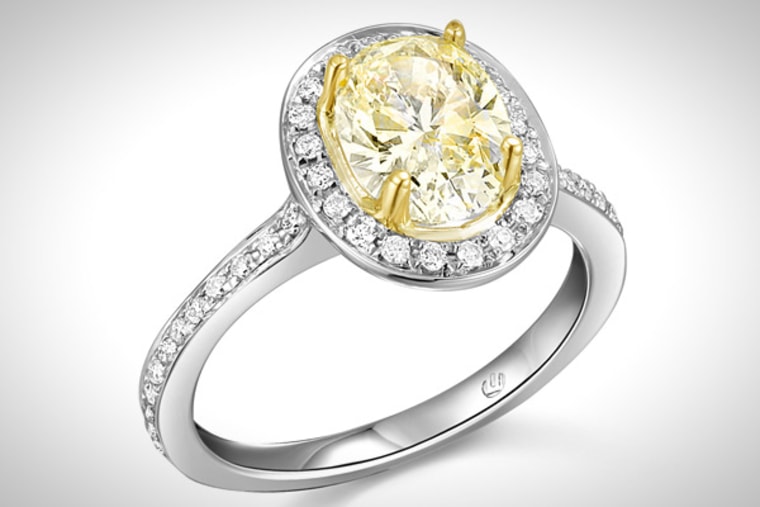 Bridal ring, 1.26 carat
Price: $5,775 at Sam's Club Stores: Sam's Club, Costco For brides who don't need their diamonds to come packaged in a little blue box, warehouse clubs offer jewelry collections that include discounted engagement rings and wedding bands. Costco sells diamond engagement rings ranging from $500 to $2.3 million, with the most popular size (1.5 to 2 carats), ringing up anywhere from $16,000 to $28,000, according to Megghan Harruff, assistant general merchandise manager who oversees jewelry.
CNBC.com: Royal Wedding MemorabiliaAt Sam's Club, diamond engagement rings are appraised at up to two to three times the purchase price, the company says. Pictured here is a 1.26 carat yellow diamond ring, offered at Sam's Club for $5,775.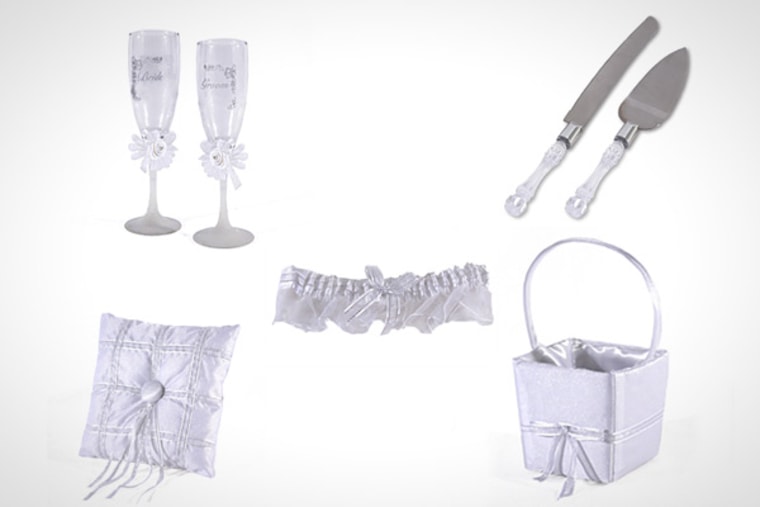 Wedding kit 10-piece set
Price: $99.87 Store: Sam's Club You could spend hours running around from store to store to find the perfect accessories for your ceremony and reception. Or, consider Sam's Club's 10-piece wedding kit to help you cut down on the chaos. For $99.87, it contains a flower girl basket and ring bearer pillow, a guest book and feathered pen, a cake knife/server set, toasting flutes, and the all-important garter. By comparison, a sterling silver cake-cutting set from Tiffany & Co. costs $335 alone.
Gazebo
Price: $244.44 Store: Sam's Club For outdoor summer weddings, shade is a must-have for guests and the food. Warehouse clubs offer various options to provide cover from the beating sun or other bothersome elements. Among them is the Garden Party Gazebo from Sam's Club, which sells for $244.44.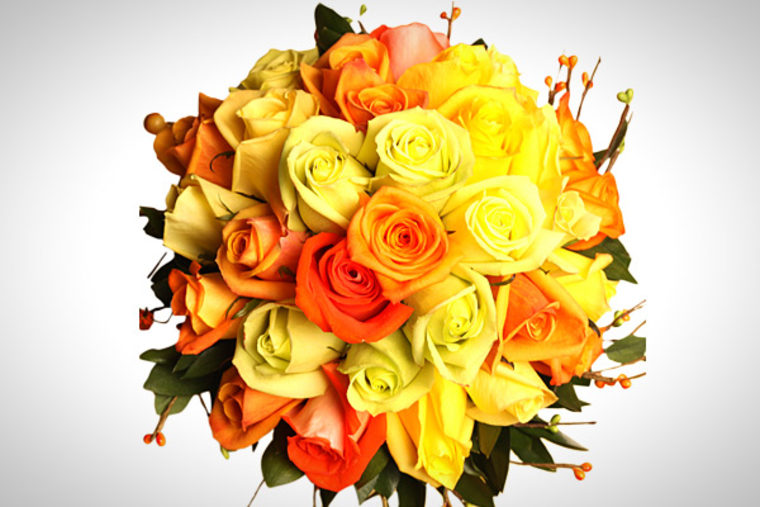 Flowers
Price: $810 for 43-piece collection Stores: Multiple Beautiful blooms add a burst of living color to your occasion. But opting for custom arrangements and out-of-season flowers can run your floral bill into the thousands. Depending on how good your (or your friends') flower-arranging skills are, consider bulk flowers from warehouse clubs, or choose from prearranged bouquets and centerpieces.
CNBC.com: Warehouse Weddings That Take the CakeAt Sam' Club, 100 roses cost just shy of $100 depending on color; 150 white carnations can be had for $77.87. Or spring for a for $810. The collection includes a bridal bouquet, bridesmaids bouquets, a throw-away bouquet, boutonnieres, corsages, petals to toss and centerpieces. BJ's, meanwhile, offers 200 carnations in a single color for $119.99 and 26 hydrangea stems are $84.99. Costco has 100 white roses for a cool $79.99 and various bulk and prearranged choices.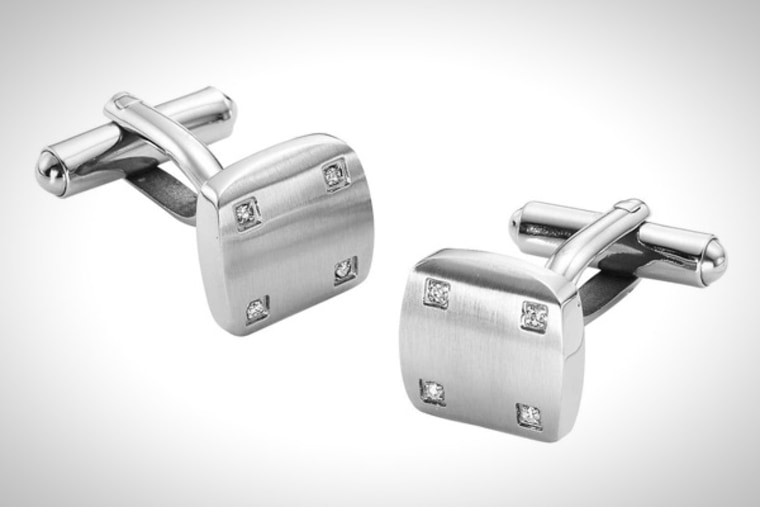 Cuff links
Price: $140 Store: Sam's Club On the wedding day, it's usually all eyes on the bride. But the groom must get dressed, too, and if he's wearing a tuxedo, don't forget the cuff links. They make a great gift to a groom, or from the man of the hour to his groomsmen. Pictured here are diamond and stainless steel cuff links, offered from Sam's Club for $140.
Wedding gown
Prices range from $699 to $1,399 Store: Costco A wedding gown is one of the most important garments a woman will ever buy. And now, that grand white dress she hopes will draw gasps on the big day can also be purchased at a warehouse club. Since last year, Costco has teamed up with California-based designer Kirstie Kelly to offer a collection of gowns that start at 40 percent off retail. The dresses are sold in trunk shows at select Costco clubs and through Costco.com. The 12 styles range in price from $699 to $1,399 and come in sizes 2 to 24. Brides can borrow a sample for two days for $35 before deciding to make a purchase.
CNBC.com: Extreme Retail ExperiencesWithout releasing sales data, Janet White, an assistant general merchandise manager for Costco, said the gowns are popular. "The prices were phenomenal when they compared them to what they were [finding] elsewhere," she said of brides. "It's not anything our competition has done. It sets us apart." Brides spent an average $1,166 on their gown last year, according to The Wedding Report.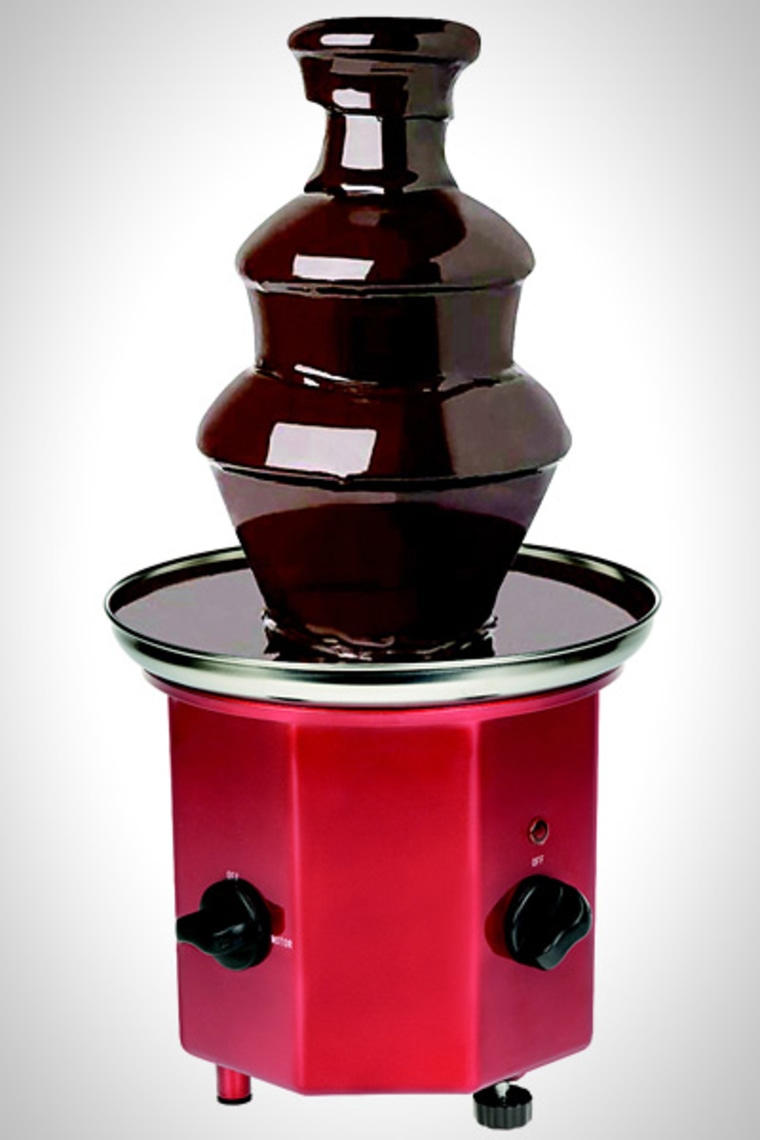 Kalorik chocolate fountain
Price: $58.42 Store: Sam's Club Pass the strawberries and get ready to dip! A nonstop flow of melted chocolate can be both elegant and fun. Guests love dipping goodies of their own choosing into the sweet cascade of the milk, white or dark variety. Pictured here is the Kalorik Chocolate Fountain offered at Sam's Club for $58.42.
Silver cake stand
Price: $13.48 Store: Sam's Club The more do-it-yourself your wedding, the more options you have at warehouse clubs. If you're creating your own dessert bar or even baking your own wedding cake, why not show off those baked goods in style on stands or serving trays. Pictured here is a 13.25-inch silver cake stand from Sam's Club, offered at $13.48.
CNBC.com: Wedding Insurance: Protecting Against 'I Do' Mishaps
Lancaster arbor
Price: $228.88 Store: Sam's Club If you're having a backyard wedding and want to spruce up the property, warehouse clubs offer many outdoor options. There are gazebos, pergolas and arbors, patio furniture and decorative urns and planters. Pictured here from Sam's Club is the Lancaster Arbor for $228.88, which can be decorated with flowers or greenery and set over a walkway or used as a backdrop for the ceremony.
TUNE IN: "The Costco Craze" premieres Thursday April 26 at 9 p.m. ET on CNBC, with a re-air at 12 a.m. ET.