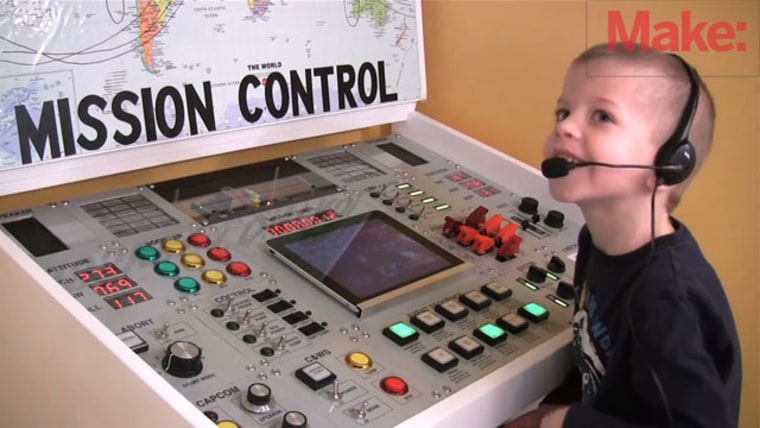 Jeff Highsmith of Raleigh, N.C., is a self-proclaimed "tinkerer extraordinaire." His monthly video series at Makezine.com, "Making Fun with Jeff Highsmith," showcases his love of toys, gadgets and imaginative ways to play with them. Past episodes have featured a rear-view hair trimmer and a pneumatic transport system for the tooth fairy, but he may have outdone himself with his latest project.
When Jeff decided to build a homework desk for his older son, he knew it had to be inspiring — a spot where both of his boys would want to spend a good amount of time. Dozens of buttons, knobs, switches and more than 500 LED lights later, he created a NASA-themed Mission Control Desk.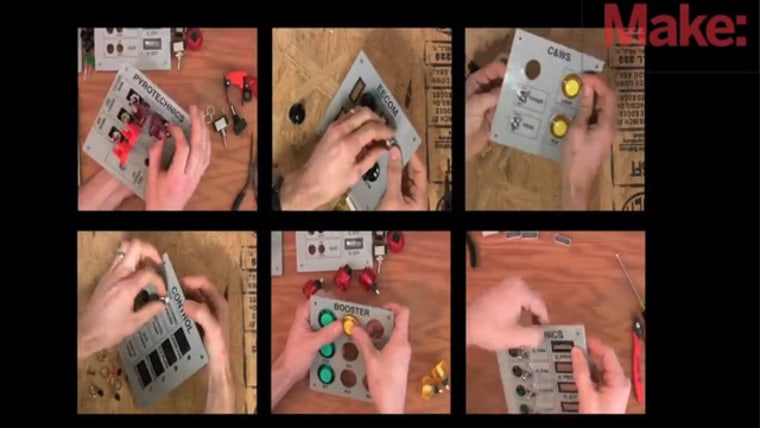 "It was a stressful two months of designing and building in moments found between my other roles," Jeff told TODAY. But the beauty is in the details. The entire desk is interactive—from the world map that tracks the spaceship's route, to the soundboard panel that makes six different rocket noises, to the iPad which serves as an extra display panel. Jeff even incorporated actual audio clips from the Apollo 11 mission, and events from the Apollo 12 mission, which had to use an auxiliary signaling system after being damaged by lightning during takeoff. 
"My son loves it," Jeff reported. "He and his brother take turns working the desk and flying toy spaceships at arm's length around the room."
If you're wondering what it's like to live with a tinkerer extraordinaire, Jeff said of his family, "They appreciate my creativity and tolerate my occasional eccentricities. Our home is not besieged with crazy contraptions, but there are definite signs of a resident maker in every room." 
In fact, we should stay tuned for more! Jeff tells us that he's working on a companion spacecraft in his other son's room. "I'm planning some gameplay between the two, such as an audio communication link and a video feedback from 'space.' I'll probably tie some of the switches and displays together, but I want to leave enough flexibility for the boys to play how they like."
Out. Of. This. World. Watch the video below—which has garnered some 225,000 views in less than a week—for all the impressive DIY details.
Jessica Dukes is a working mom of two. Follow her on Pinterest and Google+.