Ben Affleck's revenge? Maybe. Despite the "Argo" director's much-talked-about snub on the best director nomination list, his film took home the best picture Oscar Sunday night, the final award of an evening that seemed even more ploddingly paced than usual.
Affleck seemed genuinely thrilled and touched as he speed-shouted out his thanks, including expressing gratitude to Canada, a near-necessity after that country's ambassador said he felt his nation's contributions to the 1980 rescue depicted in the film were underplayed.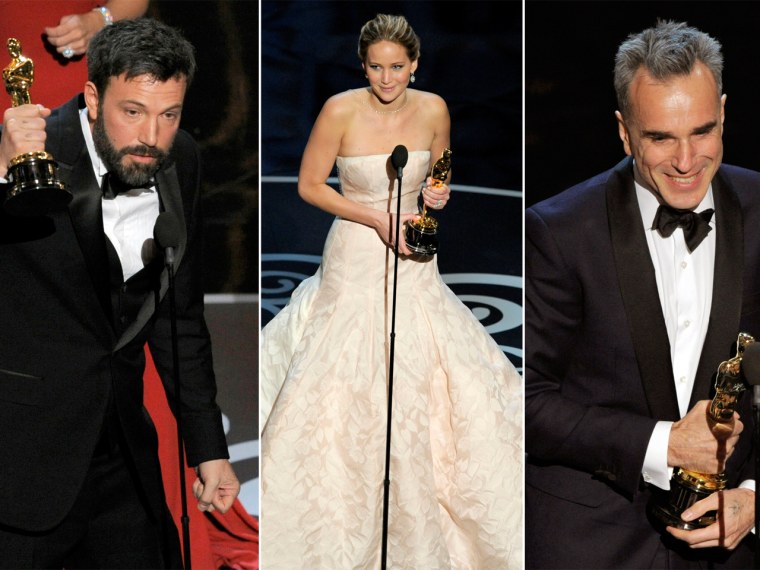 "I was here 15 years ago and I had no idea what I was doing," Affleck said, referring to his 1997 original screenplay Oscar win for "Good Will Hunting." "I never thought I'd be back here."
In a surprise twist, the win for "Argo" was read not by presenter Jack Nicholson, but by first lady Michelle Obama, via a live satellite presentation from the White House.
Obama praised the importance of the arts in the lives of young people, saying "every day, through engagement in the arts, our children learn to open their imaginations, to dream just a little bigger and to strive every day to reach those dreams."
Oscar nominees and presenters show off their stunning outfits as they arrive to celebrate the best movies of the year.
"Argo" beat out eight other best-picture contenders, including Steven Spielberg's "Lincoln," which was expected by many to dominate the night. But helped in part by publicity from the Affleck snub, "Argo" came on strong and by Oscar night, was considered by many to be a best-picture favorite.
"Lincoln" didn't follow through on its early best picture hopes, but for months, star Daniel Day-Lewis had been the overwhelming favorite. He didn't disappoint -- he took home his third best actor Oscar, making him the first actor to claim three wins in that category. He was quick to joke with presenter Meryl Streep, saying, "before we agreed to a straight swap, I had been commissioned to play Margaret Thatcher." Streep won an Oscar for playing Thatcher in "The Iron Lady" in 2011.
Jennifer Lawrence surprised many by claiming the best actress honor for her role in "Silver Linings Playbook," then surprised them again by tripping as she walked up to accept the award. She put her hands down on the stairs leading to the stage, steadied herself, and continued on to the microphone.
"You guys are just standing up because you feel bad that I fell," Lawrence said, looking out at the standing ovation that greeted her.
Christoph Waltz won the night's first statuette, for "Django Unchained," 15 minutes into the show, kicking off a long slog of musical numbers and minor awards until Anne Hathaway's  best supporting actress award an hour and a half later.
In his speech, Waltz gave special thanks to Quentin Tarantino, the film's director, saying "you climbed the mountain ... because you were not afraid."
Hathaway won as expected for her role as the desperate prostitute Fantine in the big-screen version of "Les Miserables," a part her own mother once played on a national tour.
"It came true," Hathaway said while holding her trophy. She closed her speech with the hope that in the future, "the misfortunes of Fantine will be found only in stories and never again in real life."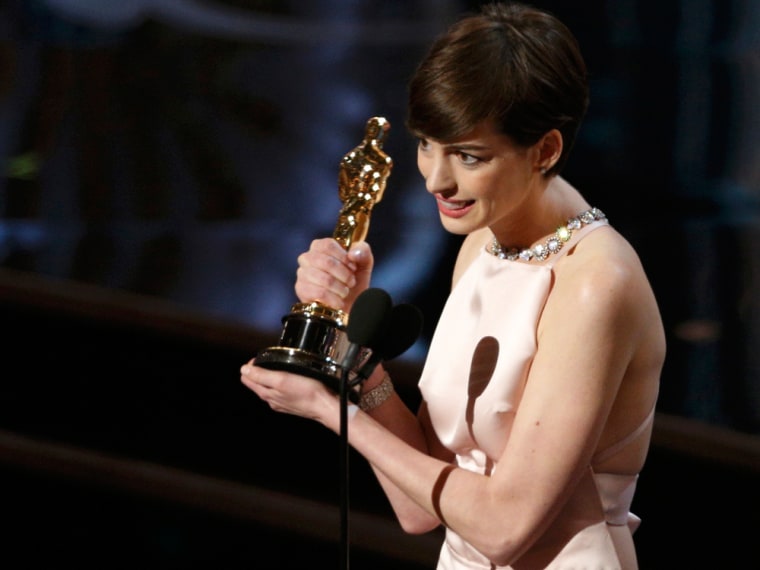 The best director category became controversial back when the nominees were announced, with Affleck and "Zero Dark Thirty" director Kathryn Bigelow left off the list. Many awards-watchers felt Steven Spielberg would claim the honor for "Lincoln," but it was Taiwanese director Ang Lee who won the Oscar for his work on "Life of Pi."
"Family Guy" host Seth MacFarlane began the show with a lengthy song, dance and humor segment that included an appearance by William Shatner, appearing as "Star Trek's" Captain Kirk, and chastising MacFarlane for a supposed poor performance that Kirk came back from the future to correct.
MacFarlane's humor is often risque, and a few lines from his opening segment and throughout the show earned gasps from the audience. He joked that "Django Unchained's" near-constant use of the n-word was because the film was "loosely based on Mel Gibson's voicemails."
Later in the show, MacFarlane complimented Daniel Day-Lewis' performance in "Lincoln," and said that "the actor who really got inside Lincoln's head was John Wilkes Booth." The reference to Lincoln's assassin didn't go over well, leaving MacFarlane to crack, "Really? 150 years and it's still too soon?"
The show's theme was music in film, which was spotlighted in numerous segments.
The always-popular "In Memoriam" montage showing photos of those in the industry who died in the past year ended with an image of Marvin Hamlisch. As his image scrolled away, Barbra Streisand strolled on stage to sing Hamlisch's "The Way We Were," which won the best original song Oscar in 1973.
A montage of dramatic scenes from James Bond films was shown to celebrate that film franchise's 50th anniversary, with Bond girl Halle Berry introducing the footage. Singer Shirley Bassey, who sang three of the Bond theme songs, sang "Goldfinger" as part of the tribute.
It was a timely nod, because later in the show, singer Adele and co-writer Paul Epworth won the Oscar for best original song for "Skyfall," the theme to the latest Bond film.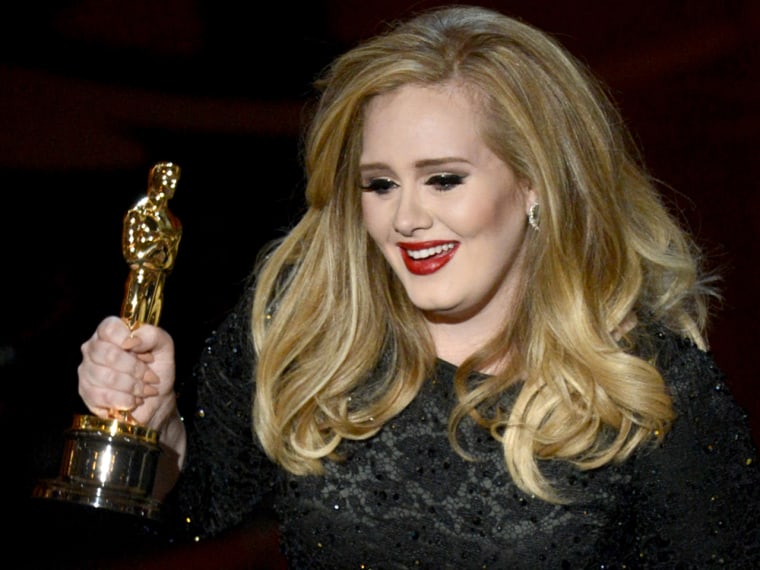 A tribute to movie musicals featured Catherine Zeta-Jones singing "All That Jazz" from "Chicago," and Jennifer Hudson bringing down the house with "And I Am Telling You I'm Not Going" from "Dreamgirls." Hugh Jackman, Anne Hathaway, Eddie Redmayne, Amanda Seyfried, Samantha Barks, Russell Crowe and other cast members from "Les Miserables" capped off the performances with a medley from their musical.
Both screenplay awards went to best picture nominees. Quentin Tarantino won the original screenplay award for "Django Unchained," the slavery drama that had already won Waltz his supporting-actor honor. Praising the strong work of current screenwriters, including his competition, Tarantino announced, "This will be the writer's year!"
"Argo," adapted from an article in Wired magazine, won the award for best adapted screenplay, with writer Chris Terrio dedicating the honor to CIA employee Tony Mendez, who was instrumental in the 1980 rescue of American embassy employees from Iran that forms the center of the film.
"33 years ago, Tony, using nothing but his creativity and his intelligence ... got six people out of a bad situation," Terrio said.
Hollywood's A-list gathers for a night of fun and glamour as they celebrate the best movies of the year.
The best sound editing award ended in an Oscar rarity — a tie. Presenter Mark Wahlberg announced the Academy had come to a split decision, and gave the award to both "Zero Dark Thirty" and "Skyfall."
"Life of Pi" won the most Oscars of the night. In addition to Lee's best director honor, the film claimed awards for cinematography, original score and visual effects. The winners of the visual effects award were cut off by the ominous theme from "Jaws" as their speech ran over — a musical choice that was revisited later when "Searching for Sugar Man," a documentary about little-known American singer Rodriguez and his unexpected popularity in South Africa, won the Oscar for best documentary feature and the film's director began to ramble.
"Brave," the story of a Scottish princess who battled to establish an adult relationship with her mother the queen, won the Oscar for best animated feature. "Paperman" won the award for best animated short.
"Anna Karenina" won for best costume direction, and "Les Miserables" for makeup and hair.
"Curfew" won the award for live-action short film, and "Inocente" for documentary short subject.
"Les Miserables" won the Oscar for best sound mixing.
"Lincoln" won for production design.
Austria's "Amour," which was also nominated for best picture, won the award for best foreign-language film. The film, set in France, stars French actress Emmanuelle Riva, who turned 86 on Oscar night and was a best actress nominee.
Related content: