WDBJ7 general manager Jeff Marks and reporter Chris Hurst honored their two colleagues who were killed on live television Wednesday morning, Alison Parker and Adam Ward, with Hurst remembering girlfriend Parker's ability to always "bring a smile" out of him.
"I wouldn't have had these pictures if it wasn't for her,'' Hurst told TODAY's Savannah Guthrie Thursday while displaying a photo album of the couple. "She made us take these pictures sometimes when I didn't even want to smile, but she brought a smile out of me that I didn't even know existed, and she did with everybody else she touched."
Parker, 24, and Ward, 27, were shot and killed during a live television broadcast in rural Virginia Wednesday morning. Vicki Gardner, executive director of the Smith Mountain Lake Regional Chamber of Commerce, also was shot in the back and is currently in stable condition after undergoing emergency surgery on Wednesday.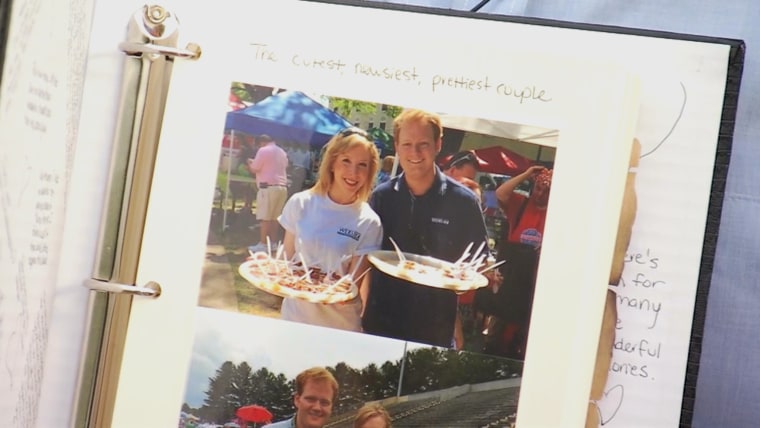 Hurst recalled his final day with Parker, as he made her breakfast, packed her a lunch and kissed her goodbye on Wednesday morning after working the 11 o'clock news broadcast on Tuesday night at the station. The two had also recently gone whitewater rafting in North Carolina for her 24th birthday.
RELATED: Virginia shooting survivor's husband says he watched incident on live TV
"It was the best time of her life," Hurst said. "She was looking forward to life. I was looking forward to a life with her."
Hurst posting a touching tribute to Parker on Twitter and Facebook only hours after the shooting.
WDBJ7 posted its own tribute to Parker and Ward, and Marks also remembered the two journalists in making some comments on air Wednesday.
RELATED: Adam Ward's fiancee shares heartbreaking message
"I cannot tell you how much they were loved, Alison and Adam, by the WDBJ7 team," he said. "Our hearts are broken and our sympathies go to the entire staff here, but also the parents and family of Adam Ward and Alison Parker, who were just out doing their job today."
The station had the emotional task of returning to the air to report on the story Thursday morning.
"We're doing OK,'' Marks told Guthrie. "My greatest concern is about the news team, and they're doing a marvelous job of holding it together and doing their regular broadcast. Choking back some emotion, but doing what needs to be done."
WATCH: Community mourns journalists slain on air
Ward's fiance, Melissa Ott, a producer at WDBJ7, witnessed the shooting live from the station's control room.
"Today, my entire world was flipped upside down,'' Ott wrote on her Facebook page. "Starting new adventures with my fiance, new jobs, a new city. Getting married, having a family, buying a home. That's now taken. I'm not OK. And I won't be for a long time. But the enormous outpour of love and support from so many of you near and far is so much appreciated. Adam, I will never find a man so happy, selfless, protective, funny, or charming like you. You were the one. You understood me. My soulmate. I will always love you."
"Adam and Melissa's love was just as white hot as mine is for Alison and hers was for me,'' Hurst said.
The gunman, Vester Lee Flanagan II, is believed to be a disgruntled ex-employee of the station. Flanagan, who used the on-air name Bryce Williams, fatally shot himself following an extensive search by police.