This story is part of TODAY's series "Survivors: What Happens After the Headlines Fade." For more stories and videos from the series, click here.
The first day of school has been tough for Danni Legg and her family since losing their son to a deadly tornado in Moore, Oklahoma, five years ago.
This year was especially bittersweet, as it would have been the first day of Christopher Legg's freshman year in high school. In a cruel coincidence, there was a tornado warning that August day in their new hometown of Norman, Oklahoma.
"Even though it's been five years, it's like it happened yesterday," Legg told TODAY as she fought back tears. "It was hard seeing some of his friends start their freshman year, and then when we got that tornado warning, I was like, 'Are you kidding me?'"
However, the first day of school was also a day where Christopher's legacy could be seen in 20-plus schools across Oklahoma, where bulletproof and tornado-proof shelters have been installed in the past three years thanks to Legg's relentless lobbying to keep other kids safe.
"I did not want another parent to ever experience what I experienced of not being able to pick up my kid, find my kid, my kid being missing, and then being told over the phone the next day he died," she said. "I live with it every day."
A deadly storm
On May 20, 2013, Ross Legg dropped off his three children at Plaza Towers Elementary School in Moore. He was at a local library when he heard the tornado sirens blaring.
He initially decided to go home, but couldn't make it when he encountered toppled tree trunks, downed telephone poles and shingles ripped off homes.
"The closer I got, the more anxious I became, and I started driving to the school," Ross told TODAY.
He immediately found two of their children, Alexander and Haleigh, but Christopher was missing. They spent the entire day searching for their 9-year-old son. The next day they got a call from the medical examiner saying his body had been found in the wreckage of the elementary school.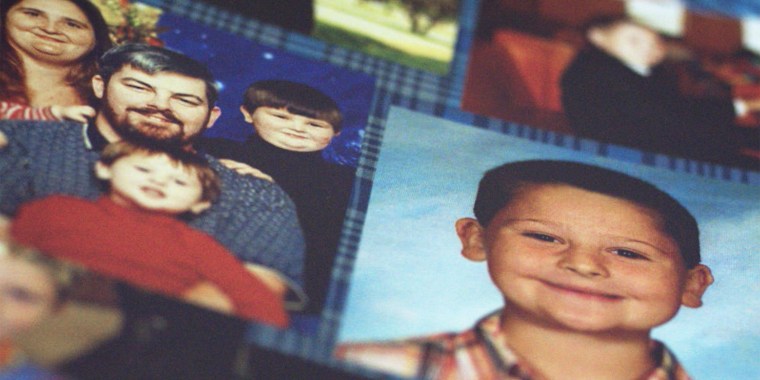 "The smell of mud and wet sheetrock, it immediately takes me back,'' Danni said. "It's a horrible smell and it makes your teeth grind."
There were 13 children huddled under a wall that collapsed on them after the roof of the school was ripped off by an EF-5 tornado with winds as high as 210 miles per hour. Seven of the children died, including Christopher, who saved another little girl by covering her with his body.
The boy who loved football and had already grown to 5-foot-7, taller than even one of his third-grade teachers, was gone.
It didn't take long for Danni to become determined that his death would not be in vain.
"That was our movement — that no other kid would die at school," she said.
Fighting for a cause
As Legg researched how to get shelters implemented in schools, she got in touch with Jim Haslam, the owner of Shelter in Place.
Haslam, driven by the 2012 mass shooting at an elementary school in Newtown, Connecticut, created bulletproof shelters that could be installed in classrooms and other areas of the school.
"I figured that while everyone argues about politics or gun control, let's do something to keep kids safe," Haslam told TODAY.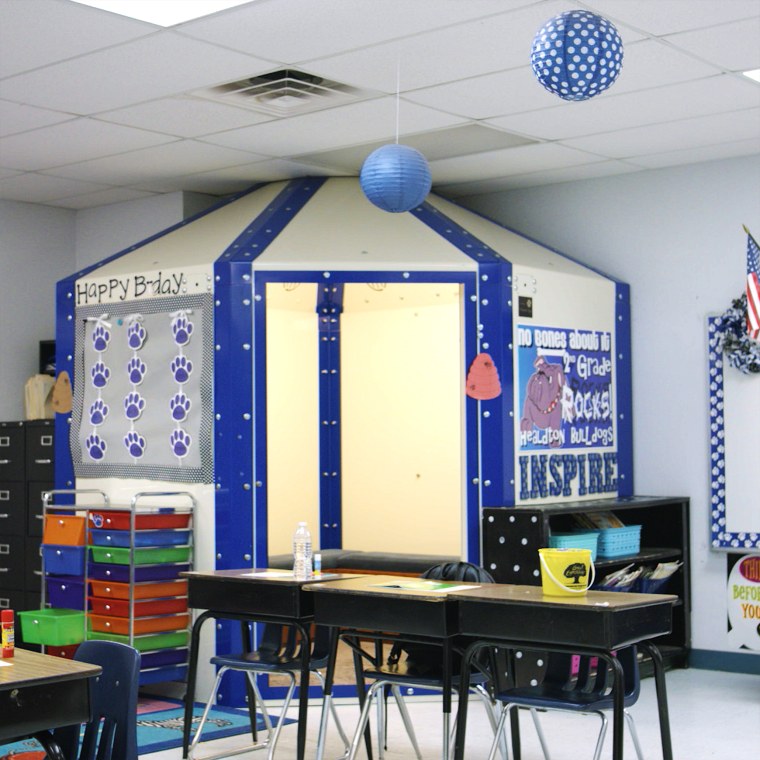 Legg made it her mission to push for school districts in Oklahoma to install the shelters, telling her story to parent-teacher associations and at school board meetings. Her first target was Healdton, the small town of about 3,000 where she attended school.
She ultimately had success after nearly two years of meetings with lawyers and town officials. A bond issue that paid for six shelters was supported by Healdton citizens. A sponsor donation paid for a seventh. They were all installed in the elementary school starting in 2015.
The shelters cost about $30,000 apiece and can hold up to 35 students and two teachers. They are equipped with two cameras that allow a 360-degree view of the classroom while inside the shelter.
About 2,200 school districts around the country have contacted Haslam about the shelters, including a surge of interest after the mass shooting in February at Marjory Stoneman Douglas High School in Parkland, Florida.
"My opinion is everyone should figure out a way to put them in their schools,'' Healdton Superintendent Terry Shaw told TODAY. "It's an expense we put out that we hope we never have to use due to a horrible event, but we want to keep our kids and faculty safe."
The shelters are integrated into the classroom, often serving as reading rooms or quiet rooms. The comfort also helps reduce panic in any instance of having to quickly enter the shelter.
"What we see is the kids are no longer afraid,'' Haslam said. "If something bad happens, we go right in there because we know it's safe in there."
The school district in Moore passed a bond issue in 2015 to construct shelters at all of its sites, with construction now about 70 percent complete, according to Superintendent Robert Romines.
"We were fortunate enough to have a community that supported that endeavor," Romines told TODAY. "I have a junior high student in the district, and I'm not going to lie, there's a peace of mind to me as a parent and as a superintendent that we've got a place to send our students (during a storm)."
Parents in Moore also have the option of picking their children up and bringing them home ahead of inclement weather.
For the Legg family, who has one of the shelters at their home, that isn't even a second thought.
"What my husband and I have done is we make sure under all circumstances, one of us will always be available to go pick up the kids (if there is a tornado warning,'' Legg said.
Just even letting Alexander, who is now a junior in high school, and Haleigh, a seventh-grader, attend school at all was hard in the aftermath of Christopher's death.
"You don't go through life just holding them back,'' she said. "If I had it my way, I would've home-schooled my kids the rest of their lives, but that wasn't going to be good for them. They have to grow and become their own people."
The siblings have found their own passion since Christopher's death in the form of archery, where they have become some of the top competitors in Oklahoma in their age groups. Alexander first showed an interest and was followed by Haleigh, who has become a national-level archer in the compound bow.
They still think of Christopher when the family has to enter their shelter during a tornado warning. The Leggs also know that the outcry from his death, and the deaths of six other children, has ensured other kids will now be safe from the storm.
After all, as students from Healdton walk into the shelters at their school, they walk right under an inscription that says, "In memory of Christopher Legg."