This Valentine's Day, sisterhood is powerful. Charla Krupp of In Style magazine even offers up some tips on how to celebrate those special bonds. (See "A girly get-together for Valentine's Day.") Yet sisters are not the only ones who need attention on this heart-felt day. And this Feb. 14, there are plenty of ways to show that love to family and friends, from heart-shaped tools for the foodie to colorful throw pillows for the coach potato.
Foodie findsFor foodie friends, Valentine's Day is a feast. Heart-shaped cookware comes out of the closets and cupboards at house ware stores. This year, williams-sonoma.com outdid itself. New products on the shelves range from a crimson linen-cotton blend apron, embroidered with the word "love" for $24, to heart-shaped ramekins, a fancy word for small dishes that can be used to both bake and serve a meal. Four V-day themed ramekins at William-Sonoma are sold as a set with one of each in red, ivory, pink and lavender.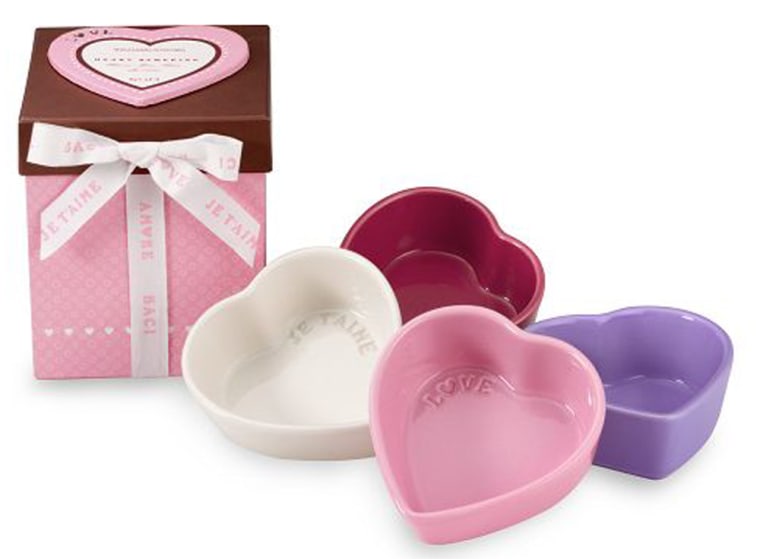 Each 15 ¼-ounce capacity dish is imprinted witha different expression of love: Love, Je t'aime, Amore or Baci. The set is a steal at $28.99, reduced from $39. The company also makes matching plates, which are now on sale for $29.99. (The plates look much better in the store than on the Web.)
Cooking.com, another shop that caters to the serious cook, also stocks some creative cookware for Valentine's Day. It takes a lot patience to prepare hot cakes one at a time with the tin-plated heart-shaped pancake mold. But each pancake is truly a labor of love. The handheld mold sells for $4.95.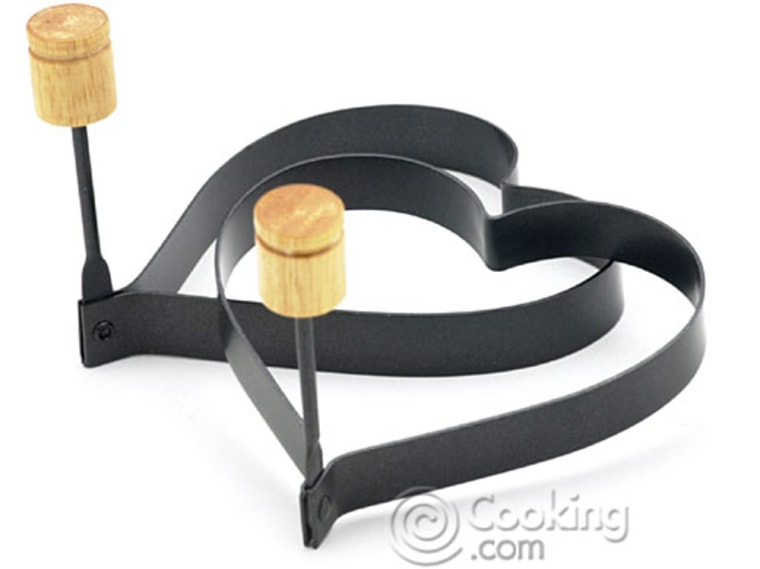 Looking for something to feed the whole family or a group of friends? One of the three heart-shaped muffins pans at cooking.com may be a better fit. The least expensive muffin pan, $5.95, makes up to 12 one-cup muffins. Or sweeten up the recipe and bake cupcakes for the kids.
The bright red muffin pan at cooking.com is simply the most fun because it is so red. The flexible, nonstick muffin mold, made by SiliconeZone, costs $14.95 and has the capacity to make six, one-cup capacity heart-shaped muffins.
Ironically, the top-of-the-line muffin pan at cooking.com turns out the smallest muffins. NordicWare's nordicware.com "heartlette" pan makes up to six ¼-cup mini-muffins. The high-end pan, made of cast aluminum pan, sells for $27.95 at cooking.com. As always, double check the price before checking out. The same pan at chefscatalog.com/store costs $23.99.
Heartfelt gifts for the homeAnd what about some party bowls for those girly get-togethers? At potterybarn.com, two heart-shaped Earthenware bowls are now on sale for $10.99, marked down from $15. The glossy red bowl is imprinted with the word "love" in white. The other bowl has a white glace and says "XOXO" in red. Pottery Barn also has a set of four Earthenware bowls, shaped like Xs and Os, now $17.99, originally were $25. Shipping is free on these two items, which are only available on the Internet and in the stores.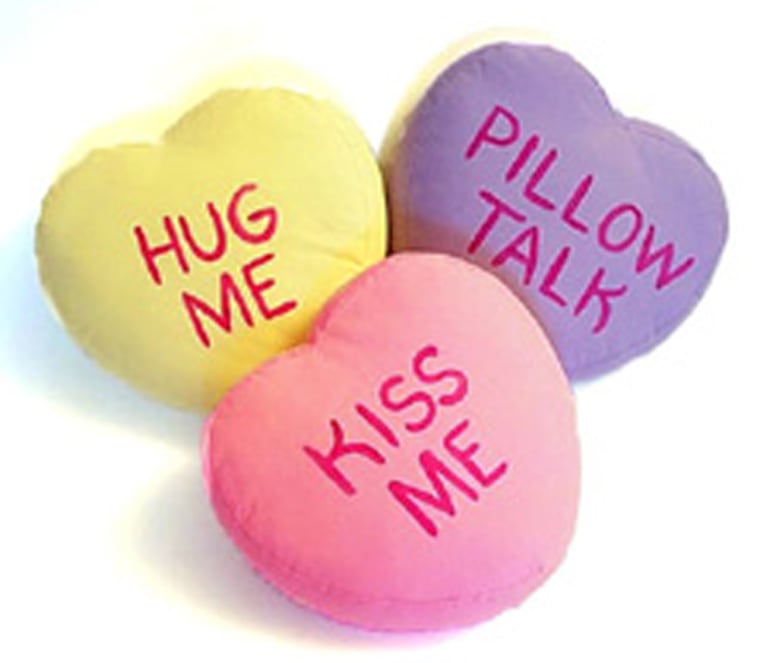 If home is where the heart is but not in the kitchen, consider the heart-shaped throw pillows at sofagarden.com, a two-person pillow shop in Salem, Ore. The bright pastel pillows were indeed inspired by the small heart-shaped Necco sugar confections that they resemble and are popular around Valentine's Day, says Kellie Liskey, the "shape-ologist" at sofagarden.com. Each pillow, which measures about 13-by-13 inches, holds a sweet message typically found on the confections, such as Hug Me, Kiss Me or Be Mine. Cyber shoppers also can customize a message up to 10 characters.  The pillows cost $35 each and come in green, orange, lavender, pink, white or yellow.
Sofagarden.com also makes heart-shaped pillows covered in velvet swirl material for $55 each. (Check out the breakfast collection. The series of breakfast objects transformed into pillows a la soft sculptor artist Claes Oldenberg is hilarious.)
Hugs for the kids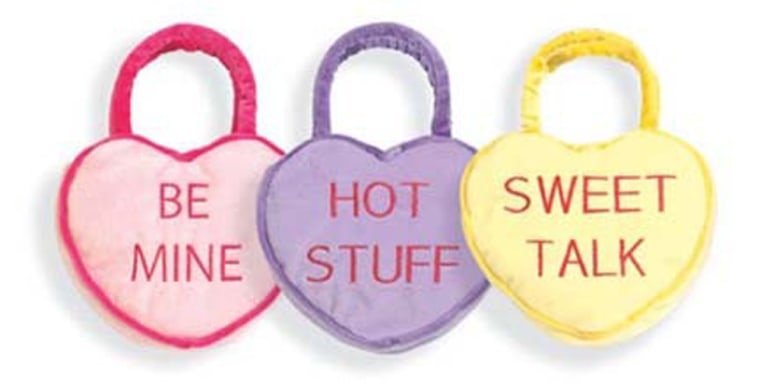 On Valentine's Day, kids need some attention too. How about a heart-felt gift to stash all the candy or V-day cards they collected in school?The perfect receptacle for Valentine's sweets is the goody bag, at Sylvania, Ohio-based gift shop cookiepots.com. The 7½-inch sacs, which also resemble the Necco confections, are made out of Velboa, a soft, plush material similar to Velour, says Beth Brautigan, the cyber shop's founder. Each $12 bag comes with a Velcro closure and is available in pink, purple or yellow.
And yet a better solution for all those V-day cards is the plastic mailbox at mailjust4me.com, a cyber-only shop based in Carlsbad, Calif. Karen Tinley, the shop's founder, writes a personal message, up to eighteen characters, on each plastic mailbox she ships. The boxes, priced at $14.95, come filled with a box of the original Necco sweethearts, a heart-shaped Pez dispenser, jelly beans, gummies bears, a tootsie roll and bubbles in a V-day themed container.
Pamper your palsBy now, you ask: what about some pampering products? And yes, pampering products always makes a great for friends and family.
The apothecary at vermontcountrystore.com offers some great solutions for ailments common to most any working adult in the 21st century. The foot therapy soak helps remove nasty corns and calluses. The box contains three individual soaks for $14.95. Foot therapy is especially appropriate for city dwellers and women who have to wear those horribly uncomfortable pointy shoes. 
There's no guarantee that the "tired old ass soak" mineral bath salts will work but they may generate some laughs. The mineral salts, which contain iron and several essential oils, "washes away the years of abuse your tired old ass has taken," according to the product description. And the copywriter recommends, "If you're too pressed for time to take a bath, take a footbath — or quit your job. Life is too short to be worn out."
Similarly, drugstore.com has some savvy solutions for the overworked, unappreciated souls we've become in the modern age. One gift set from California Baby holds seven different bubble baths designed for people with sensitive skin. Each two-ounce is a mix of suds for different moods, from "overtired and cranky" to those "super sensitive" days. The set at drugstore.com costs $19.99, compared to $3.49 for each two-ounce bottle at californiababy.com. That's at least a savings of $4.44.
The best bet at drugstore.com has to be the Burt's Bees pedicure kit. The $9.49 kit contains a four-ounce tube of coconut foot crème, a small pumice stone and a pair of yellow anklet socks.