A volcano in southwest Iceland began erupting on Wednesday, raising fears of travel disruptions reminiscent of the 2010 Eyjafjallajokull eruption that grounded more than 100,000 flights.
The eruption at the Fagradalsfjall volcano — located about 10 miles from Keflavik International Airport and about 20 miles from the nation's capital of Reykjavik — is classified as a fissure eruption, which does not typically create large explosions or send a lot of ash into the stratosphere, according to Iceland's meteorological office.
Keflavik Airport, a key travel hub between North America and Europe, remained open and international flights have not been disrupted, the country's foreign ministry said in a statement.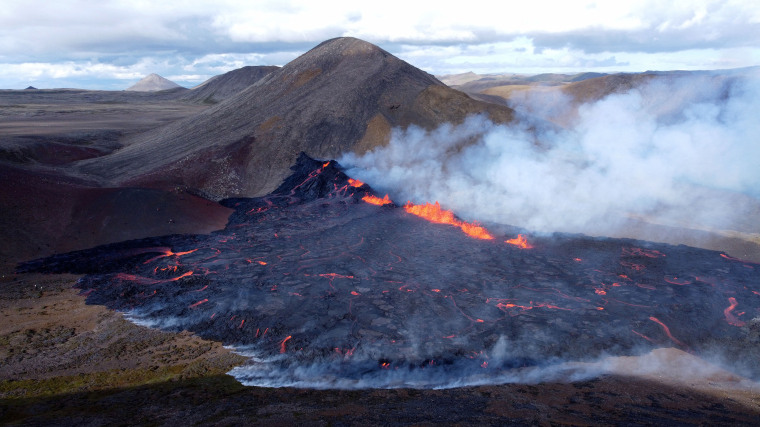 The 2010 Eyjafjallajokull eruption caused chaos for air travel over the course of a week due to concerns the volcanic ash could damage aircraft engines. Millions of passengers were left stranded throughout Europe and North America, and hundreds of Icelanders were forced from their homes due to evacuations in the area.
The current eruption threatens an already chaotic summer travel season, with airlines experiencing ongoing delays and cancellations amid staffing shortages and surging demand for flights.
Live video feeds showed lava spewing from Fagradalsfjall; the exact location of the eruption is Meradalir, which is about 1 mile north of Mt. Stóri-Hrútur, according to the Icelandic Meteorological Office.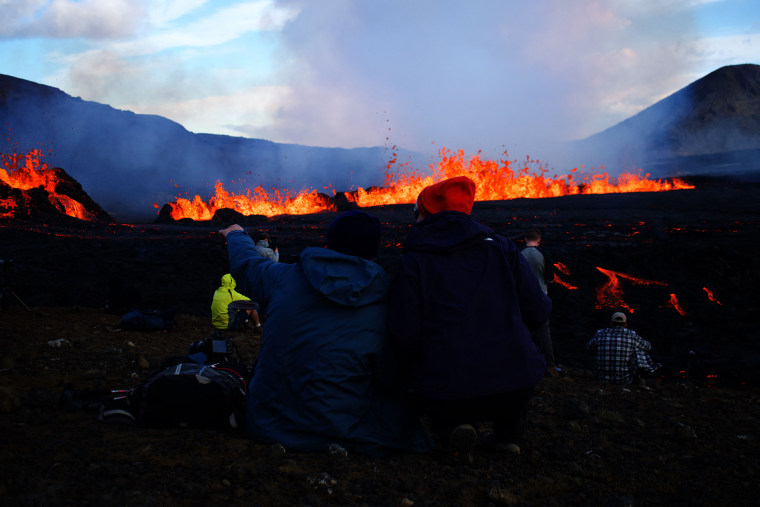 A nearby volcano's last eruption — which lasted about six months — officially ended just eight months ago, the Icelandic Meteorological Office said. On average, Iceland experiences a volcanic event about once every four years.
"We will of course continue to monitor the situation closely and now we also benefit from the experience gained from last year's eruption," Katrín Jakobsdóttir, Iceland's prime minister, said in a statement.
Meteorologists were expecting some sort of eruption in Iceland after a series of "strong earthquakes" indicated volcanic activity close to the crust, the meteorological office said.
The country's meteorological office advised people not to go near the eruption due to gas pollution, but said that "there is low threat to populated areas or critical infrastructure."
Still, some people ventured to see the orange lava flows with their own eyes.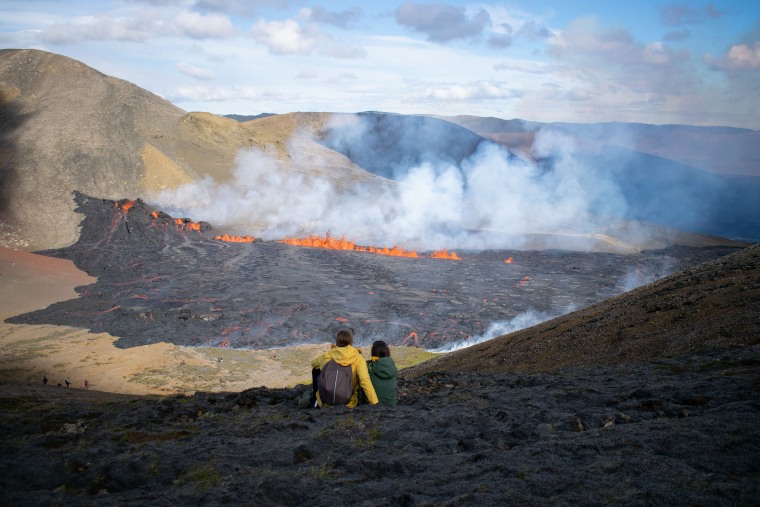 "I just made it to the volcano … my mind is completely blown, it's crazy," an onlooker told The Associated Press. "The last thing that I would have imagined this morning when I woke up would be to be standing and looking at this … it is so beautiful."