Mike Lynch watched his just-married best friend tear up as he accepted an envelope from his new father-in-law. The envelope contained the student loan paperwork for his new wife's debt.
While the gesture was tinged with humor, Lynch, vice president of strategic markets at money management firm Hartford Funds, thought it was a smart move.
"When you're married, you're both responsible for debts," he said. "Anytime you add someone to the family — a partner, children — things change and it's important to talk about the financial implications."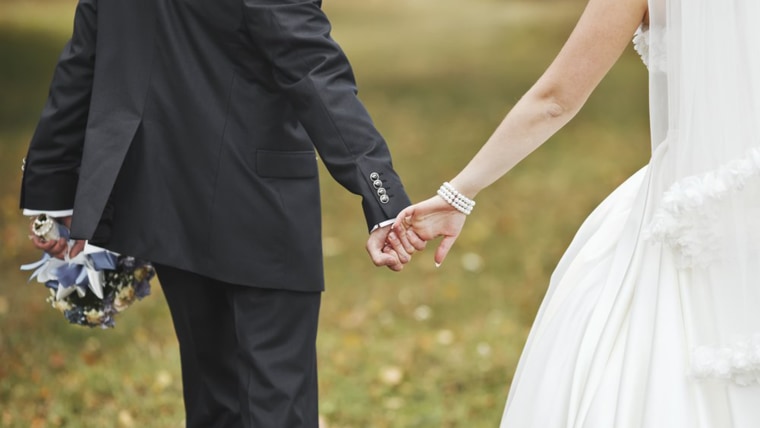 That may be especially true when financial intentions are presumed but not legally spelled out.
Joined in Life and Debt
Following the holiday engagement season and Valentine's Day, you or someone you know may be prepping for a trip down the aisle. But think twice — there may be sound financial reasons to remain domestic partners, especially if you and your significant other don't see eye to eye on finances or are hesitant to discuss how you'll approach financial arrangements.
RELATED: Couple spills secrets to their 82-year-long marriage
"At first blush one thing that seems so appealing in romance is believing the old saying that 'opposites attract,'" said Lynch. "But if they are opposites about savings that could be the end of the marriage before it even begins."
A study published in 2012 in Family Relations journal proves his point. Researchers analyzed the relationships of 4,500 couples and found arguments about money were the top predictor of divorce regardless of income, debt or net worth. That finding isn't isolated. An analysis from researchers at the Brookings Institution, the Federal Reserve Board and UCLA note those with similar FICO scores are more likely to stay together.
So do financial factors mean you shouldn't get married? It depends.
More Is Not Always Better
"It truly comes down to many individual factors," said Leslie Tayne, who specializes in financial legal matters at Tayne Law Group in New York. "It depends on variables including income, benefits, children, (financial obligations to) former partners, health and debt. It's important to seriously discuss all aspects of your financial lives and consider various scenarios. It may not seem romantic, but it's reality."
RELATED: Could your relationship survive 'The Marriage Test'? Try this experiment to see
She cited a woman who was unable to get needed public assistance when her marriage dissolved because her spouse's income disqualified her. As a specialist in debt resolution, Tayne said such cases are all too common.
At one time, many couples married because it allowed both partners to secure health benefits and what were believed to be favorable tax breaks. Those benefits may not be as clear-cut as they once were, Tayne said, noting many companies now offer health benefits to domestic partners.
And while there are also plentiful upsides to combining incomes through marriage — including ready availability of cash to each person, discounts and benefits that might include lower interest rates, and possible tax benefits — it's vital to seek financial advice.
"There is a famous case where a wife…never changed the beneficiary from her sister to her spouse. When she died (after 30 years of marriage), her husband didn't get a dime," said Lynch. "When people get married they generally seek counsel from a clergyman or a rabbi. It's also important to seek financial counsel from a tax or legal professional."
Marriage Penalties Still Exist
"I don't think marriage makes as much a sense as it used to," said Kim Shepherd, CEO of Decision Toolbox, a recruitment products and services company, noting that the dynamics of married couples have changed in the past few decades with more working women than ever. "That's a shame, because I love the idea of marriage, but it's reality."
RELATED: 10 secrets from couples married for decades
Allison Alexander, financial adviser with Savant Capital Management, said many couples are surprised to find that marriage "penalties" not only still exist but can be as high as 12 percent of a couple's income.
"Dual high wage earners (generally those who each earn $185,000 plus) are often subject to the Alternative Minimum Tax (AMT)," she said. "In 2015, the AMT exemption for Married Filing Jointly (MFJ) is $83,400 and filing single is $53,600. If you remained unmarried, each partner would have a $53,600 exemption. Adding children to the mix makes it even worse because there are no dependent exemptions for AMT purposes."
Of course there are many other financial considerations beyond taxes.
Marriage Can Make Sense Through Dollars and Cents
Shawn Gilfedder, president and CEO at McGraw-Hill Federal Credit Union in East Windsor, New Jersey, talks about a married couple whose combined income and credit scores allowed them to lower the interest rates on $42,000 of combined student and credit card loan debt — from about 12 percent to just over 3 percent — that one partner had accrued. The couple paid off the loan and improved the spouse's credit rating to the highest level, 850.
RELATED: Jay Leno's secret to a long marriage: 'Marry the person you wish you could be'
That type of open conversation and planning is increasingly rare, he said. Indeed, a recent study by Northwestern Mutual found that 34 percent of adult Americans have no financial plan for their future.
"It's all about having financial conversations early and deciding what works for both spouses," said Gilfedder, who then cited an oft-used maxim about financial health. "People don't plan to fail. They fail to plan."
Corrections & Amplifications: This article includes a quote from Kim Shepherd. In an earlier version of this article, she was incorrectly identified as Kimberley Bernatz.