The 2018 Winter Games aren't the only attraction in South Korea!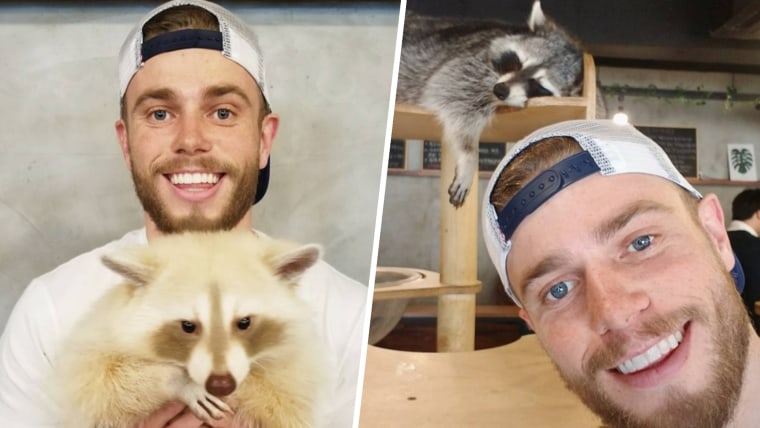 Some visitors at the games are flocking to a popular spot in Seoul that serves up coffee and light meals — and a chance to play with some of the fluffiest critters to ever roam around on four paws.
Olympic skier Gus Kenworthy recently took a trip to the Hongdae Raccoon Cafe. (We've heard of dog and cat cafes, but this is ... different.)
Kenworthy turned to social media to share photos from his fun with the animals that are often affectionately called "trash pandas."
"They really do love trash!" he wrote alongside the sweet shots.
The slopestyle skier, who can be seen cuddled close to a white raccoon in some pics (and snuggled up to boyfriend Matthew Wilkas in others), called the visit his favorite moment of his winter trip so far — and, yes, he means even better than the games in Pyeongchang.
"This raccoon cafe was honestly the highlight of my trip to Korea so far (no offense Olympics)!" he wrote in a caption on Instagram.
Kenworthy took the silver in Sochi in 2014, but didn't medal in this year's competition. He recently told his fans and followers that "the Olympics aren't solely about the medals." For him the 2018 experience has been about hard work, camaraderie and living "authentically."
Oh, and that one fantastic, furry day at the cafe.
Kenworthy isn't the first athlete to draw our attention to this unique eatery.
Retired Team USA Alpine skier Julia Mancuso recently gave NBC News a closer look at the cafe, and while she was there she learned an important tip for anyone who wants to make friends with the resident raccoons.
"They like their butt or their neck scratched," one employee told her. "If you kind of scratch their spots, they'll stay (with you)."
Good to know!