Tinder is for the young. Or at least it's new service, Tinder Plus, seems to be.
It allows people to undo "left swipes," or rejections, and change geographic locations so you can flirt in another city before leaving on your business trip. It costs $9.99 per month — if you're under 30 years old.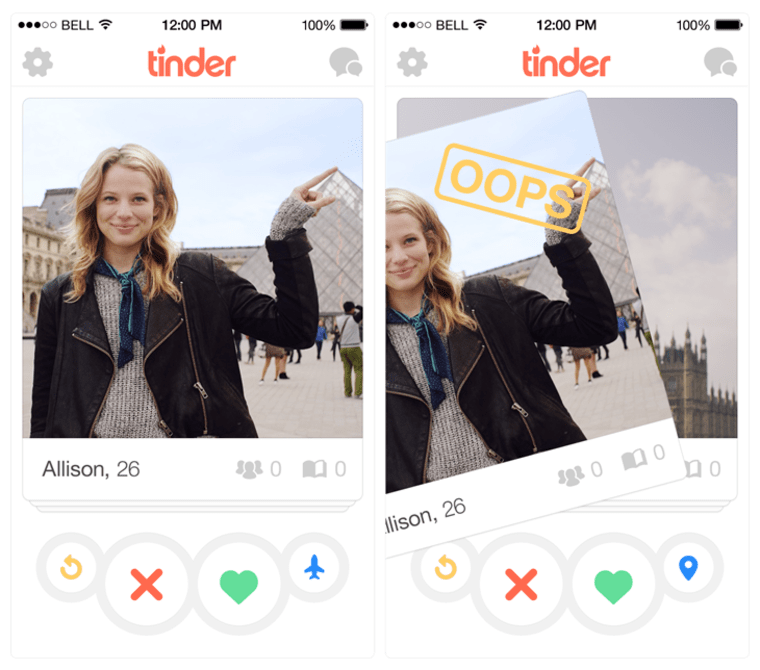 And if you're old enough to actually remember the 1980s? It will cost $19.99 per month.
That subscription price also includes the ability to "turn off ads," which might seem strange, because Tinder doesn't currently have advertisements.
So, not only are ads coming, but so are a limit on "likes." That might actually be good news for people sick of Tinder bots and desperate dudes always swiping right. The "Rewind" feature will certainly be popular with people who feel a pang of regret every time they reject a cute guy or girl.
Tinder told NBC News in a statement that its subscription fees aren't out of the ordinary.
"Lots of products offer differentiated price tiers by age, like Spotify does for students, for example," wrote Tinder spokesperson Rosette Pambakian. "Tinder is no different; during our testing we've learned, not surprisingly, that younger users are just as excited about TinderPlus, but are more budget constrained, and need a lower price to pull the trigger."
Twenty bucks is actually cheaper than some other services. Match.com charges $35.99 per month, although it goes down to $15.99 if you sign up for a 12-month subscription.
But that hasn't stopped people from complaining, even about the $9.99 option.
Tinder says it's responsible for 22 million matches every day. If even a small percentage of those swipe right on the new service, Tinder and its parent company IAC could be feeling the love from investors.
This article was originally published Mar. 2, 2015 at 5:19 p.m. ET.