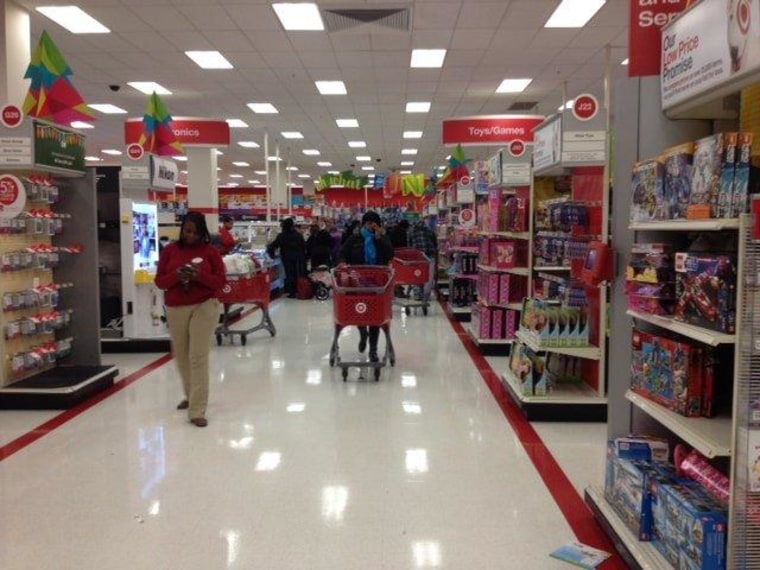 More dads are buying the toys, The New York Times reported recently, as two-income homes and households where dads stay home are on the rise. As a new father, this piqued my interest. Supposedly marketers are changing up their toys to appeal to me more as a shopper. I went off to the toy store to see if this was true and what it looked like.
At 8 weeks old, my son's favorite toy is the brightest light in the room ($1.62 for a 4-pack at Home Depot), but I need to be up on the latest trends so that by the time he does start playing with actual toys, I'm ready. Like reading ahead a chapter for class, I headed to the toy aisle at Target.
Through my dudely eyes, I gazed upon the wares filling the toy aisles. I thought about the toys my kid might like, which is really what I would like him to like coupled with what my wife might let me let him like, as he has barely started to express any kind of preference in the world besides food, sleep and carry me.
I saw boxes of "Words with Friends" board games. That is, the Internet version of Scrabble (except they don't have to pay Mattel), come full circle. There was also a "Farmville" game. How could you translate the game where you hassle your friends through your status updates to help you grow your farm into a physical game? Well, that's because it's "Hungry Hungry Herd," which is exactly like the one with hippos, just splashed with a big "Farmville" logo.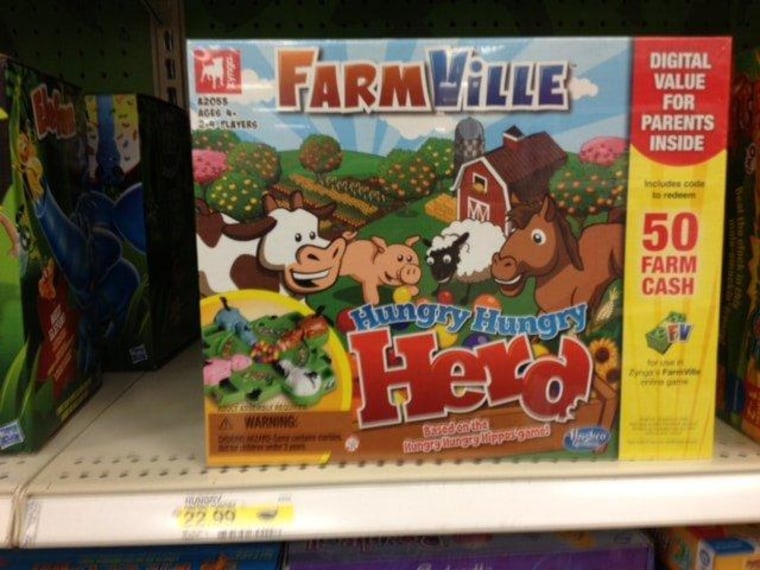 I saw so many different kinds of LEGOs that were blatantly set up to play war. Ninjago LEGOs, LEGO Batman and Star Wars LEGOs. Which is totally awesome! But back in my day, you got the municipal gas station super pack/Nordic social paradise that you desperately tried to turn into a space fighter -- and you liked it!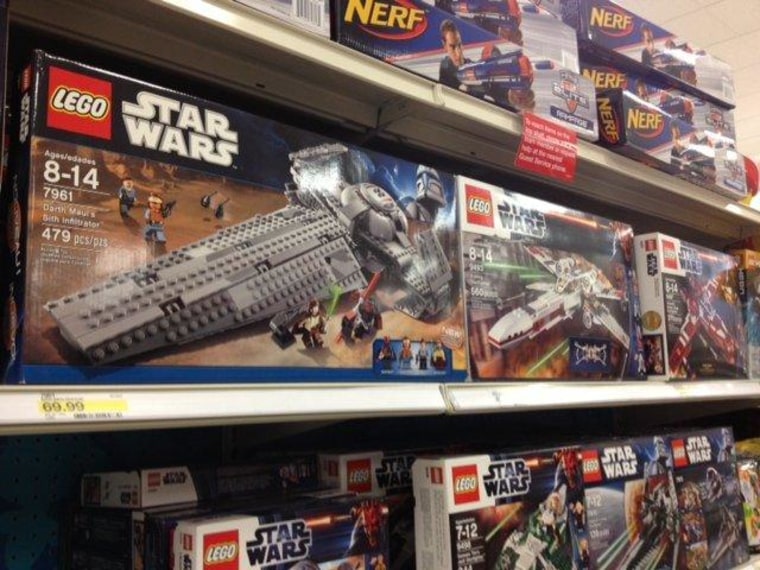 There were two rows of TurboTax in the video game aisle, which seemed to me to be either an epic mishelving, or a genius example of complementary product placement. You can feel better about buying your kid "Call of Duty: Black Ops II" because you're also getting ready to file your small business expenses.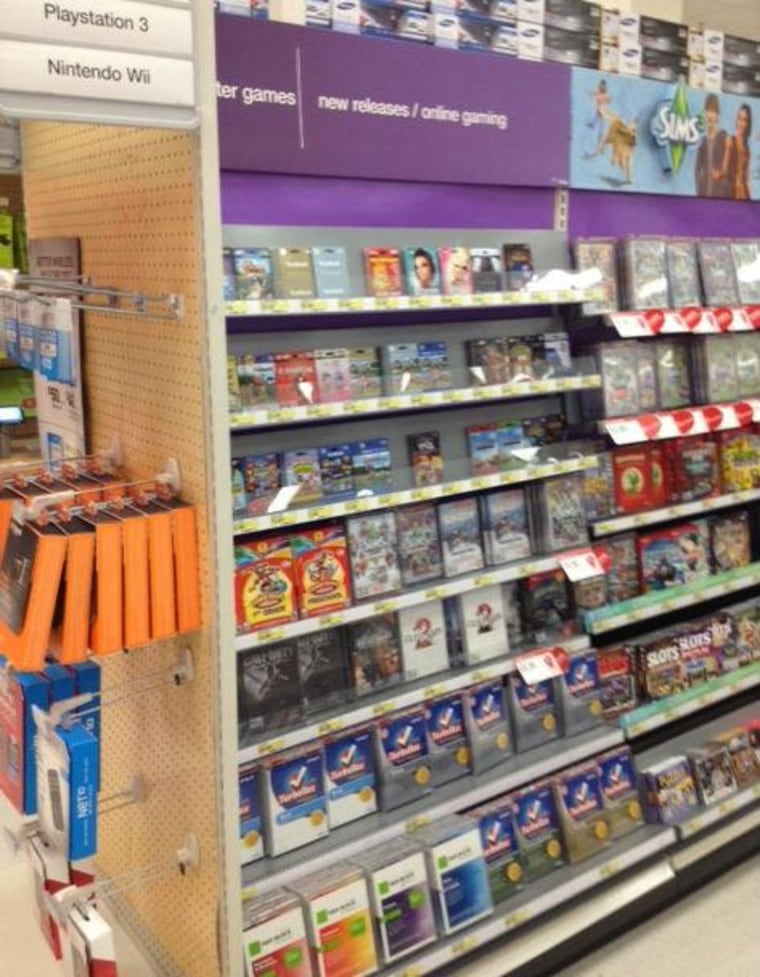 All the active toys are located the farthest away from the central escalators, I noticed. You'll have to burn a few extra calories if you want to get a baseball, soccer ball, Frisbee, or what I found to be my favorite toy there, a $14.99 "Table Tennis To Go" set by Franklin. Just stretch the retractable netting over the table, clip on and you're ready to play ping pong, no giant table that ends up being used as an abandonment ground for junk mail and failed craft projects required.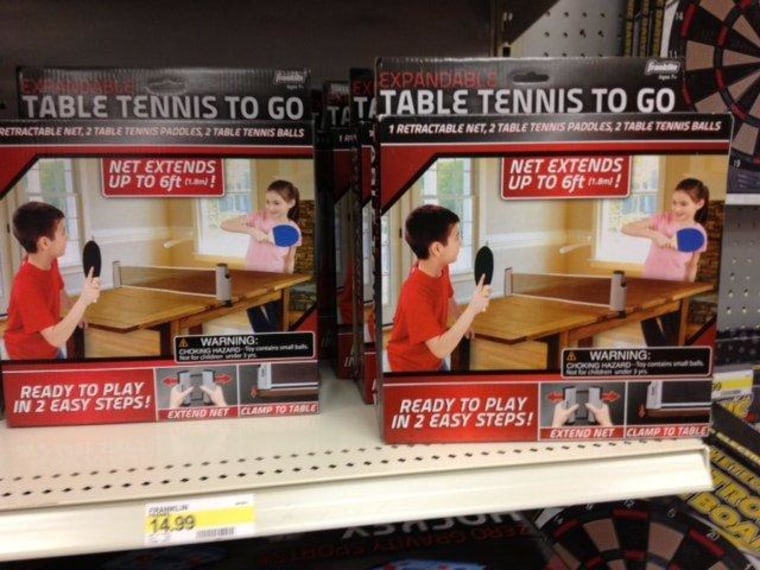 See, when we give a gift, what we're really doing is giving an idea. "These are my values and conception of what I think you value, expressed in physical form," is what we are saying. Which is why I'm so scared for that first selfish gift that I will give. That gift that is really more for me or the idea of who I wish my son to be. There's that crumpled look of when he'll say, "Oh great, just what I was hoping for," and we'll all die a tiny bit inside.
I didn't see any guys stuffing purple Easy Bake ovens, colored stacking doughnuts, and packs of Skylanders Giants into their carts along with steaks and frozen pizzas, but I did see men shopping in the toy aisles. I also saw women and couples. Maybe the fact that any men are shopping in the aisles at all is revolutionary. Maybe I also spied around a corner the ghost of myself, holding the hand of the boy my son will become, looking for something fun that I can give him in a few years. Naw, it was just some other tow-headed kid, looking longingly at a $179.99  rideable SRT Viper electric car.
Yeesh! No way are you getting that! Dad says no. 
 Related stories: