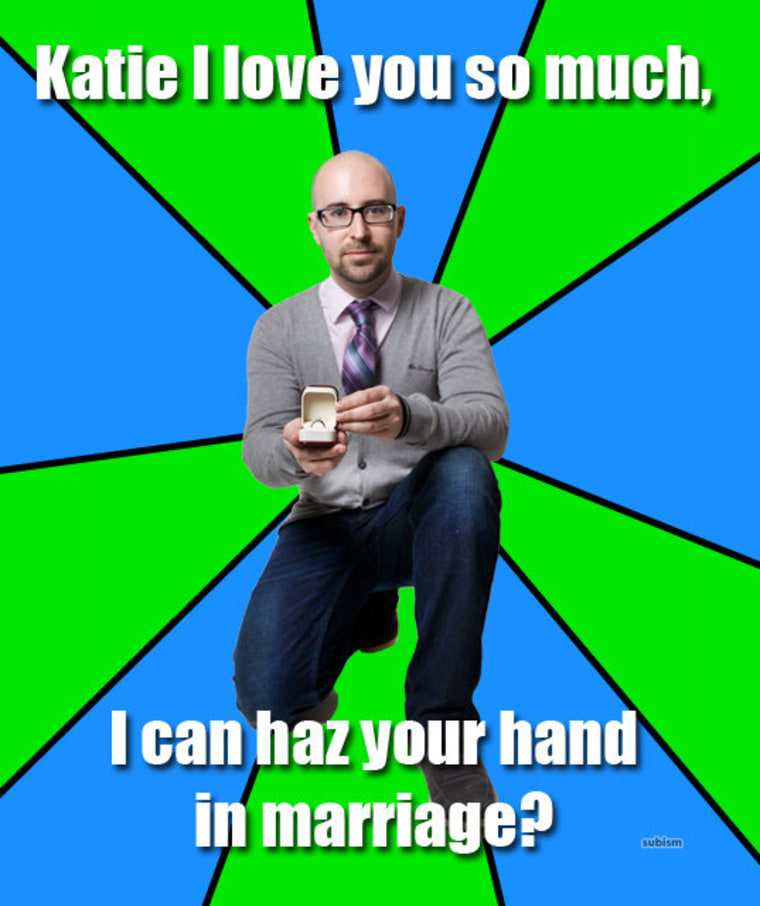 One of the most wonderful things about the Internet is that it encourages people to behave in the most shocking and amazing of ways. A recent example of this phenomenon involves an engagement ring, a blog post and hundreds of ridiculous images. Oh, and a happy ending — a very happy ending.
It all started on Wednesday morning, when the guy who runs the Twitter account belonging to popular website BuzzFeed teased everyone with the prospect of a crazy stunt:

Soon after that tweet, BuzzFeed published a post by Len Kendall, one of the site's top 50 community contributors, titled "Help Me Convince Katie To Say 'Yes'." The post included the image you see at the top of this story, a cut-out photo of Kendall (which could be easily inserted into various images) and the following text:
Katie, I love you so much. Will you marry me?
In case it wasn't obvious that we were witnessing a proposal, a BuzzFeed editor added a note to explain the post:
Len is proposing to his longtime girlfriend Katie right here and now. Help him out by leaving an image in the comments persuading her to say yes and making Len the happiest man in the whole internets! We'll update this post as soon as she responds. OMG!!!
BuzzFeed readers didn't need more encouragement than that. They quickly filled the comments of Kendall's post with images into which they'd edited the man and tweeted kind words using the #SayYesKatie hashtag.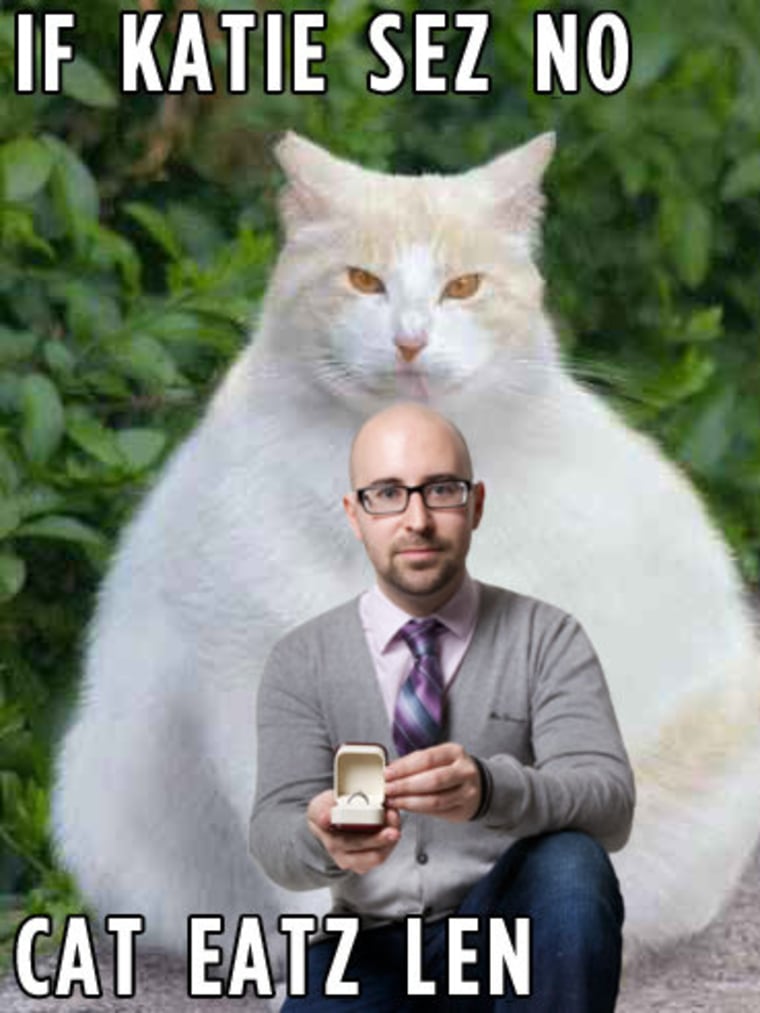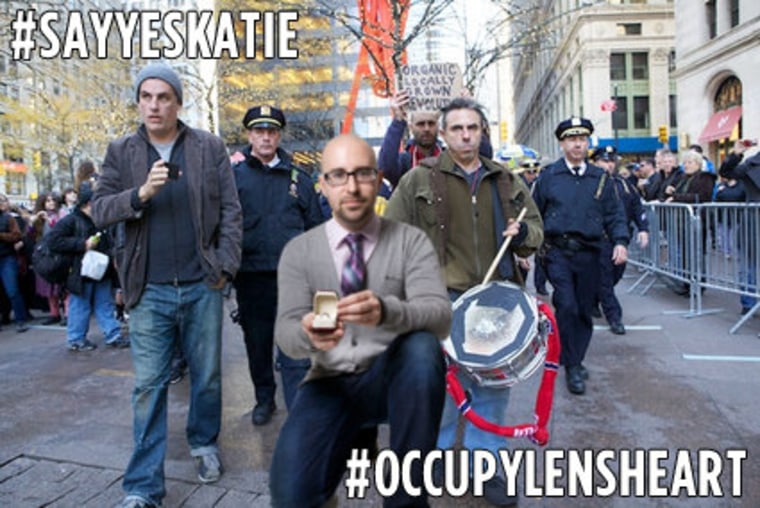 Some time passed and many — including yours truly — became nervous. Why hadn't Katie Holland responded yet? Did she not read BuzzFeed? Had she avoided Twitter all day?
No — she was just too busy saying "yes" to the proposal to even tweet about it for a while: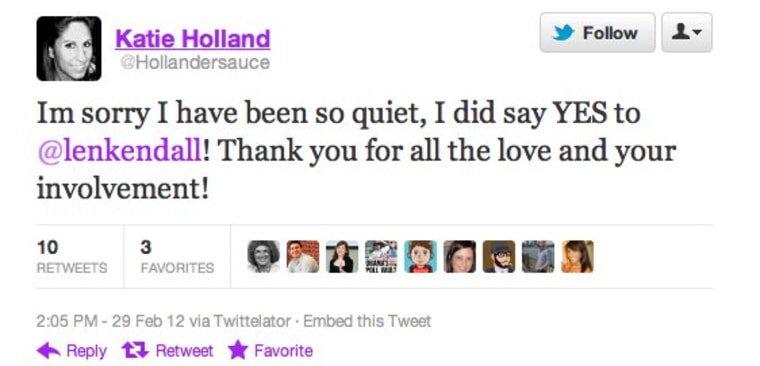 And what do the folks at BuzzFeed think about the proposal they aided?
That they'll "need about 80 invites" to the wedding, of course.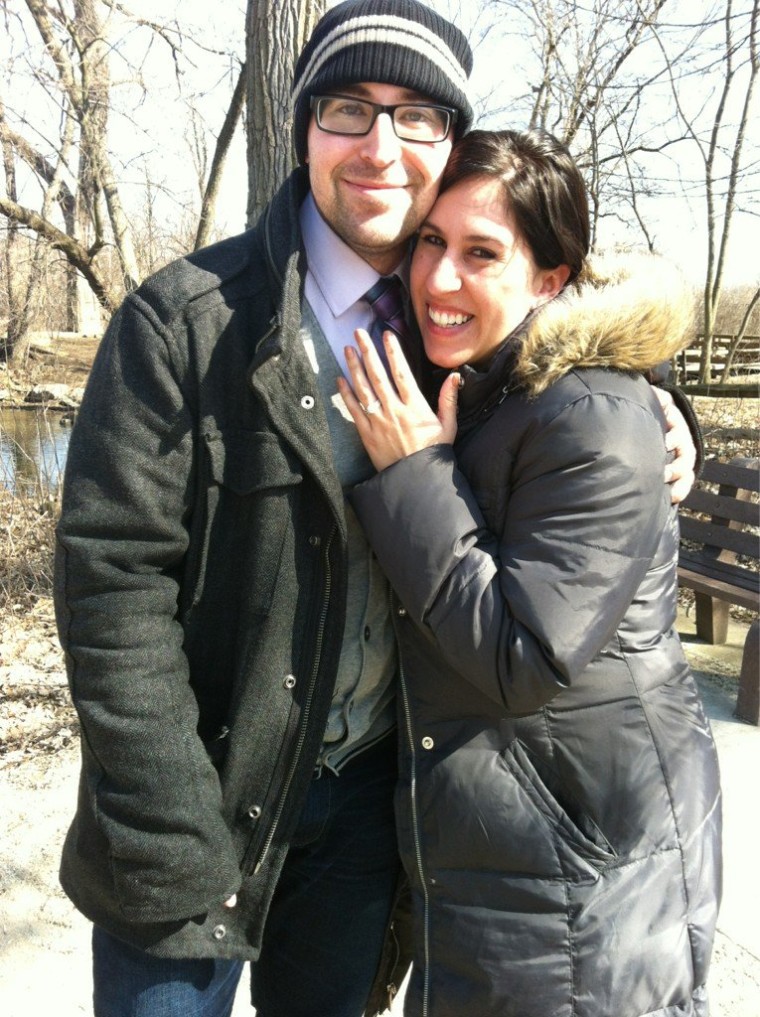 Related stories:
Want more tech news, silly puns, or amusing links? You'll get plenty of all three if you keep up with Rosa Golijan, the writer of this post, by following her on Twitter, subscribing to her Facebook posts, or circling her on Google+.