For small businesses trying to survive, one man said he could keep them from failing — but not without some tough love.
Branding expert Martin Lindstrom lent his expertise to two family-owned businesses just steps from closing for good. 
One business called Biscuit Love is a food truck in Nashville, Tenn.
"For the first time I feel like we're pushing the cart instead of the cart pushing us," said Sarah Worley, who owns Biscuit Love with her husband Karl. The couple had invested $80,000 in the business before Lindstrom's intervention, and said they were just two weeks away from having to shut the doors forever.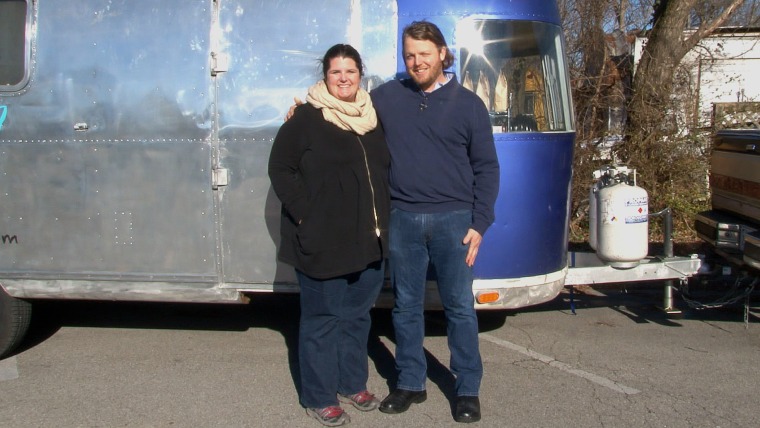 With Lindstrom's help, the husband and wife team transformed the Biscuit Love experience, creating a brand that goes beyond food. 
Another business owner, John Veach, owns Veach's Toy Station in Richmond, Ind., which has been in the family for 75 years. He and his wife Shari bought the business from Veach's father last year.
"If I lose this, I don't know what I'd do," Veach told TODAY before the help from Lindstrom and a team of volunteers, who worked to transform the shop with bright colors, hands-on displays and a smarter layout.
Lindstrom told TODAY's Erica Hill that the toy store and Biscuit Love had gotten to such desperate places because they were "in panic." 
Want to know a secret? 5 tips that will transform your small business
Veach's Toy Station is a true landmark for Richmond, and Veach said he felt an intense loyalty to both the business and the town. When he bought the store it had already been struggling for several years, but it was committed to turning it around. 
After the changes, Veach told TODAY's Erica Hill that he can not only see, but feel, the transformation. "It feels good," he said. "We have a vision we have a plan and we have to stick to it." 
After the facelift, sales at the toy store were up $38,000 in December, or about five percent over the previous year. 
Those are optimistic numbers , especially since Lindstrom did not start off with good news for Veach and his wife. On his first visit he called the toy store "one big mess."
Lindstrom had said that while expertise and passion was not the problem for the toy store, it was the execution. "We need to remove the dust. We need to make it a new shiny brand, so irresistible that people just want to touch it and engage with it," he told them. 
After the redesign and the December numbers, Lindstrom had a positive outlook for the store. "I think we can in a year increase their revenue by 40 percent," he said. 
The Biscuit Love food truck calls home a few hundred miles south of the toy store, in Nashville, Tenn. Though the business isn't even two years old, it has had its share of problems.
"If it rains for a week, no one is gonna come out for a biscuit," owner Karl Worley said before the transformation. Lindstrom saw problems that were deeper than just some bad weather. 
"They claim they're selling love," Lindstrom said at the time. "They're not selling love, they're selling food stuffed into a can with no label on it on four wheels."
The power of community: Erica Hill is moved by the heart behind 'Main Street Makeover'
Lindstrom helped the couple to transform not only the product, but the way the product was sold. "You are selling an experience," he said. 
Now, a visit to Biscuit Love includes a seating area with reasons to linger, bigger, bolder signage and new menu items, including a special salad named after Lindstrom. 
The changes to both Biscuit Love and the toy store will ensure both businesses have a shot at sustainability. 
It's a far cry from the initial prediction by Lindstrom. 
"The biscuit truck, with a little love from their friends, a couple of tears, three months, then they're dead," he first said. "The toy store, probably half a year to eight months. That's about it."
Both businesses stuck it out, strong in their resolve.
"I love this place. This is where I grew up," John Veach said of his toy store. "I just don't want to fail."