On Tuesday afternoon, a post appeared on the Facebook page belonging to Red Lobster. It was written by 56-year-old Robert Mills and it explained how frustrated he is that the restaurant chain does not offer any free food items to customers who are celebrating their birthdays, as he was on that day. "Guess I'm just a nobody on my birthday," he wrote.
By Wednesday, a group of Internet users would show him just how wrong he was to think that.
It all began when a BuzzFeed reader alerted the website of Mills' Facebook post on Wednesday. "Red Lobster, give this guy a free meal," proclaimed BuzzFeed editor Matt Stopera. He encouraged people to tweet at Red Lobster and to post on the company's Facebook page in order to "make this happen."
Within a few hours the Red Lobster Facebook page was flooded with messages of "Feed Robert Mills!" and "Lobster for Robster!" Writer Carly Hallam added additional fuel to the campaign with a post on Comedy Central's Tosh.0 blog. "I believe that this is a cause you guys can really get behind," Hallam wrote.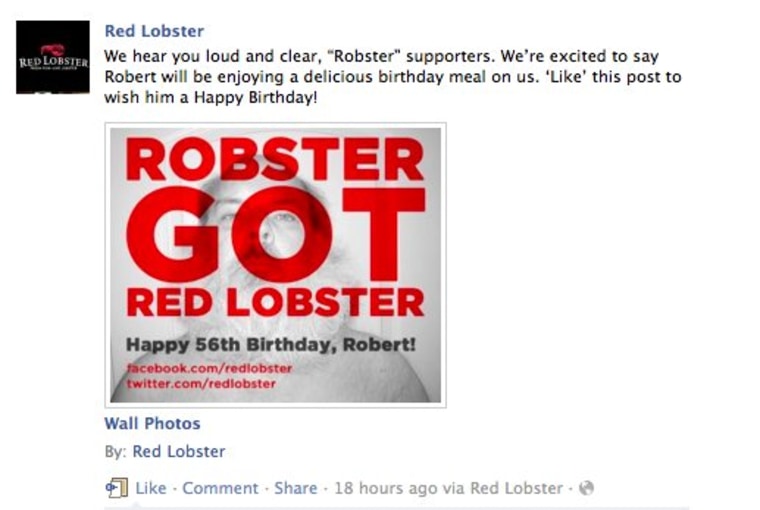 A little bit more time and a lot more Facebook posts and tweets later, Red Lobster responded to the social media campaign. "We hear you loud and clear," a new post on the company's Facebook page exclaimed before explaining that Mills will be getting a "delicious birthday meal" for free. 

Mills thanked everyone for their support, BuzzFeed declared the social media campaign a success and everyone lived happily ever after (assuming that Red Lobster did manage to get in touch with Mills, of course).
Though I suppose that Mills would probably be even happier if someone campaigned to get Chevrolet to send him a free car as well:

Related stories:
Want more tech news, silly puns, or amusing links? You'll get plenty of all three if you keep up with Rosa Golijan, the writer of this post, by following her on Twitter, subscribing to her Facebook posts, or circling her on Google+.