According to a Federal Reserve Board survey, nearly half of all Americans would not be able to cover a $400 emergency without having to borrow money or sell something off.
As part of the "Start TODAY" series examining ways to hit the refresh button on everything from food to fashion to finance, TODAY financial editor Jean Chatzky helped several viewers find $400 from their already-stretched budgets to put toward an emergency fund.
Here are the scenarios being faced:
The problem: Kelley from Milwaukee, Wisconsin, recently got divorced. She makes a "nice salary" but admits she couldn't come up with $400 on any given month. For example, when her basement flooded recently, she paid for the cleanup by setting aside several other bills. She also finds herself giving spending money to her teenage children.
The fix: Track spending and help her kids find summer jobs.
Chatzky said Kelley first needs to understand where all her money goes. She soon discovered she was making grocery story visits about four times a week. She also was handing out $20 a week to each of her teens, spending upwards of $200 a month. Chatzky suggested Kelley cap her grocery store trips and help her kids find summer jobs, especially those that could roll over to the school year.
RELATED: Credit card debt is nearing $1 trillion. Here's what you should do
The problem: Jen and Adam from Waterboro, Maine, have two children with medical issues. That means Jen often stays home to care for the kids — but that means she misses out on income from her part-time job. The couple often falls behind on paying their medical expenses and other bills.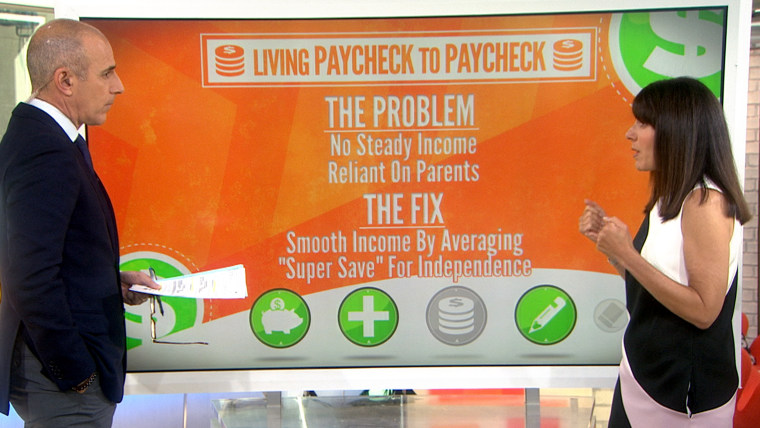 The fix: Cut out the unnecessary and find a side hustle.
Chatzky looked at the couple's monthly expenses and discovered several redundancies, including $400 spent on bills for their cell phones and a landline. She also suggested Jen find another part-time job, but one she could do from home. After reviewing her skills, Chatzky said a job as a virtual assistant might fit, and pay for, the bill.
RELATED: Should you be using a 529 plan to save for college? Here's what to consider
The problem: Justin from Cincinnati, Ohio, works two jobs, one that pays commission only. He lives with his parents and he finds it difficult to plan for the future.
The fix: Income smoothing and a savings supercharge.
Chatsky recommended Justin do some "income smoothing" to help his financial planning: Add up income for six months and divide the figure by six. That amount will give him a realistic idea of what his monthly income is.
Then, to help ease his reliance on his parents, Justin should "supercharge" his savings so he will soon have enough to help him move out. "You need a goal to work toward in order to get yourself there," Chatzky said.
Overall, Chatzy recommended several things anyone could do to help save for an emergency:
Automate your savings: If you don't, you'll end up spending "extra" money you see in your account.
Only withdraw for emergencies: Be sure to understand what a true emergency is.
Replenish often.
Be accountable to someone: Tell someone about your savings goal. It will help you feel obliged to keep them.