Heidi Klum is now the "most dangerous celebrity" to search for on the Web, with Cameron Diaz moving to No. 2, and relative U.S. celeb newcomer Piers Morgan at No. 3.
The annual list comes from McAfee. Searching for the latest Heidi Klum pictures and downloads, for example, "yields more than a 9 percent chance of landing on a website that has tested positive for online threats, such as spyware, adware, spam, phishing, viruses and other malware," the company said.
Here's the top 10 list:
1. Heidi Klum: McAfee says that fans who search for the model by name or by "Heidi Klum and downloads," "Heidi Klum and 'free' downloads," "Heidi Klum and screensavers," "Heidi Klum and hot pictures" and "Heidi Klum and videos" are "at risk of running into online threats designed to steal personal information. Clicking on these risky sites and downloading files like photos, videos or screensavers exposes surfers or consumers to the risk of downloading viruses and malware."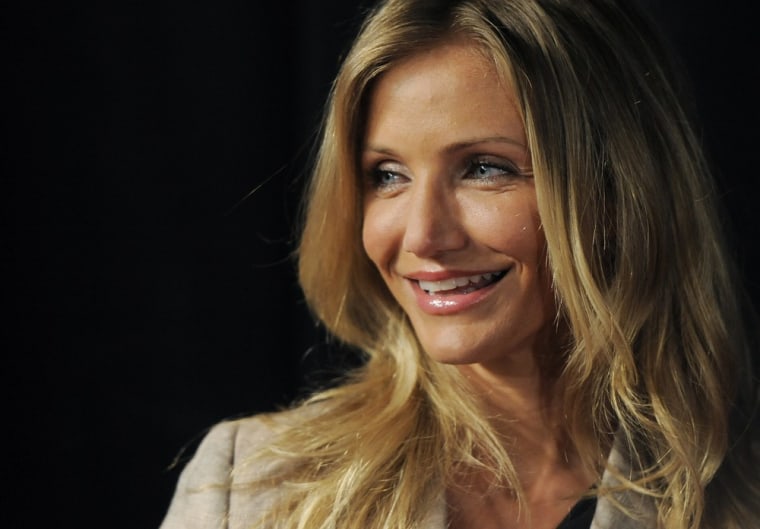 2. Cameron Diaz: Searches for her name resulted in "slightly fewer risky sites this year." Maybe that's because the endearing actress had an onion with the movie, "Bad Teacher."
3. Piers Morgan:  He's new to the list, and "the most dangerous male celebrity," McAfee says. Morgan has two high-profile TV shows to his name — his own, "Piers Morgan Tonight" on CNN and he's one of the judges on "America's Got Talent."
4.  Jessica Biel:  She was 2009's most dangerous celeb, but "fell one more spot this year with searches resulting in fewer risky sites," McAfee says. Certainly, "Biel continues to be in the spotlight with her on-again, off-again relationship with Justin Timberlake."
5.  Katherine Heigl: This is a "debut" performance for the TV-turned-movie star (from "Grey's Anatomy" on the small screen to "Life as We Know It" on the big screen, as well as other movies).
6.  Mila Kunis:  Ditto for Kunis — a first time on the McAfee list. She was on "That 70's Show" on TV, but has since moved to movies including "Black Swan" and "Friends with Benefits."
7.  Anna Paquin: The actress ("True Blood") was No. 10 on the list last year.
8.  Adriana Lima: "Searching for downloads of this Brazilian beauty can direct users to 'red-ranked sites,' "those considered most dangerous by McAfee's SiteAdvisor tool. Searching for Lima, a Victoria's Secret Angel, "became slightly safer, moving her from No. 6 last year, to No. 8 this year."
9.  Scarlett Johansson: What's there to say? The beautiful star has stirs up a lot of fan interest, and her breakup with hubby Ryan Reynolds no doubt fueled more fan activity on the Web.
10. Emma Stone, Brad Pitt and Rachel McAdams: The three-way tie puts Pitt — a "mainstay of this list, appearing in the top 10 for the past four years" — with Stone and McAdams, both newcomers.
McAfee says that using celeb names is a common way for the bad guys to try to lure people to sites that are "laden with malicious software. Anyone looking for the latest videos or pictures could end up with a malware-ridden computer instead of just trendy content."
"While slightly safer than last year, searching for top celebrities continues to generate risky results," Paula Greve, director of Web security research at McAfee, said in a release.  "Consumers should be particularly aware of malicious content hiding in 'tiny' places like shortened URLs that can spread virally in social networking sites, or through e-mails and text messages from friends."
Related stories:
Check out Technolog, Gadgetbox, Digital Life and In-Game on Facebook, and on Twitter, follow Suzanne Choney.