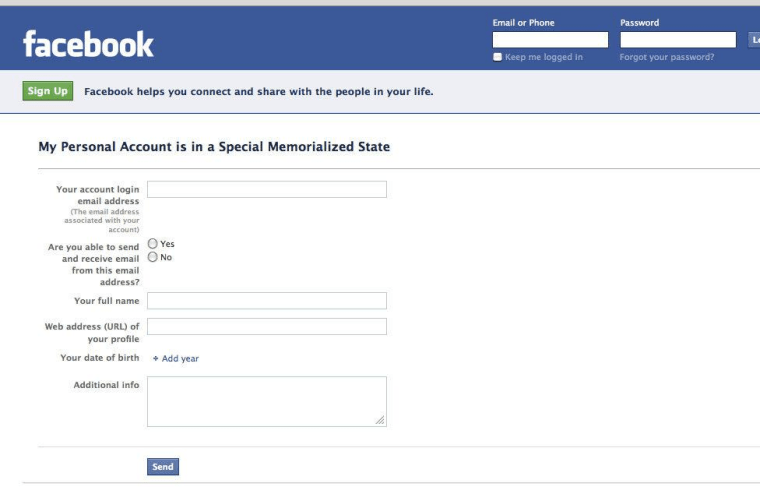 It's not that Facebook is trying to tell you something even though it might seem that way: Still, at least one user is puzzled by what happens when he logs into the social network, only to be greeted by a notice that his account cannot be accessed and is in a "special memorial state."
That's what happened to user Brett Millett, who shared his experience on a Q & A site under the heading, "Someone memorialized my Facebook profile but I'm still alive!":
Apparently, it's pretty easy to memorialize someone's Facebook profile. I am greeted with the following message after entering my valid and correct username and password:
"Account Inaccessible This account is in a special memorial state. If you have any questions or concerns, please visit the Help Center for further information."
Millett, whom TODAY.com has contacted but not yet heard from, also wrote that he suspects the mishap may be due to some mischievous pals. "Apparently, you need my date of birth (which friends or friends with hacked accounts have access to) and a fake obituary (because no one at Facebook really reads them apparently)."
A frustrated Millett said that the "best part" was that he couldn't "actually contact them in any expedited way to protest. In fact, I sent an email to get a bunch of useless links that I'd already looked at."
There is help, but you have to know where to look. Here's where you would start, according to Facebook. And to report someone as having passed away, you'd need to go to this page.
We asked Facebook to explain how what happened to Millett could happen.
"It was really a case of human error" on Facebook's side, a spokesman told TODAY.com. "It was a mistake by (someone) on our user operations team." Facebook, he said, does have "checks that are in place" to prevent such a botch, but still — it happened.
Millett's Facebook account, the spokesman said, "has now been remediated" — put back in order, so that Millett is no longer "memorialized."
In general, when the social network gets a report that a user has passed away, the site memorializes the account, restricting profile and search privacy to friends only. It also leaves the profile up so that friends and family members can leave remembrance posts.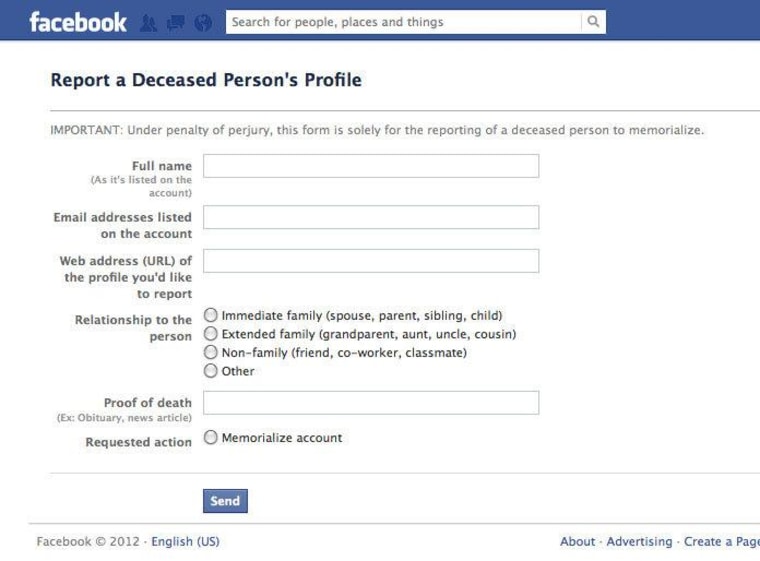 For an account to be memorialized, the person reporting the death has to provide proof of it, such as an obituary or news article, as part of the reporting form Facebook requests.
Updated, 6:30 pm ETMonday
— Via The Next Web
Related stories:
Check out Technolog, Gadgetbox, Digital Life and In-Game on Facebook, and on Twitter, follow Suzanne Choney.