The number of companies offering wellness perks, including everything from fitness club membership reimbursement to weight loss programs, has barely budged since the Great Recession started. But employers are increasing the pressure on employees to shape up anyway.
If you quit smoking or lose weight, more companies are willing to offer you discounts on those hefty insurance premiums today, according to a survey by the Society for Human Resource Management released Monday.
In 2009, only 4 percent of employers offered such breaks for weight loss, compared to 9 percent today. And 20 percent of companies offer the discount for smoking cessation, compared to 8 percent in 2009.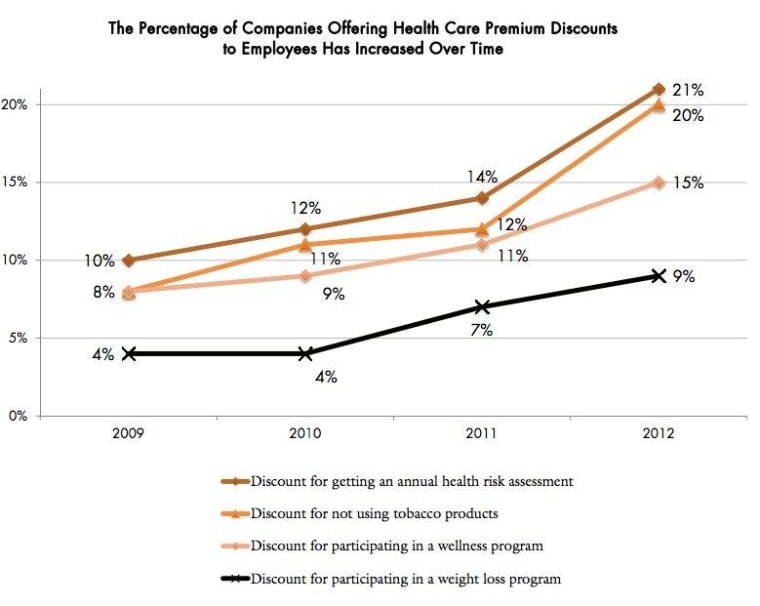 But the number of companies providing smoking cessation classes has stayed at about 40 percent for the past four years. Also, fitness club subsidies has actually declined to 31 percent this year, down from 35 percent in 2009, but up from 30 percent last year. And weight loss programs have stayed around the 30 percent mark since 2009; rising slightly this year to 32 percent.
On the financial wellness side, more employers want workers to manage their own retirement. The study found that 92 percent of companies now offer defined contribution retirement plans such as 401(k), compared 21 percent of those offering traditional pensions. In 2008, the numbers were 83 percent and 33 percent respectively.
"By shifting primary responsibility in controlling certain healthcare and financial benefits, employers are recognizing a shift in workplace culture," said Mark Schmit, vice president of research for SHRM. "The new plans allow employees have more control over how they save for retirement and manage their health, while reducing costs for employers. These plans are also more flexible, and thus more attractive, to employees who will likely not spend an entire career with one organization."
In another area of employee health management, companies are further pushing medical screenings for employees. This year, 21 percent of companies offer insurance discounts for those workers who agree to take such health risk assessments, up from 10 percent just three years ago.
Such medical incentives, however, can sometimes run afoul of labor and medical privacy laws.
All medical data that comes out of health assessments is supposed to be kept strictly confidential. And under HIPAA, the total awards for participating in wellness programs cannot exceed 20 percent of an employee's total coverage cost of the plan. But a provision in health care reform will up that number to 30 percent in 2014. The Americas With Disabilities Act also protects workers who may not be able to slim down, or can't participate in company-sponsored exercise programs because of a disability.
 So what's your take on employers working on slimming you down and having you take more financial responsibility for your future in the anticipation that you'll be leaving soon anyway?
More money and business news: