A controversial ripped-from-the headlines Ebola Halloween costume may end up helping fight the spread of the deadly disease.
The non-profit humanitarian group Doctors of the World has launched a "More Than a Costume" on-line and print campaign. Ads in outlets like the New York Times and Wall Street Journal feature an image of man in a hazmat suit carrying a trick-or-treating pumpkin.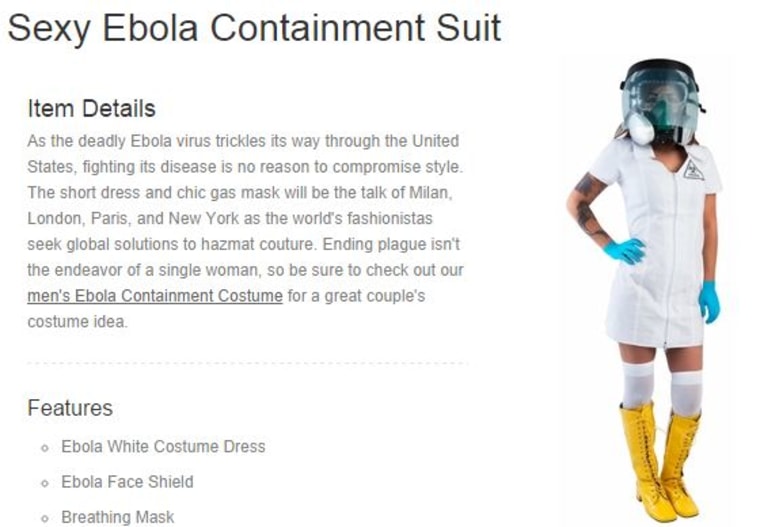 The tag line: 'Here it's a costume. There it saves lives.'
Noting that hazmat suits are edging out hatchet-wielding clown costumes and that Americans are on target to spend more than $7.4 million this Halloween, the group is trying to turn distaste for pre-packaged and home-made versions of Ebola-inspired costumes into dollars to help battle the disease.
"There is a huge need for health workers and protective gear and this campaign allows us to break through the clutter with a simple yet powerful message and an immediate call to action," said Miranda Sissons, Executive Director for Doctors of the World USA.
Elsewhere online, Ebola costumes selling for around $80 have become vilified in headlines and talk show fodder. Of those responding to a TODAY.com online survey, 62 percent said the costume was in poor taste.
"You are sure to be prepared if any outbreak happens at your Halloween party. This will literally be the most 'viral' costume of the year," reads the description at costume site Brands on Sale for a hazmat outfit that includes a white suit, breathing mask, face shield, safety goggles and blue Latex gloves. A "sexy" version of the outfit is available that includes a thigh-high dress.
"Given that Ebola is the scariest thing out there, the costume is in bad taste," said Arthur Caplan, head of the Division of Bioethics at New York University Langone Medical Center. "But Halloween is all about bad taste and dressing up in outfits that normally could be considered repugnant, so I wouldn't condemn it as being unethical."

Any ethical qualms haven't dampened orders.
"They're selling very well. People have been zombie-ing up the outfits and adding accessories that make them look pretty nasty," said Johnathon Weeks, the Brands on Sale CEO who also took heat for the company's ALS ice-bucket challenge costume. The page for that one included a link to donate to ALS. The Ebola costumes did not, which may be part of why they bothered some.

Now the doctors' campaign hope to exploit the controversy to do some good.
On the click-to-donate site $1 buys gloves, $5 buys masks and $250 buys a real medical containment suit. For $2,500, you can donate the services of a real doctor as well.