When Rotem Elnatan was 2 years old, his physical therapist told his mom Debby Elnatan some upsetting news: "Rotem does not know what his legs are. He has no consciousness of them."
Rotem, now 19, has cerebral palsy, a condition affecting the brain and nerves that impacts movement. His therapists did not encourage walking or crawling because they believed too much activity could worsen the muscle spasms.
But Debby Elnatan saw her toddler craved a life of exploration. After crying for two weeks about her son's dilemma, the Israeli mom became inspired. From her determination came the Firefly Upsee, a double pair of rubber shoes with a harness that helps a small child walk with a parent or adult. The Upsee will be available online April 7 to help other children, like Rotem, walk. 
"I understood that Rotem's sitting in a carriage was not going to get him far. Disobeying his therapists' recommendations, I started to facilitate Rotem 'behind their backs,'" Elnatan told TODAY Moms in an email.
First she started by hunching over, holding Rotem's arms as he walked. But Elnatan wanted to walk with her son without back-breaking aches.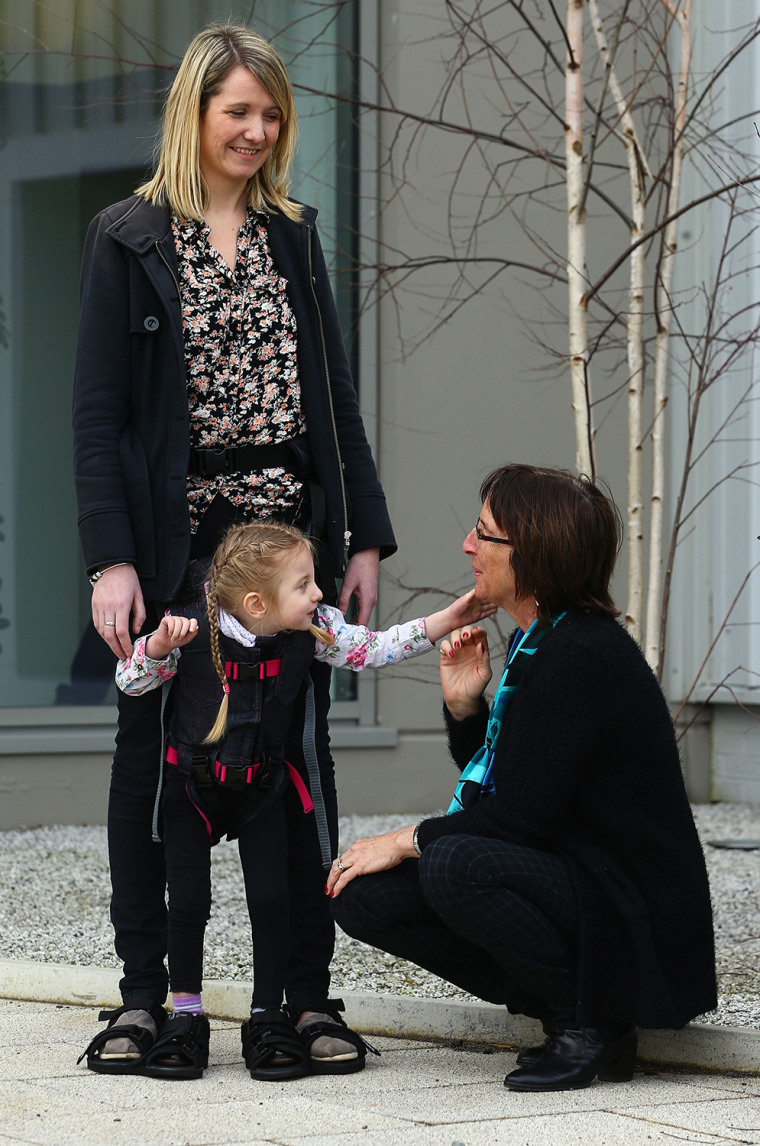 "I wanted to be standing upright while Rotem was upright and I wanted Rotem's hands free for play and exploration," Elnatan says.
She first tried tying their legs together and putting a strap around his arms, which helped him stand upright. But, it did not work as well as she hoped. She then developed the rubber shoes with a harness that went over her shoulders like a backpack. 
At first, Rotem struggled to walk.
"He took three steps and then collapsed," she says.
But Elnatan, a violinist and music therapist, knew to keep practicing. "By the end of the year, we could walk two hours."
She and Rotem strolled to the park, the neighborhood shops, and restaurants. As the boy became stronger, Elnatan refined the design so the harness strap circled her waist. The two walked together until Rotem was 7 years old.  
In 2012, a company in Northern Ireland, Leckey updated the design for a mass market. On April 7, the Firefly Upsee Harness will be available for $540 plus shipping and fits children ages 3 to 8. Upsee includes double rubber shoes, a pair for parent and child each. The harness, which parents wear around their waists, consists of a soft material and resembles a wearable baby carrier.
Physical therapist Joseph Schreiber says the Upsee may be helpful for children to play and move more efficiently. 
"It is always wonderful to see children, especially those with special needs, participating in a wide variety of fun and age-appropriate activities," Schreiber, pediatrics president for the American Physical Therapy Association, told TODAY Moms in an email.
He recommends parents consult with physical therapists before purchasing a product such as Upsee to make sure it is safe and the right choice for the child. 
Elnatan says being upright and bearing his or her own weight gives the child access to the world. 
"[The child] can reach out and touch, something which is hard to do from a carriage or wheelchair," Elnatan says.