/ Source: TODAY Contributor
If you don't have something good to say about someone, come sit next to me.
That quote from Alice Roosevelt Longworth — the only daughter of 26th president Theodore Roosevelt — seems to sum up many American's feelings about 2016 presidential candidate Donald Trump.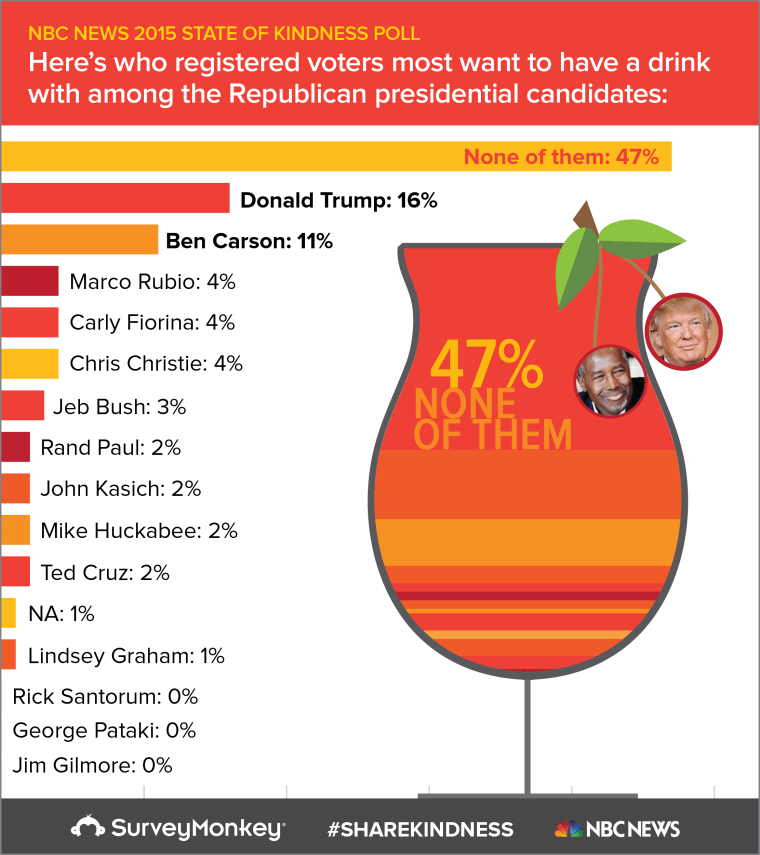 By an overwhelming majority, Americans find Trump to be the "least kind" Republican candidate. Yet he's the one that most folks want to kick back and have a drink with, according to the results of an NBC News State of Kindness poll conducted online by SurveyMonkey among 2,650 adults ages 18 and over. On the Democratic side, Hillary Clinton is also seen as the least kind candidate — and the one more people want to have a drink with.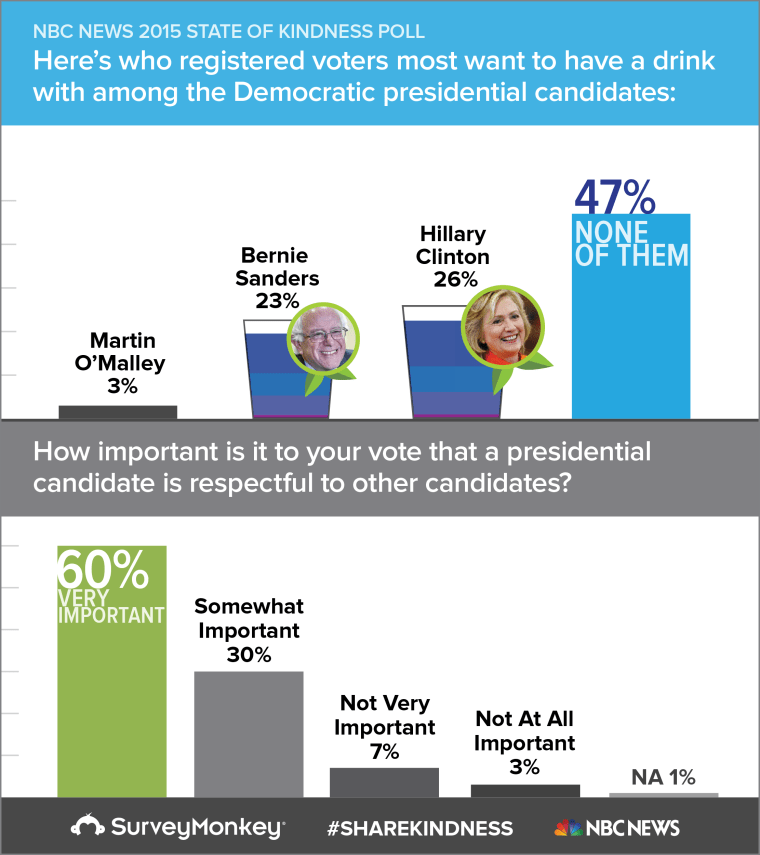 Trump's inflammatory rhetoric (think "Look at that face!" regarding his Republican rival Carly Fiona) is most likely the big reason why nearly half of Republican and independent voters said he seems the least kind candidate, with 62% of Democratic voters agreeing.
But despite that unkind persona, Democrats, Independents and Republicans consider him the best Republican drinking buddy, favored by 24% of Republicans over close rival Ben Carson, who got 19% of the vote.
NBC Poll: Being nice is better than money for most Americans
The Democratic side was a closer call, but Hillary Clinton was named by 41% of all voters as the "least kind" Democratic candidate, and by 26% as the best drinking buddy.
NBC Meet the Press moderator Chuck Todd put the findings in perspective.
"This may tell us more about how Americans feel about politics in general, more so than an individual candidate," he said. "The beer test used to be a must-pass, but where we are with politics and political rhetoric in this country, it may not be necessary to pass that test anymore."
To be clear, an overwhelming 65% of Democrats don't want to share a brew with any of the Republican candidates, and 73% of Republicans didn't want a drink with any Democrat.
Who's the kindest celebrity? NBC News State of Kindness poll says...
But Trump did manage to get the most Democratic toasts, with 9% of the vote. Independents weigh in with 16% favoring Trump as drinking buddy, over Ben Carson's 7%.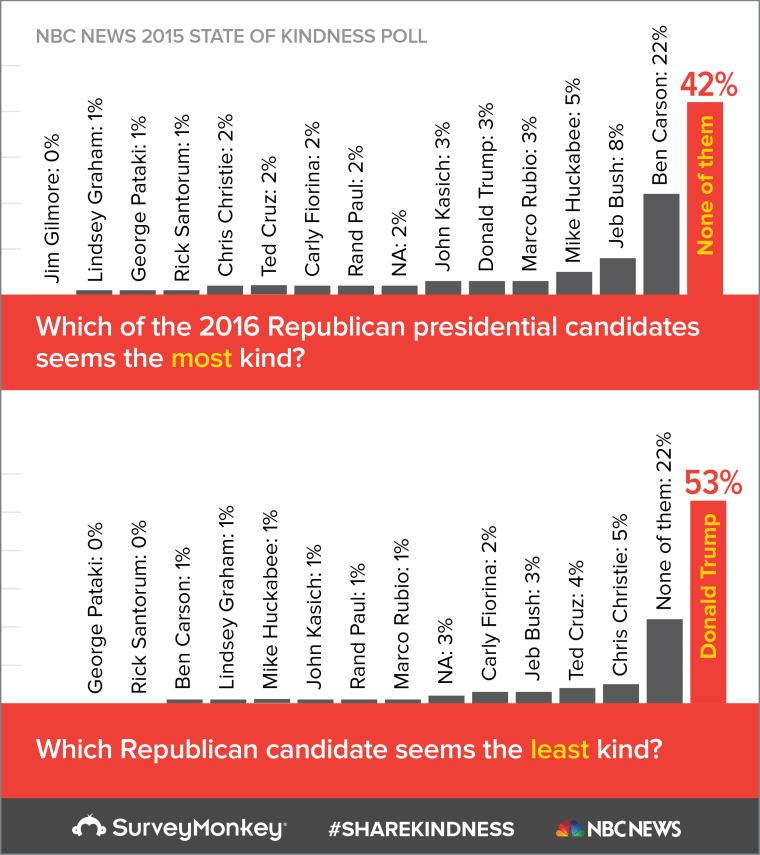 While rhetoric makes for good media, it's clear that potential voters — Republican, Democratic and Independent — want their candidates to be respectful to rivals. By an overwhelming majority, people believe that "respect in politics" is either "very" or "somewhat important."
However, that show of respect is more important to women, with 70% of potential female voters believing that showing respect was very important to their vote. Slightly less than half of men agreed.
Does kindness really matter in politics?
Apparently, it "matters a lot," says Arthur Lupia, the Hal R. Varian Professor of Political Science at the University of Michigan.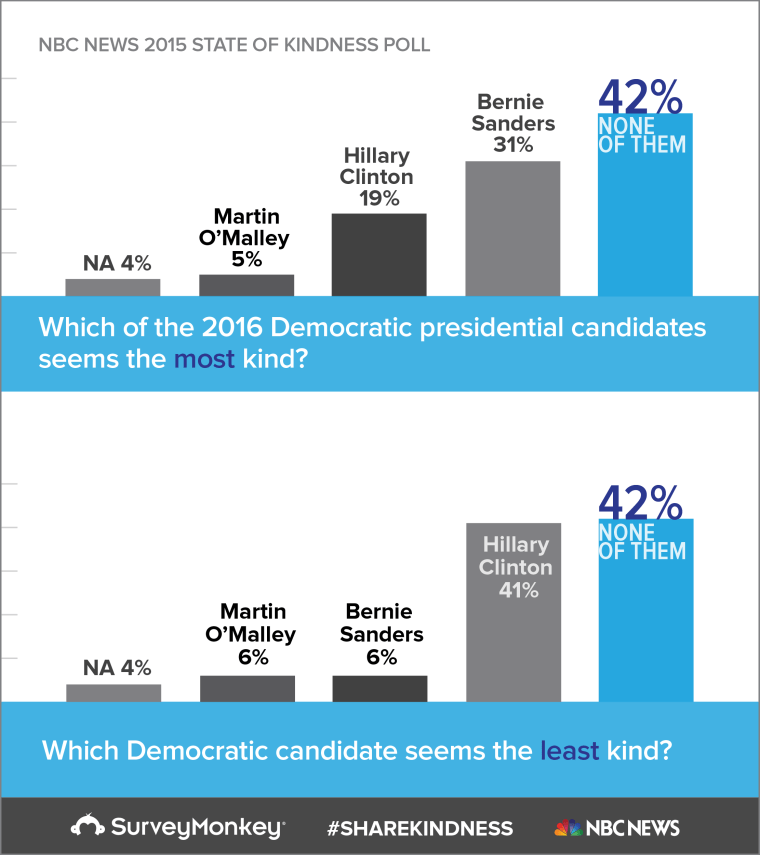 "Kindness, really expressed as empathy, is a way to relate to people," says Lupia, who points to former president George W. Bush's "compassionate conservatism" as a good example.
"He (former President Bush) had conservative values, which people perceived as good but it was aided by compassion and perceived empathy," says Lupia. "With that compassion, he seemed approachable and down to earth, and at the time that was a powerful combination."
And that may be the reason why back in the day, Bush 43 was the guy many Americans wanted as their drinking buddy, compared to rival John Kerry.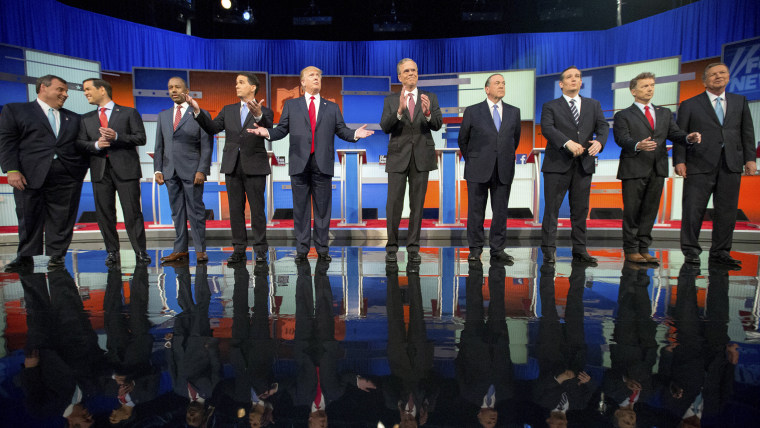 Since kindness does indeed seem to matter, Republican hopeful Ben Carson and Bernie Sanders are big winners.
Among the Republican candidates, Carson was seen as the kindest by Democrats, Independents, and Republicans. Among his own party, Carson got 37% of vote — the only candidate to reach double-digits. Democratic voters gave Carson 11% of their vote for the kindest Republican candidate, while independents gave him 17% of their support.
TODAY celebrates NBC's Season of Kindness
Among Democratic hopefuls, Bernie Sanders tops the list in his kindness quotient, garnering 39% of the vote among Democratic and Democratic-leaning participants, 21% of Republicans, and 31% of Independents. But more than 60% of Republicans and 55% of independent voters don't think that any of the Democratic candidates were the kindest, similarly to a majority of Democrats and independents who don't view any Republican candidates as kindest.
If Sanders is the clear winner in the kindness arena among all potential voters, Hillary Clinton has a little bit of work to do.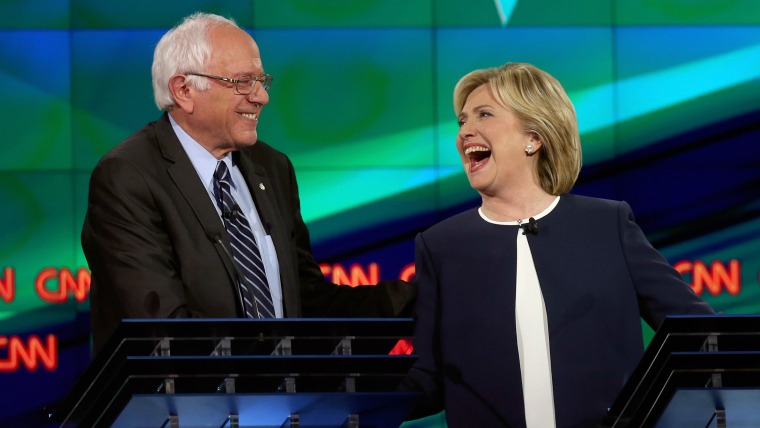 Though Sanders barely topped her in kindness (39% to 34%), 19% of Democratic voters thought she was the least kind compared to 8% who said Sanders. Independents gave her 38% of their vote and 68% of Republicans gave the former secretary of state their vote for "least kind" Dem candidate.
Slightly more Republicans (13%) would rather have a drink with Bernie Sanders over Hillary Clinton (10%), while 43% of Democratic voters want to go out with Clinton, compared to Sanders' 35%.
Remember that these early feelings about candidates are, well, early, says Morris Fiorina, Professor of Political Science at Stanford University and a Senior Fellow at the Hoover Institution (and no relation to candidate Carly Fiorina).
"All things being equal it's better to be smart than not smart and kind than not kind," says Fiorina.
"But we're early in this election cycle, very early, and at the end of it Americans are not electing a drinking buddy, they are electing a president, someone they believe will do a good job."
The NBC State of Kindness survey is part of NBCU's Season of Kindness. Follow the series on Facebook, Twitter and Instagram. #ShareKindness